Sandwiches can be so in the middle of the road, but there's nothing boring about Chicken Bacon Sandwich! They have plenty of gooey cheese, as much bacon and chicken as you can stack on there, and the best seasonings on top! This one is a keeper!
Thanks to my friends at Rhodes for sponsoring today's post! #Rhodes #FrozenDough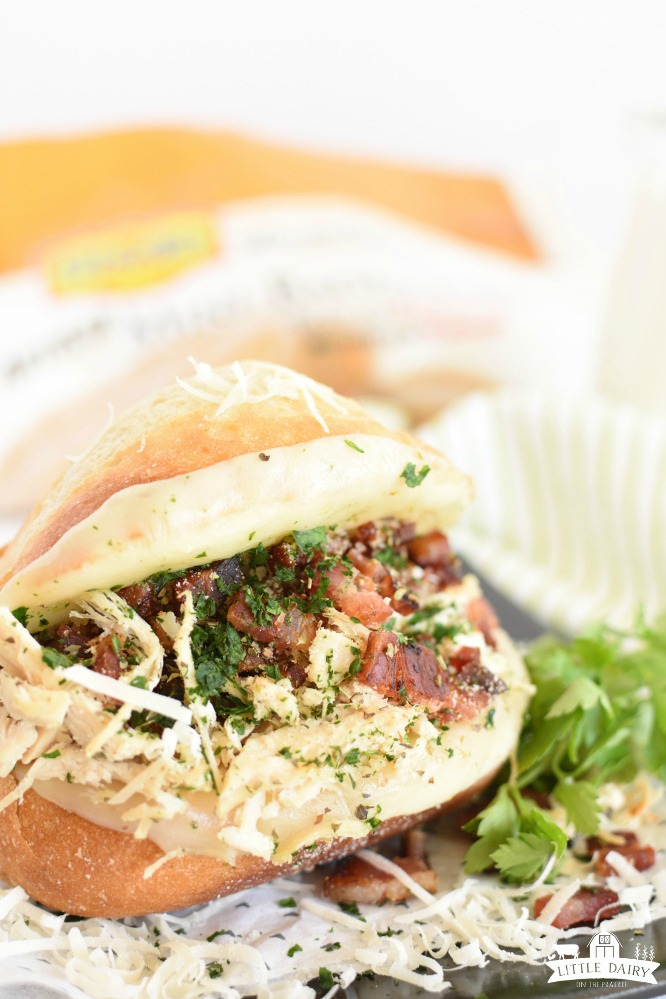 You guys…this Italian Chicken Bacon Sandwich has bacon, lots of bacon! That's pretty much all you need to know but let me tell you more! It has cheese too! Lots of cheese!
Add more chicken than will fit in that baguette and you have yourself one hearty sandwich!
Oh, and the seasoning on top just seems to send these subs over the top!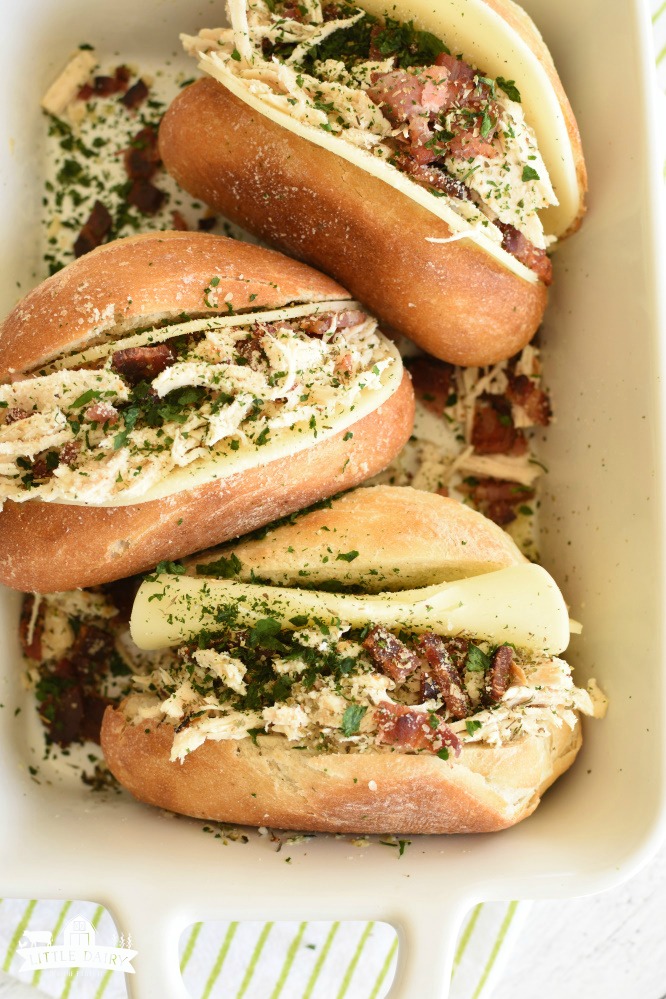 One of the advantages of farming is that Justin is usually pretty close to home during the day. Okay, being so close to work is an advantage sometimes and a disadvantage other times.
For example, he doesn't need a car to get to work because he can walk right out the back door and be at work. One less vehicle is one less expense. The disadvantage is that work never goes away…it's always right out the back door begging him to do one more thing.
It's an advantage because he can pop in and out of the house throughout the day. Of course, it's always fun when he comes in it's nice because it gives me a chance to corner him and ask him all the questions on my list. It can also a disadvantage because most of the time when he "pops" in the house he wants me to cut a check for him, or to come to help him move a piece of equipment, or he winds up eating all my cookie dough!
Do you know what else is awesome about having him close to home? He comes home for lunch almost every day. I don't have to try to come up with creative ways to reinvent the cold sandwich for him. All I have to do is pop leftovers in the microwave and lunch is as simple as that!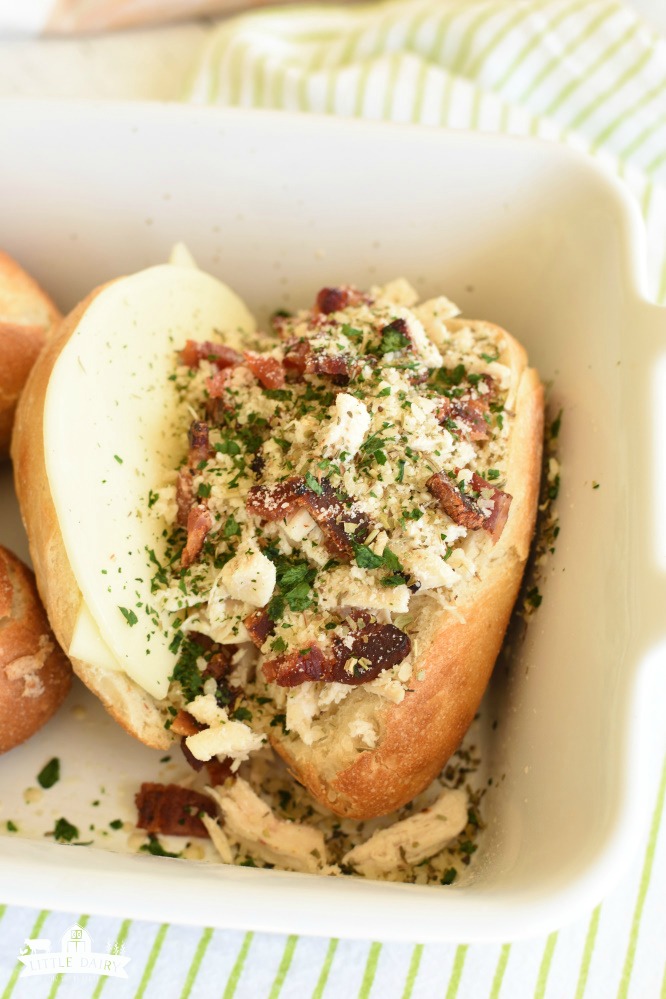 Italian Chicken Bacon Sandwiches are anything but the same old boring sandwich!
The bummer is that my kiddos have to pack lunches to take to school and they get really sick and tired of it too! Well, they would prefer to never go to school again for the rest of their lives!
Even though I try to pack fun new lunches for them, they still end up eating WAY. TOO. MANY. Sandwiches. Sorry boys!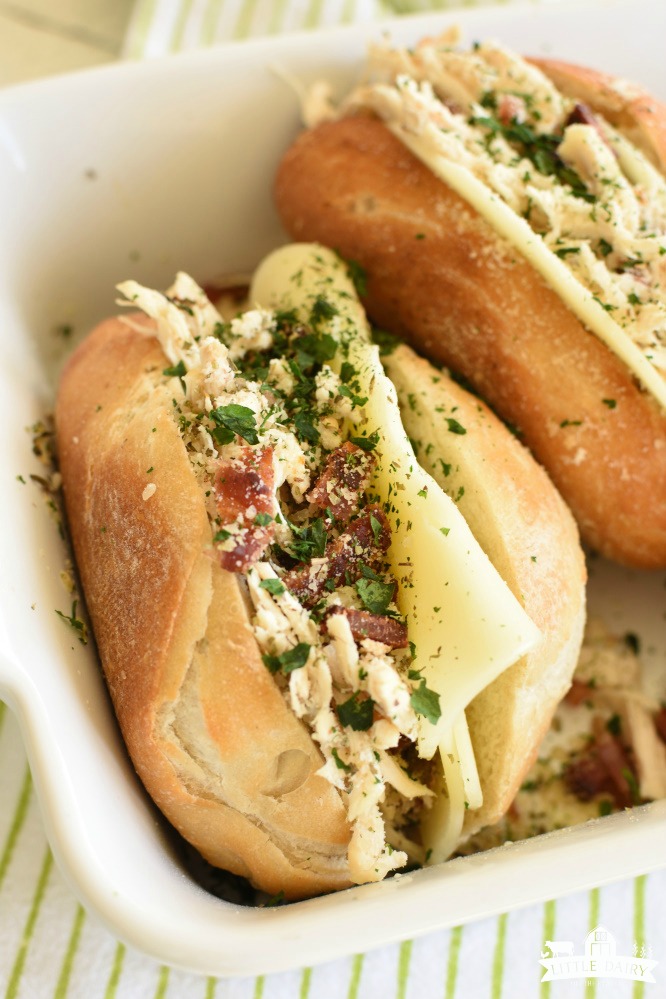 So, at home, we don't EVER eat sandwiches because I know how tired they get of eating them.
Let me tell you though…there is no comparison to a soggy ham and cheese sandwich and these oven-toasted Italian Chicken Bacon Sandwiches! These will blow any PB&J out of the water!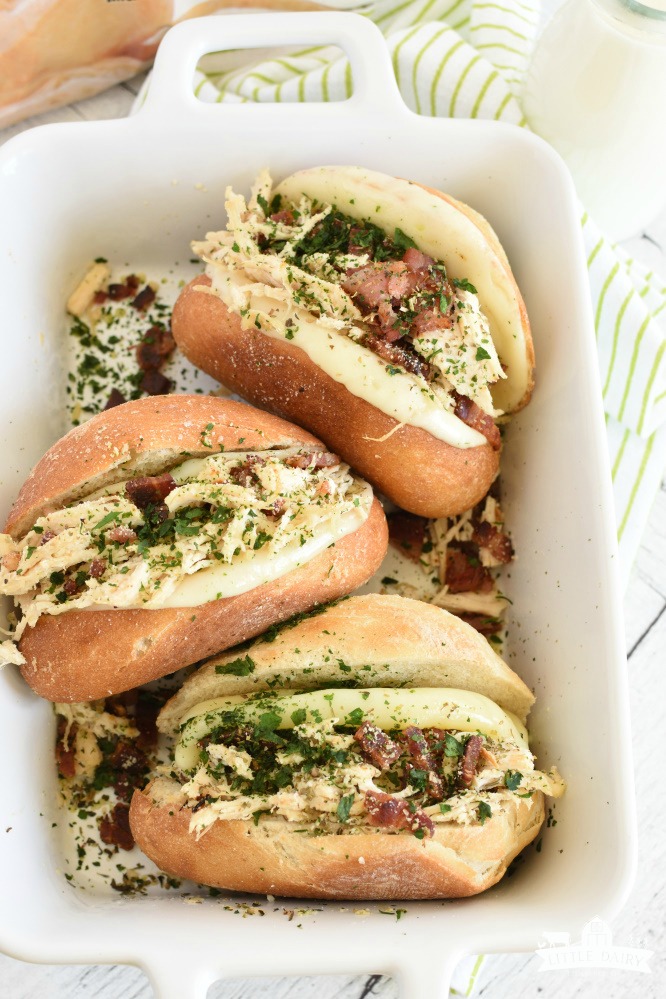 Rhodes Mini Artisan French Baguettes make the best sandwiches!
I've kind of fallen in love with Rhodes Artisan Mini Baguettes. You can find them in the freezer section of the grocery store next to the other Rhodes frozen products. Keep them in the freezer until you are ready to eat. Bake them for 12 minutes and your house will smell like you've been baking all day!
Having a bag in the freezer is like having a back up plan at all times! I don't live near the grocery store so it's a lifesaver to be able to have fresh hoagies for sandwiches in no time! They have that perfectly crispy crust and chewy center! Heck, I could just eat them plain!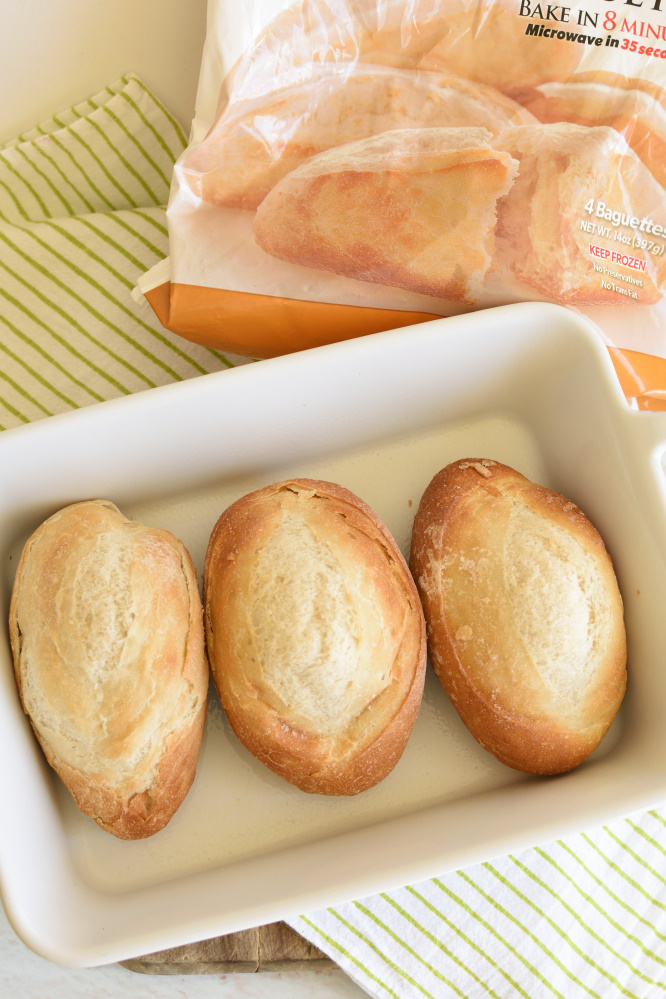 Prep all the ingredients ahead of time then throw them together for a quick lunch!
One of my other favorite tips for making these sandwiches, or pretty much any other meal, is making as much of it ahead of time as possible.
I imagine you could assemble the whole sandwich and refrigerate them until you are ready to bake them and it would work perfectly.
Or you can fry and crumble a whole bunch of bacon at breakfast and save some for these sandwiches. No one wants to wash the frying pan twice in one day! When you are ready to assemble the sandwiches all the ingredients will already be prepped.
You can either use rotisserie chicken, leftover grilled chicken, or shredded chicken (check out this super fast and easy way of shredding chicken). All of these methods are quick and easy! We love chicken breast sandwiches the most. So I usually use a grilled chicken breast and cut it up.
And of course, one of the most important components in any good sandwich is the cheese! Be sure to add plenty of cheese!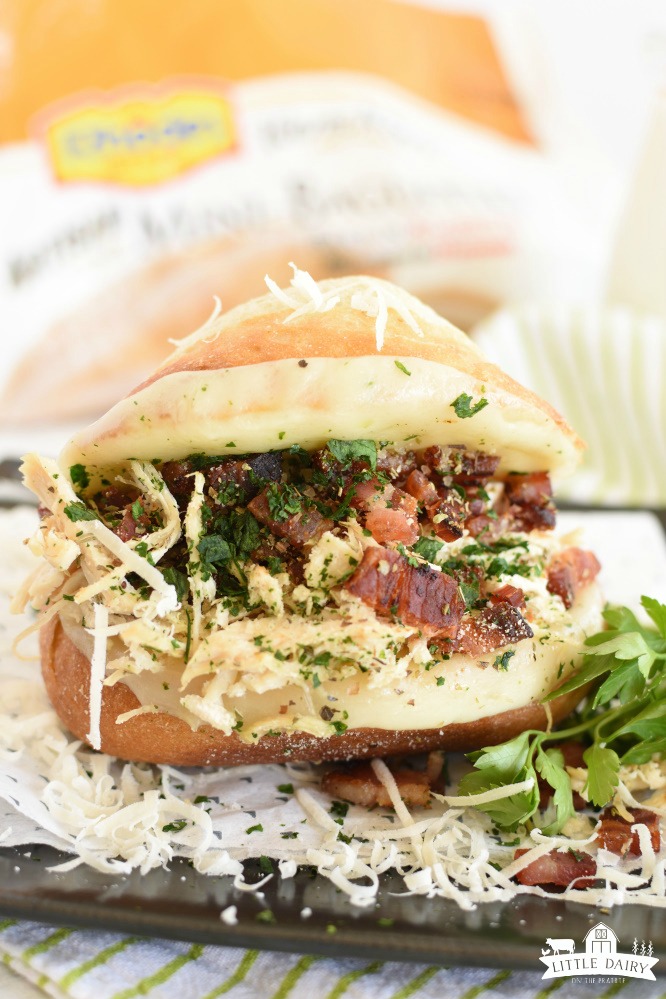 If you are like my boys you will want to either add ranch to the sandwich before you assemble it, or you will want to basically submerge it in ranch dressing like you would dunk a french fry in ketchup! Either way will work!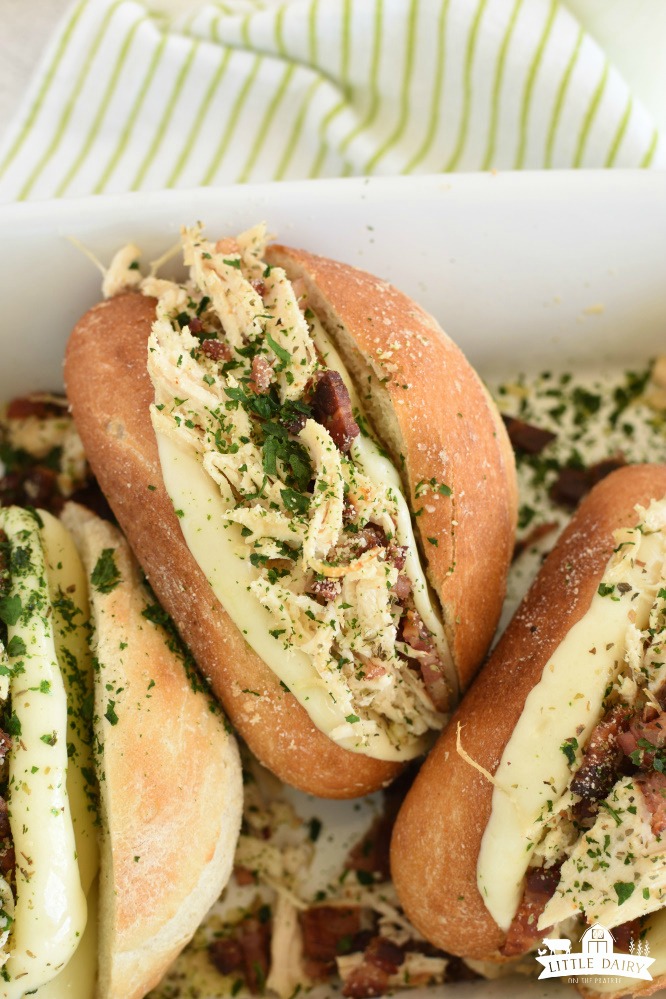 Trust me, even if your family has been eating sammies in their lunches for what seems like an eternity they will still fall in love with Italian Chicken Bacon Sandwiches!
Chicken Bacon Sandwich Recipe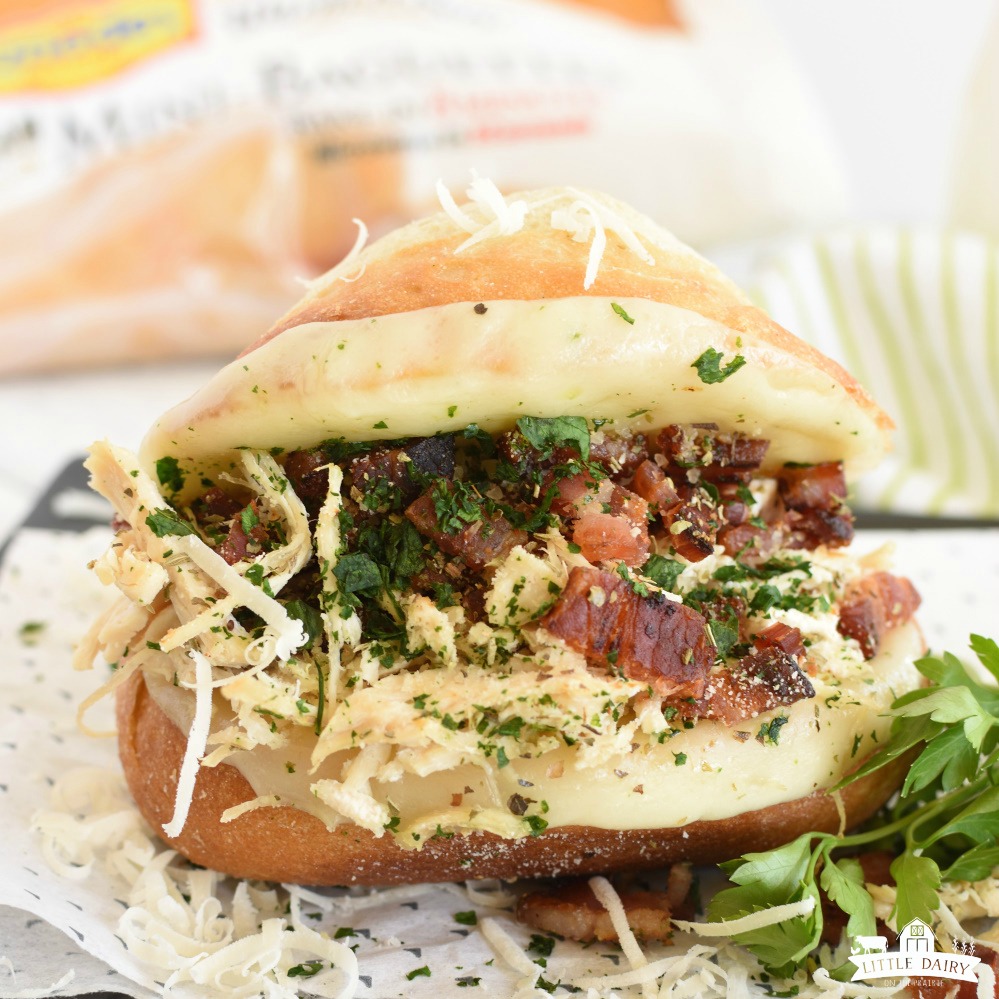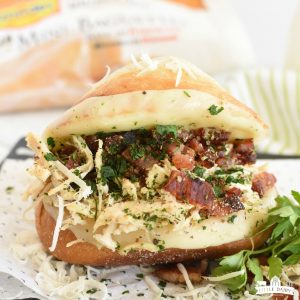 Italian Chicken Bacon Sandwich
Sandwiches can be so middle of the road, but there's nothing boring about Italian Chicken Bacon Sandwiches! They have plenty of gooey cheese, as much bacon and chicken as you can stack on there, and the best seasonings on top! This one is a keeper!
Ingredients
1

Rhodes Artisan Mini Baguette

1/2

c.

chicken

rotisserie, shredded, or grilled

1/4

c.

cooked and crumbled bacon

1

T.

parmesan cheese

2

slices

provolone cheese

italian seasoning

Ranch dressing

optional
Instructions
Bake Rhodes Artisan Baguettes as directed on the package.

Cut baguettes in half lengthwise.

Spread one side with ranch dressing, if desired.

Add a slice of provolone cheese.

Add grilled chicken, sprinkle with half of the parmesan, add a bacon and top with remaining slices of provolone cheese.

Generously sprinkle with Italian seasoning and remaining parmesan.

Bake for 2 minutes or until cheese is melted and sandwiches are warmed through. If they need to bake longer than two minutes cover them with aluminum foil.

Serve with additional ranch dressing if desired.

NOTE:

If you haven't cooked and crumbled the bacon, and cooked and shredded chicken ahead of time it will take longer than 10 minutes to make this sandwich.

More cheese is always better and I wouldn't judge you if you used 4 slices on each sandwich! In fact, I'd love you for it!

To make more sandwiches simply use more ingredients on each sandwich.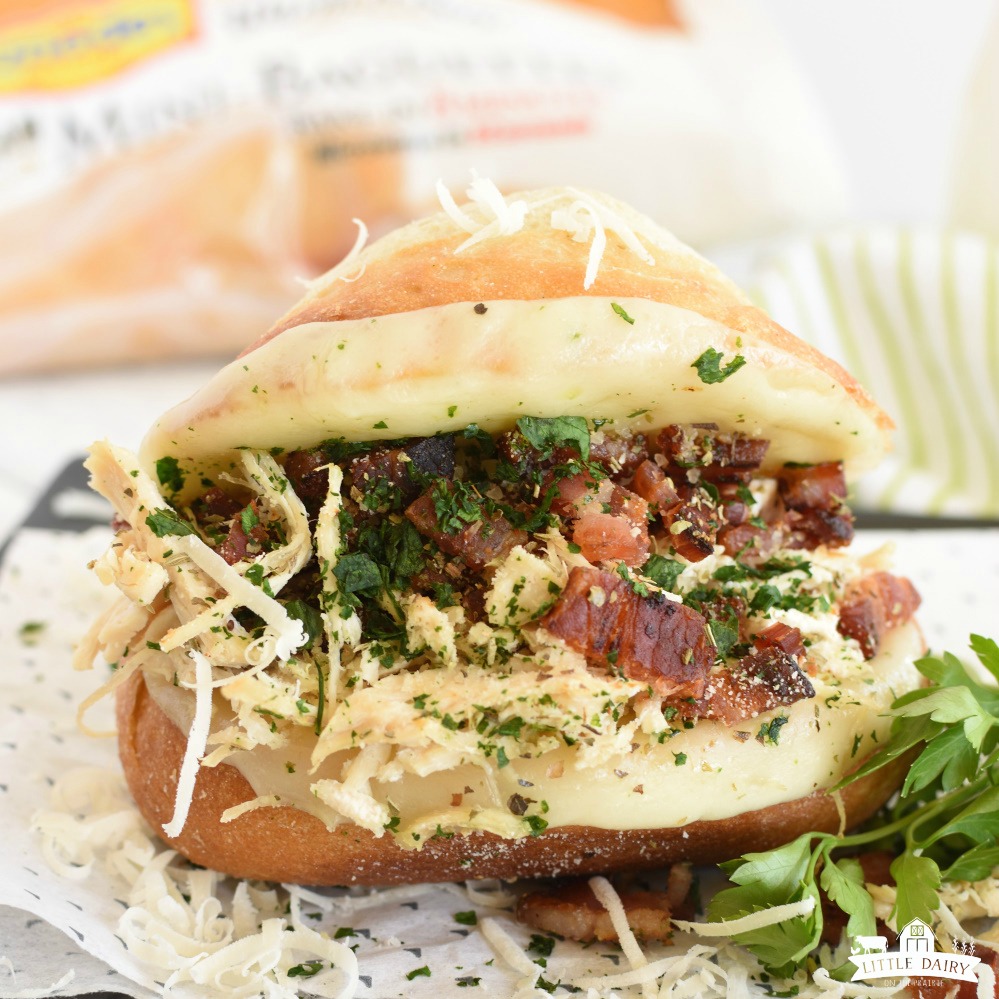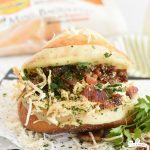 tried this recipe?
Make sure to share it with me! Leave a review or tag me on Instagram