A light and fluffy waffle with crispy Fruity Pebbles are a winner at my house! These waffles make the kid in everyone happy in the morning! We love them topped with strawberry syrup, fresh fruit or Greek yogurt!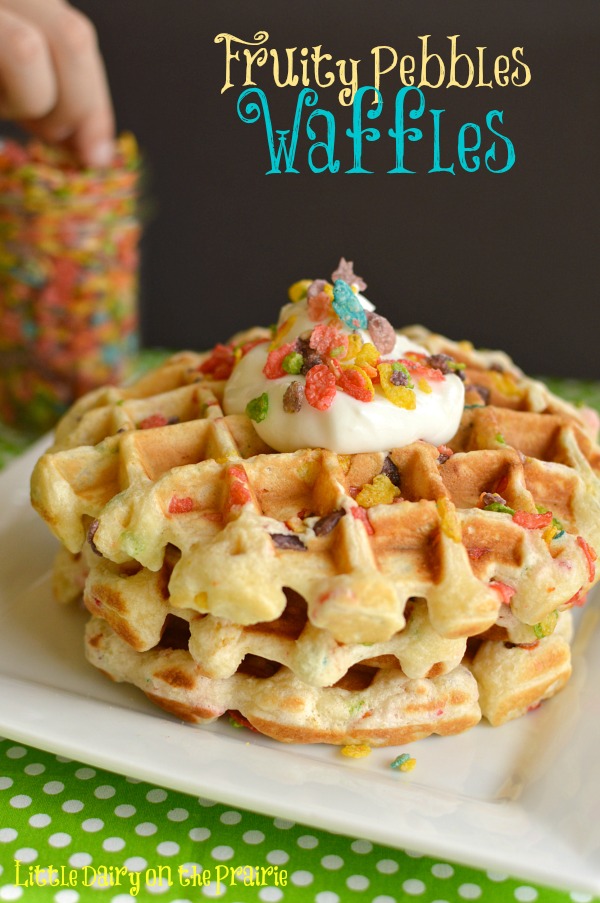 Does anyone else cringe at the thought of making breakfast? Breakfast happens to be one of my favorite meals of the day. I do have a few logistical problems with breakfast. First of all, I need as much beauty rest as I can get. That means breakfast has to be fast or it has to be brunch! The second problem with breakfast is that I really don't like my house, or my hair, to smell like sausage for the rest of the day. Although many times it is worth it! Lastly, one of my children only likes cold cereal and oatmeal for breakfast. Sometimes I just don't want to fight him about eating dreaded SYRUP!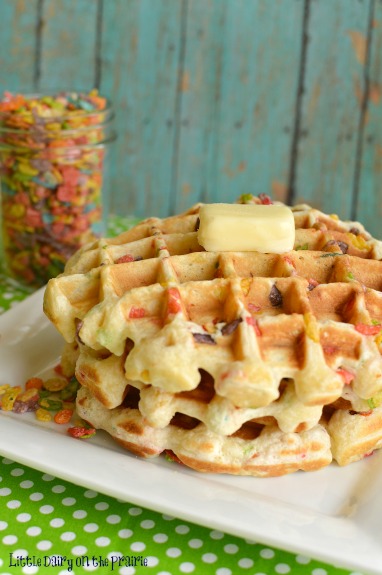 I figured if my six year old will eat Fruity Pebbles by the bowlful, he would surely eat Fruity Pebble Waffles. At first he did what most six year old's do. Yup, he played in his waffle for about ten minutes before he would even try a bite. (That never happens at your house, right?) Once he learned that he wasn't going to get to go to work with his Dad until his waffle was gone he took the first dreaded bite. Amazingly enough he loved these Fruity Pebble studded waffles. The little fella even wanted more! Sweet success!
Some people in the family topped these waffles with butter and strawberry syrup. They would be divine with fresh strawberries and whipped cream too.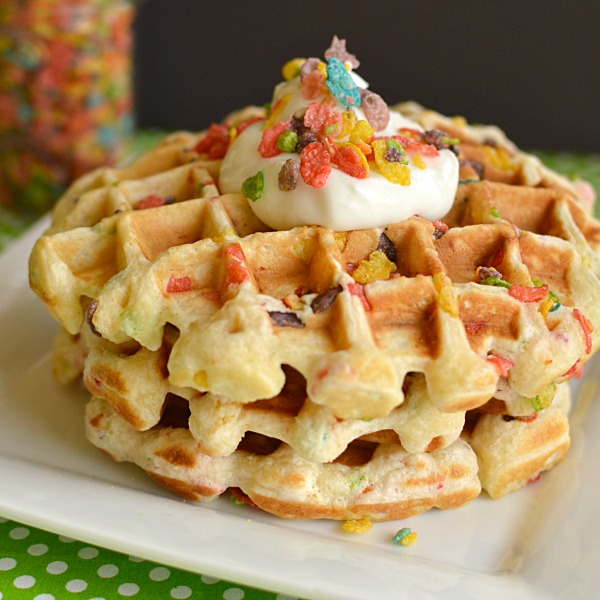 My picky little waffle eater ate his with vanilla Greek yogurt and additional Fruity Pebbles sprinkled on top! In fact my boys like Fruity Pebbles so much that one of them had to grab a handful during my photo taking session! I like cute little hands and it became my favorite picture! Did you notice the little hands? They are in the top picture of this post!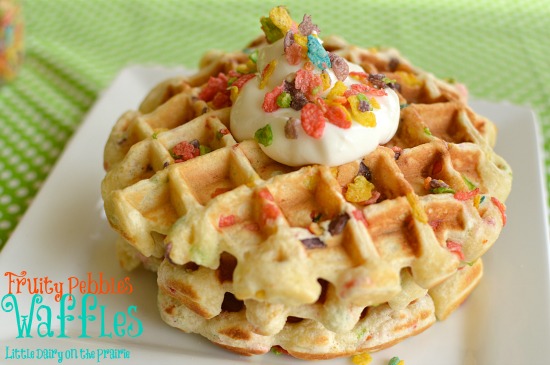 This was a fun switch up for breakfast that was perfect for our "No School" day brunch. Besides, my hair didn't smell like bacon afterwards!
FOR THE RECIPE CLICK HERE!