St. Patrick's Day used to be just another day at my house. After I started these fun Frugal St. Patrick's Day Traditions, my boys love it! In fact, it is my six year old's favorite holiday, besides Christmas!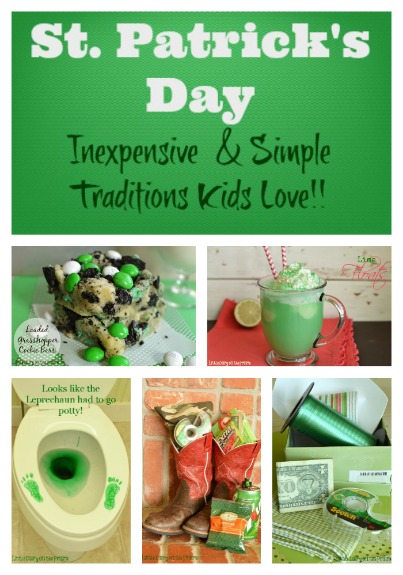 When Carson was in first grade I sent him to school on St. Patrick's day in a red shirt with a picture of a foam finger on it. The finger said, "my Mom is #1". I loved that shirt and was so proud every time he wore it. I keep having them wear that shirt no matter how tattered it looks. It's my favorite! Okay, back to Carson. It was St. Patrick's Day. He was wearing a red shirt. A shirt that boasted about how great his mother was. A mother so wonderful she sent him to school in a red shirt on St. Patrick's Day in first grade! I realized my mistake awhile after he got on the bus. Since one of the teachers aids lives near by, I begged her to take a green shirt to him! Needless to say, St. Patrick's Day really was just another day on the calendar. My sister in law told me about a few of the things they do on St. Patrick's Day and I decided to give some of them a try. She's amazing and does way more fun things than this. These are some of my kids favorites.
They love making "Leprechaun Traps". I provide them with a few items and they use their imagination to create a trap. We usually end up with tape and string everywhere. By the way, the dollar is what attracts the leprechaun in the first place. At least that's what I have been told. Unfortunately, we haven't caught a Leprechaun yet.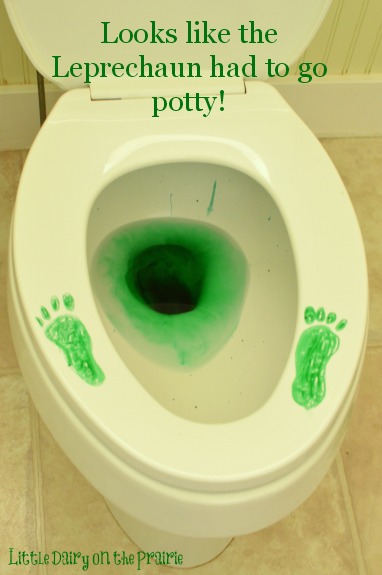 We know he is close though because he had to have a potty break at our house! This is my boys very favorite part, what boy doesn't love potty talk! Green food coloring flushes away and actually doesn't even leave any residue. Make sure to use washable markers for foot prints. I usually shred some green paper and sprinkle it on the floor too. I ran out of time this year!
For more inexpensive and fun ideas, and green recipes click HERE!