It's always fun to have new Weekly Meal Planning Ideas to help you get out a menu planning rut! This menu planner is full of easy breakfast, main dish, and dessert ideas for busy families!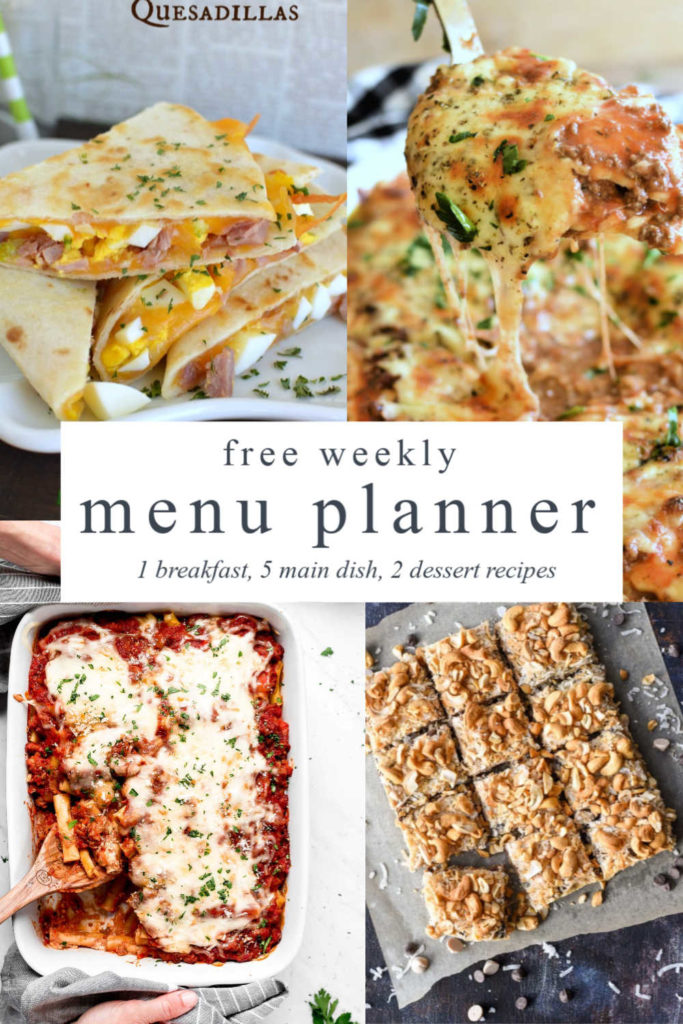 Planning, shopping for food, preparing, serving, and cleaning up after meals seems like it never ends! It's easy to get stuck in a rut when it comes to switching up dinner ideas.
Choose any of the meals from this menu and add them to your calendar whenever it fits best with your family's schedule!
I love having a list of easy meal planning ideas that my kids will love! This menu planner is full of pasta, pizza, soup, and hearty roast beef! There's something for everyone!
Plus, there's just no way to gather your family around to enjoy each other than at the kitchen table! It's my favorite part of the day. Let's make it easier by getting a meal plan all ready for the week!
Be sure to check out my other weekly menus for more ideas!
Weekly Meal Planning Ideas Breakfast Recipes
These quesadillas are great to make when you have leftover ham and hard boiled eggs!
An easy make-ahead appetizer
All dill pickle lovers will go crazy for these roll ups! They're easy to make and can be made-ahead! You'll only need a few ingredients like tortilla, pickles, and cream cheese!
Main Dish Weekly Meal Planning Ideas
All of these main dish recipes are kid friendly! Most of them are really easy to make and use pantry/freezer staples.
Some of these recipes can easily be frozen too, which means meal planning is already done for another day!
Side Salad Recipe
So many of the main dish recipes in this weekly menu would be perfect with a green side salad! These dressings will dress up any old green salad!
Easy dessert recipes
Bar Cookies are my go-to dessert recipe because they're so easy! And these caramel apples are gorgeous if you're looking for something a little fancier!