This Easy Weekly Meal Plan will help you get meals on the table this week! Fill your family weekly menu up with these easy recipes! They are all kid-friendly, budget-friendly, and EASY! Choose from these main dish, breakfast, side dish, and dessert recipes!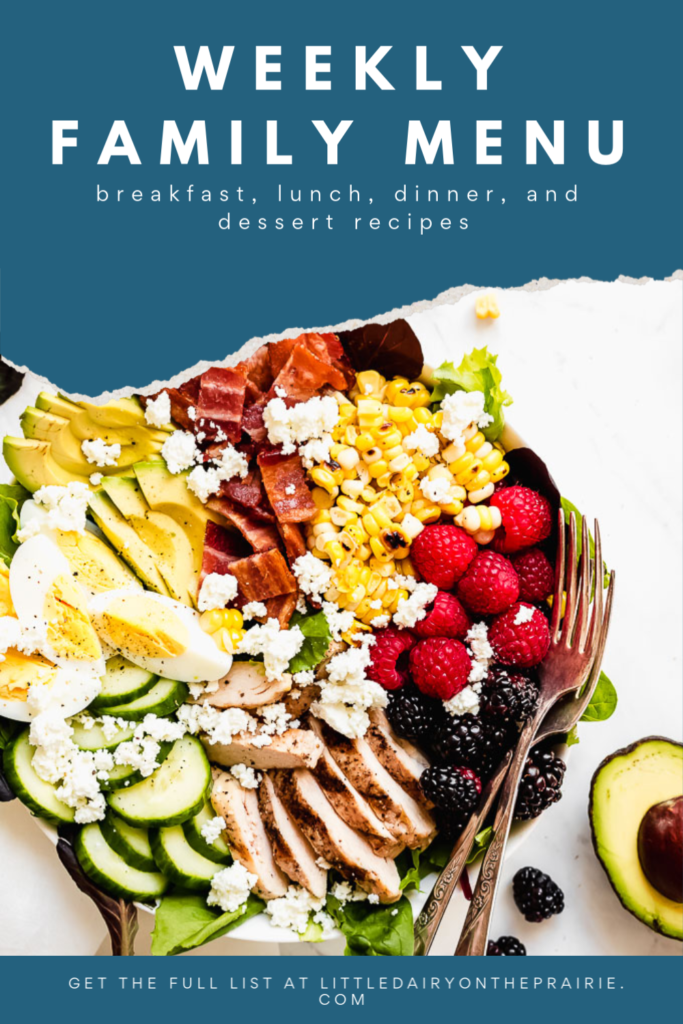 Family mealtime is really important to me. It's the time of the day when I get to find out what's going on in my kid's lives and how their day was.
But, if dinner is going to happen five nights this week the recipes have to be easy. This weekly meal planner is full of make-ahead recipes just to keep things simple. I know how busy life is! I get it!
Choose any of the five main dish recipes to use on whatever day fits your schedule. Being flexible is really important when it comes to meal planning, and it's one of my favorite menu planning tips.
Easy Breakfast Recipe for This Week
Granola is one of the BEST staples to make and have in the pantry! Use it to top Greek Yogurt Parfaits, eat it as a snack, or serve it with milk for cereal!
Easy Weekly Meal Plan Main Dish Recipes
Easy main dish recipes are the secret to doable meals! Prep as much of the meals ahead of time as possible. Assembling earlier in the day if you can makes evenings easier.
I love grilling extra chicken and using it in other recipes later in the week. Or, brown lots of hamburger to use later on.
Side dish recipe
Don't you love side dishes that double as appetizers? Me too! I could eat chips and salsa for dinner! They're so addicting!
Easy dessert recipes to add to a weekly menu
Dessert is my favorite part of the meal! Maybe it's even my favorite part of the day! I always save time to make dessert!
Both of these recipes are decadent and divine! Everyone in the family will go crazy for them! But, they do require turning the oven on and baking. If you just don't have time for that this week, check out my easy no-bake dessert recipes!