Are you ready to fill all those empty slots in your weekly menu? This weeks Weekly Family Menu – 162 is chock full of delicious recipes to get you started! You'll find breakfast, main dish, side dish, and dessert recipes! Oh, and don't forget drinks!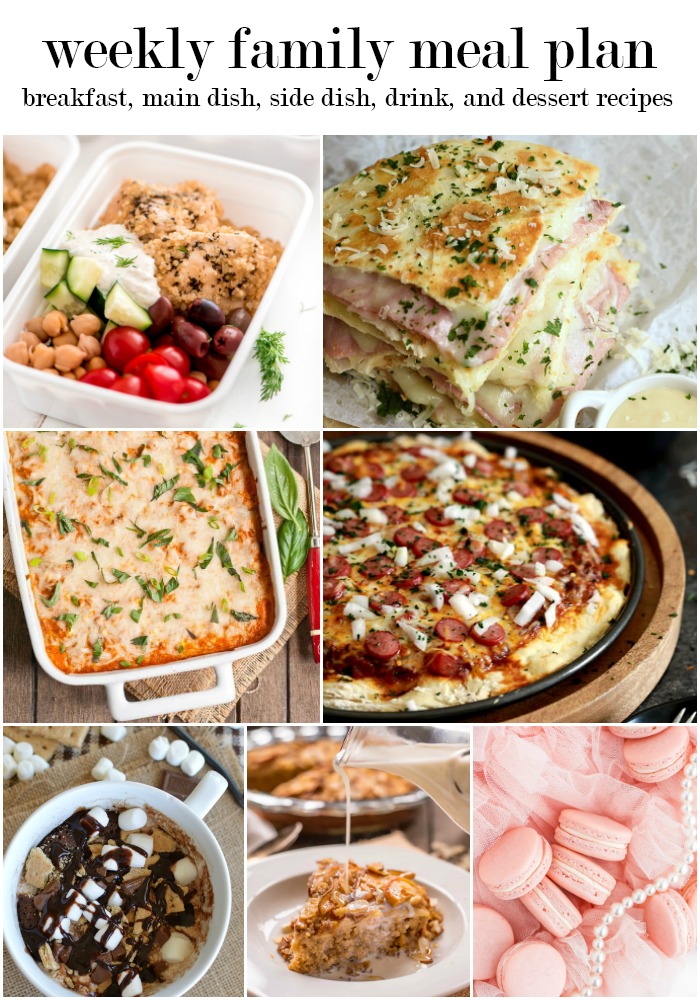 Weekly Family Menu – 162 is the BEST one yet! If you like pizza, quesadillas, and pasta and beef casseroles your in luck! We've got you covered for all that and more! Baked oatmeal has been on my "to make" list forever and this one looks like a fantastic place to start!
Scroll through these recipes! I bet your taste buds are going to start dancing and you're weekly menu is going to fill right up!
BREAKFAST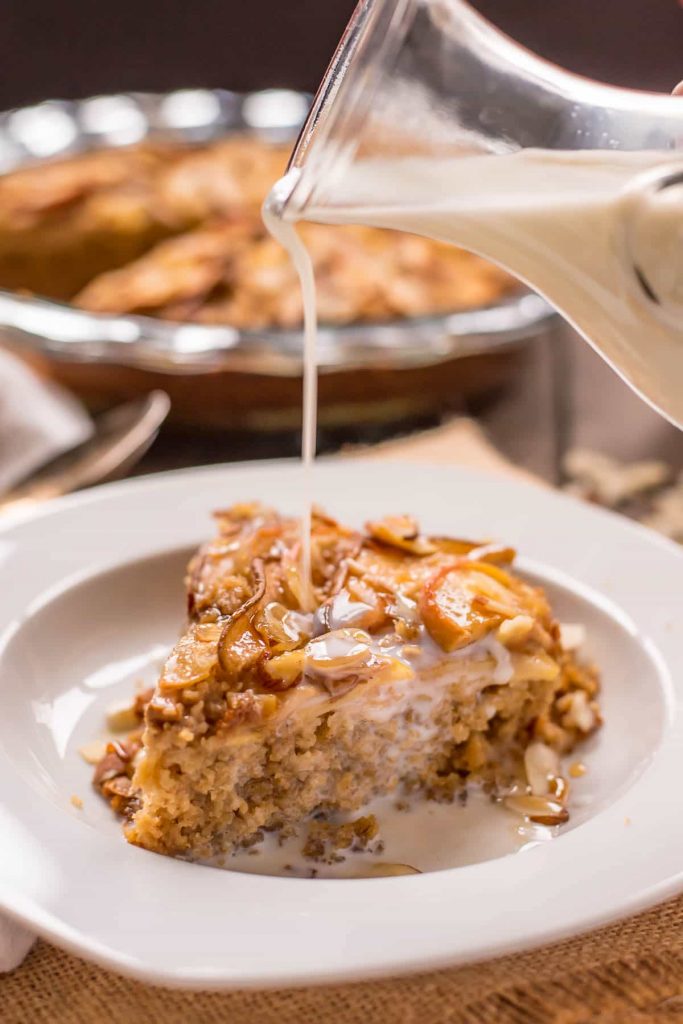 Apple, Pear, and Almond Baked Oatmeal – Neighbor Food
This easy Amish-style Baked Oatmeal recipe is topped with apple, pear, and almond slices for a warm and satisfying start to any day.
MAIN DISHES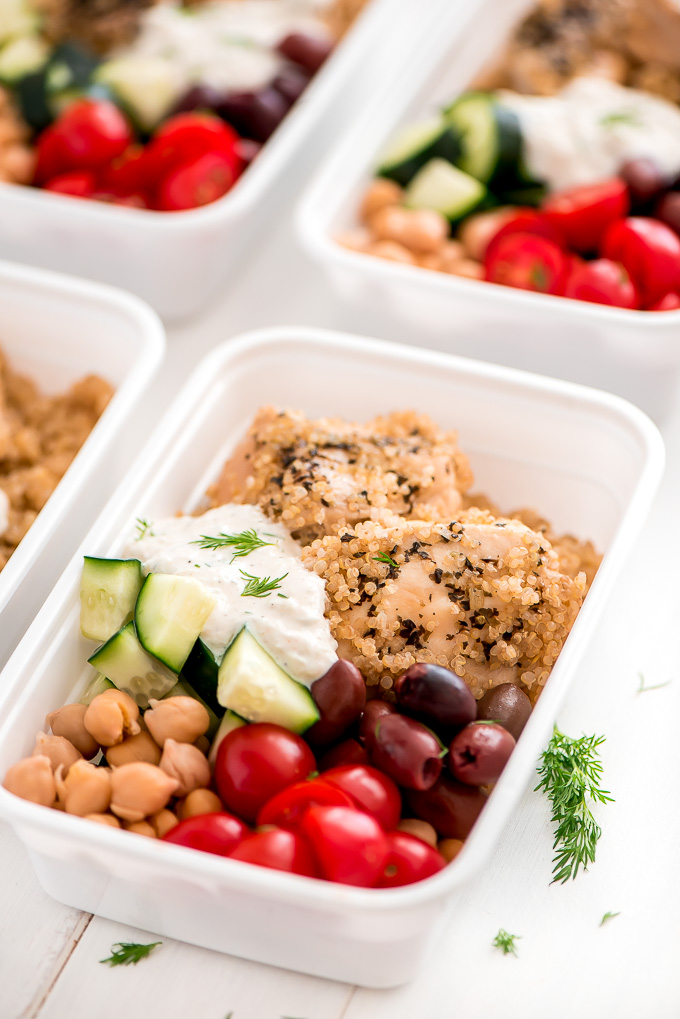 Instant Pot Greek Chicken Quino Bowls – Garnish & Glaze
Greek Chicken Quinoa Bowls are a refreshing healthy dinner that comes together quickly in the Instant Pot and can be assembled in advance for a grab-and-go meal.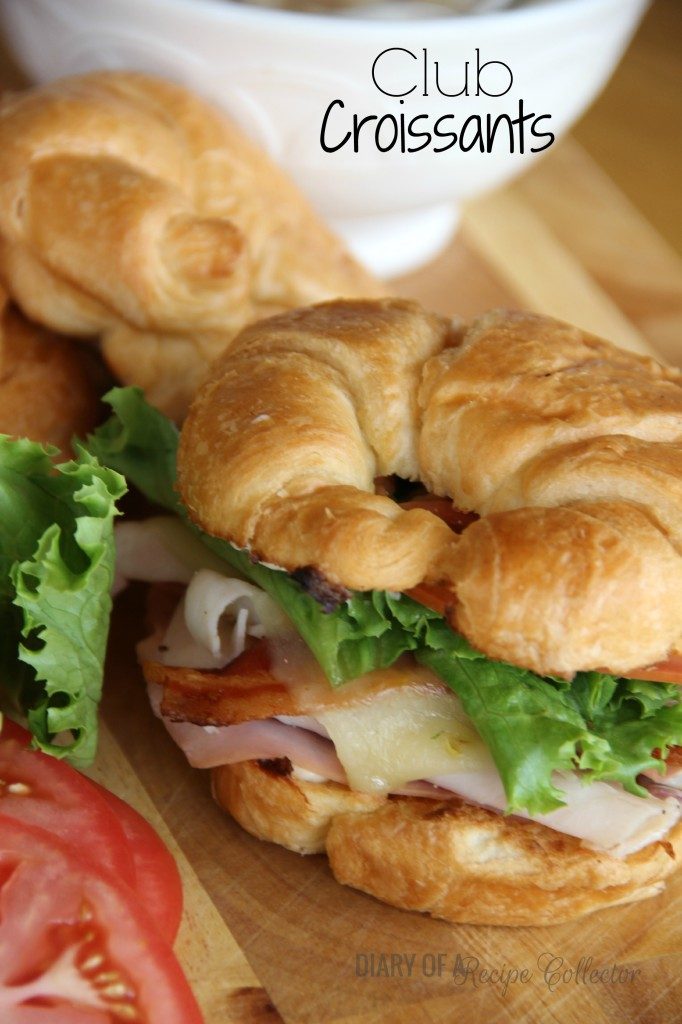 Club Croissants with Roasted Red Onion Mayo – Diary of a Recipe Collector
This sandwich is anything but the same old sandwich! It's built on a flaky croissant and gets better with this amazing flavored mayo!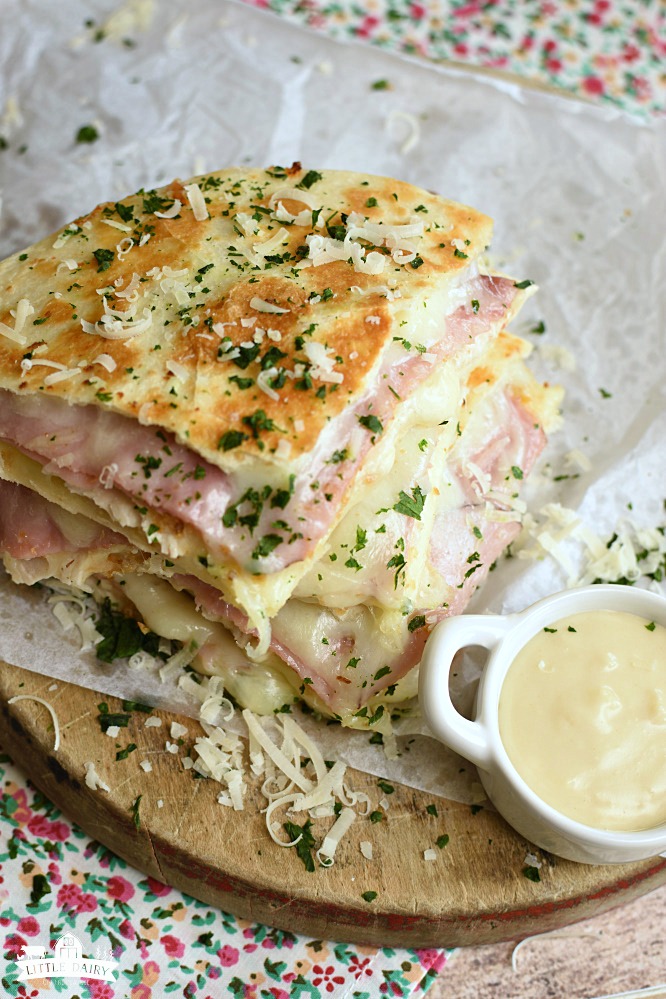 Chicken Cordon Bleu Quesadilla – Little Dairy on the Prairie
There's so much to love about Chicken Cordon Bleu Quesadillas! They have all the same irresistible flavors of traditional, and time consuming Chicken Cordon Bleu in this super EASY quesadilla! There's layers of gooey cheese, crispy bread crumbs, savory ham and chicken and of course killer Parmesan Dijon cream sauce that you could eat with a spoon! It's a winner!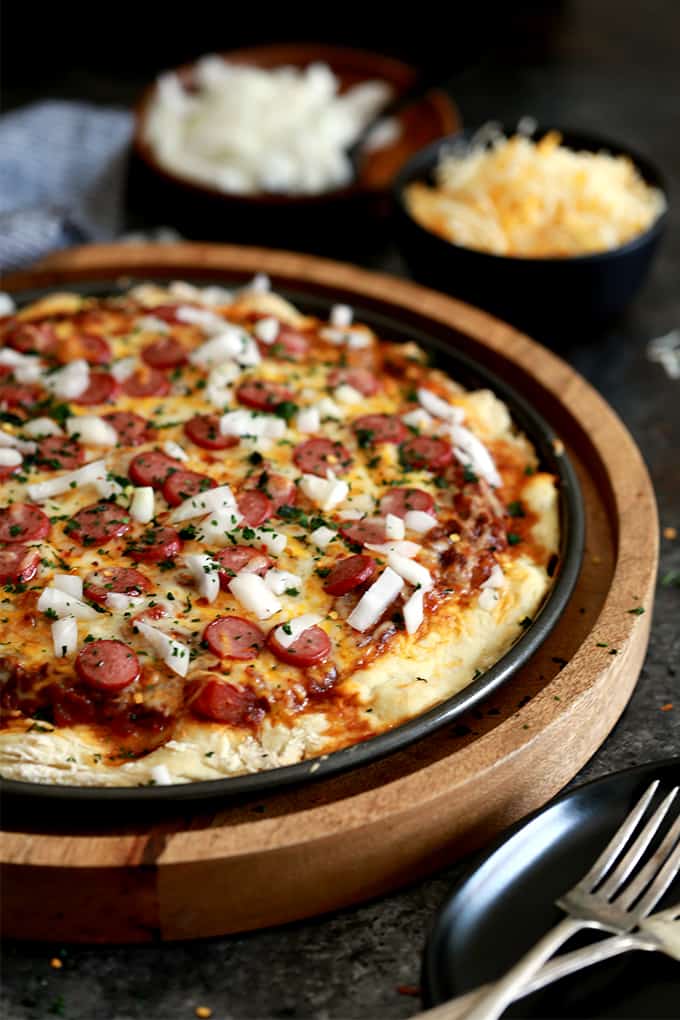 Chili Cheese Dog Pizza – Melanie Makes
This Chili Cheese Dog Pizza begins with a homemade pizza dough layered with hearty chili and shredded Mexican cheese before being topped with sliced hot dogs. It's then garnished with chopped onion and cilantro before being cut into wedges and served. Easy enough for any weekday, yet the perfect way to kick off a weekend.
Cheesy Beef & Pasta Casserole – Neighbor Food
This Cheesy Ground Beef and Pasta Casserole has been the star of so many gatherings it's earned the nickname Company Casserole.
SIDE DISHES
Parmesan Crock Pot Sweet Potatoes – Diary of a Recipe Collector
Take the fuss out of weeknight dinners with these perfect easy, and quick weeknight side dish for holidays, or any other day! Add everything to the slow cooker and be ready for all that garlic and parmesan flavor!
DRINK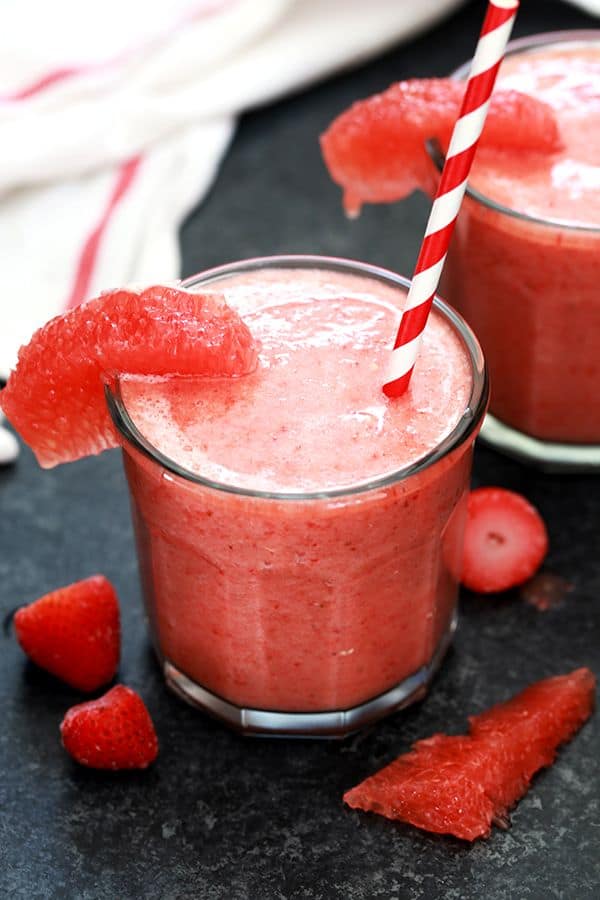 Strawberry Grapefruit Smoothie – Melanie Makes
This four ingredient Strawberry Grapefruit Smoothie couldn't be easier! A ruby red grapefruit, strawberries, banana and orange juice are blended together in just seconds to create the perfect easy breakfast or snack.
DESSERT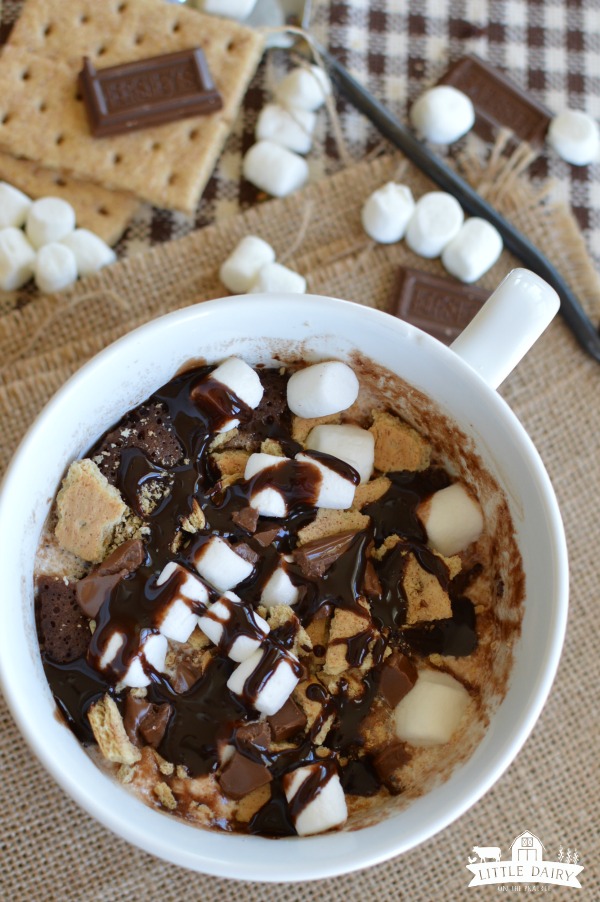 S'mores Chocolate Mug Cake – Little Dairy on the Prairie
S'mores Chocolate Mug Cake is DANGEROUS! Stir the ingredients up, pop this baby in the microwave and one minute later you have a mug full of that warm ooey gooey chocolate you've been craving all afternoon long! Don't tell me I'm the only one that happens to!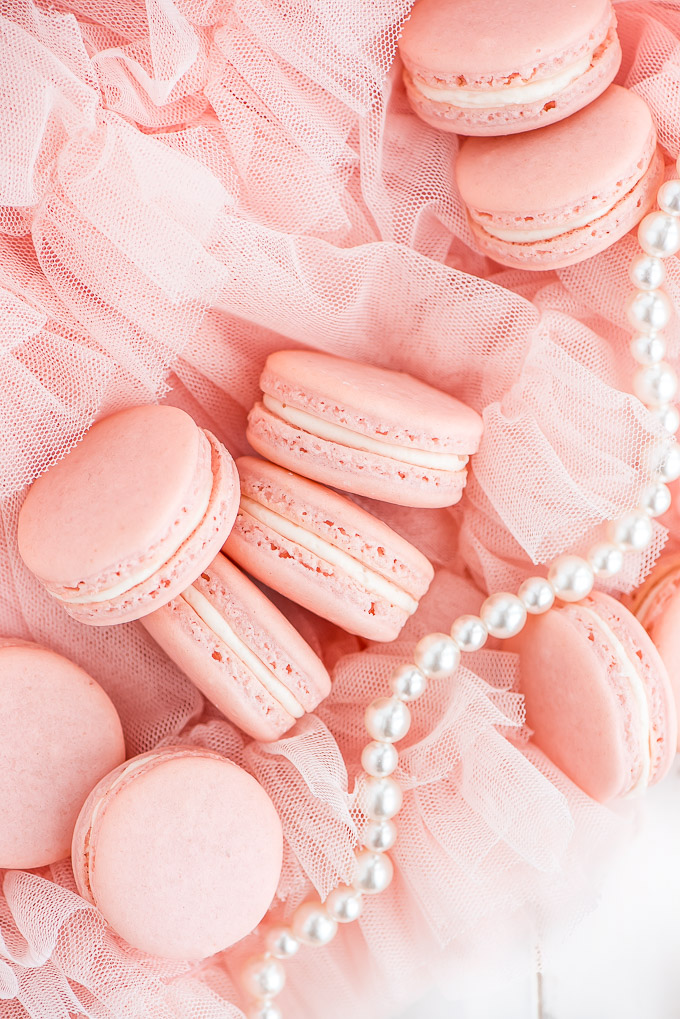 Macaron Recipe – Garnish & Glaze
Macarons can be a tricky cookie to master but with this recipe and my countless tips, you'll making be making these elegant treats like a pro in no time.