This Chocolate Granola is loaded with three kinds of chocolate! Some days just deserve to be started out with an ultra chocolatey breakfast and this recipe is definitely worth getting out of bed for! I always make a big batch because it stores really well and it's a quick and easy snack too!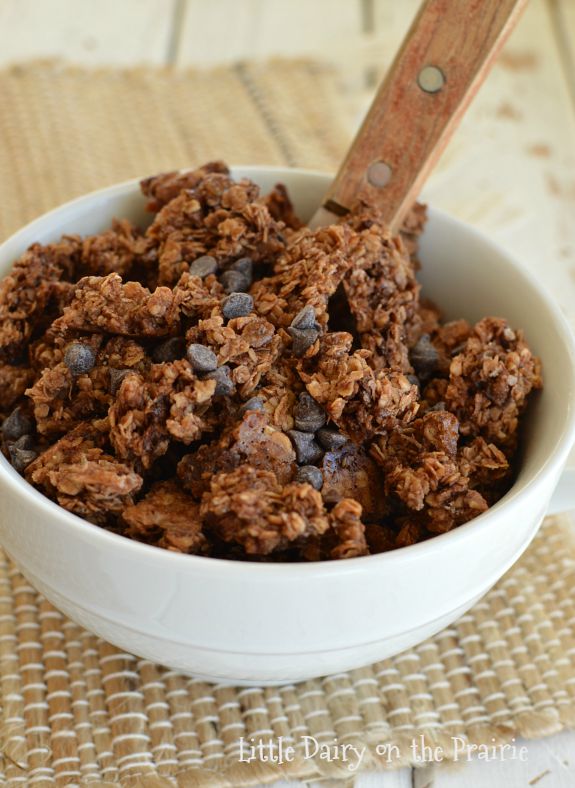 No matter how much preparation I put into making our mornings run smooth, it doesn't seem to help. I'm one of those people who jumps right out of bed as soon as my alarm goes off. I don't understand the whole "snooze" thing. Who wants to be interrupted every 10 minutes during the last 30 minutes of sleeping? Not me! I set my alarm at the time I want to get up, and then get up. And when I get up, I get going on my day. Why get out of bed to sit around? My family, on the other hand, …they struggle to get out of bed, then sit around for about 15 minutes before putting one sock on. About 10 minutes later they get around to the other sock. It's crazy to me and it makes me crazy. Because they dawdle around for so long it makes us have to rush like crazy at the end of the day.
Have I mentioned that I love summer? It's a time when boys can wear work jeans, not comb their hair, and dawdle all morning long. It makes me happy when their dawdling doesn't affect my life too much. Come to think of it, they don't dawdle too much in the summer. Maybe because they actually have a good reason to get going on the day!
Anyway, my crazy and cranky morning self loves having breakfast all ready to go before I even set foot out of my warm bed. Granola is one of my favorites because it's filling, fairly healthy, and fast, fast, fast!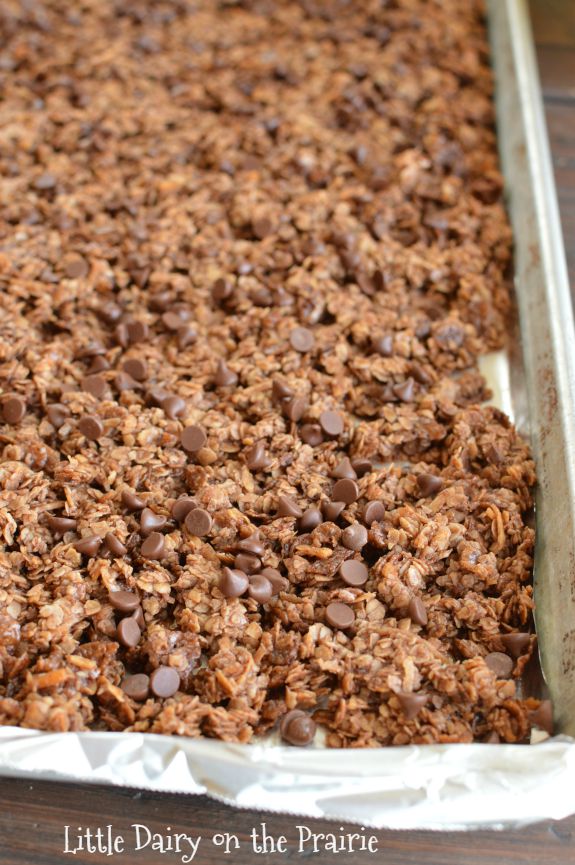 Granola is a snap to make. In fact, it only takes about 5 minutes hands on time and 20 minutes baking time.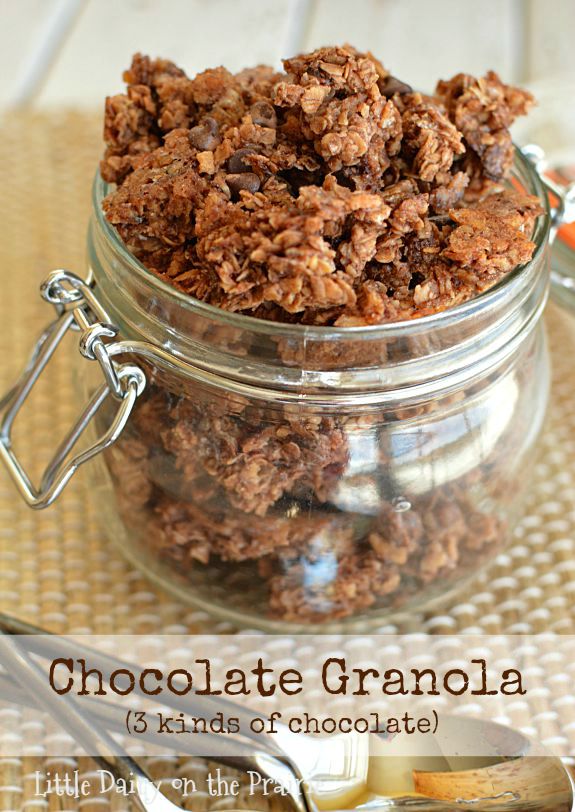 Now for the most important part, this stuff has three different kinds of chocolate. It has chocolate crispy treats, chocolate chips, and a little cocoa. It's a divine combination! It's a little bit of happiness on crazy mornings! Or a happy little afternoon snack!
I think you should make some chocolate granola at your earliest convenience! I promise it will make you happy in the morning! Well, if your kids hurry and you have this granola you will be happy in the morning!
Chocolate Coconut Granola
This chocolate granola recipe is loaded with chocolate chips and coconut! It's a crunchy baked granola that is perfect for snacking or cereal!
Ingredients
1/2

cup

butter

1/2

cup

honey

1/2

cup

brown sugar

1

teaspoon

vanilla

1

Tablespoon

cocoa

5

cups

oats

4

cups

cocoa rice cereal

1

teaspoon

Kosher salt

1

cups

coconut

1

cups

mini chocolate chips

1

egg white

1

cups

mini chocolate chips
Instructions
Preheat oven to 300 degrees. Line a baking sheet with aluminum foil and spray with nonstick baking spray.

In a large microwave-safe mixing bowl melt butter. Add honey, brown sugar, cocoa, salt, and vanilla, and mix together.

Add oats, rice cereal, and coconut (if desired). Stir together to coat all dry ingredients. (See note)

Beat egg white. Drizzle over the granola and toss to coat with the egg white.

Bake for 20 minutes. (Stir every 5 minutes for granola that isn't in clusters.)

After 20 minutes of bake time turn oven off. Remove granola from oven and sprinkle chocolate chips over granola, don't stir. Return granola to the oven, which should be turned off but still warm. Close the door and let granola rest in the oven until it has cooled.

Remove the cooled granola from the oven and break it into pieces. Break them into smaller pieces to serve as cereal, or larger pieces to eat as clusters.

Store in an airtight container for up to three weeks!
Notes
Chocolate Rice Cereal: Substitute rice krispie cereal or oats for the chocolate rice cereal if desired.
Nutrition
Calories:
389
kcal
|
Carbohydrates:
59
g
|
Protein:
6
g
|
Fat:
15
g
|
Saturated Fat:
9
g
|
Polyunsaturated Fat:
1
g
|
Monounsaturated Fat:
2
g
|
Trans Fat:
0.3
g
|
Cholesterol:
20
mg
|
Sodium:
268
mg
|
Potassium:
152
mg
|
Fiber:
4
g
|
Sugar:
33
g
|
Vitamin A:
740
IU
|
Vitamin C:
5
mg
|
Calcium:
52
mg
|
Iron:
4
mg
tried this recipe?
Make sure to share it with me! Leave a review or tag me on Instagram