Slow Cooker Beef Carnitas could not be easier. In the morning, add a roast and some spices to your slow cooker and by dinner you will have the most tender and flavorful dinner waiting for you!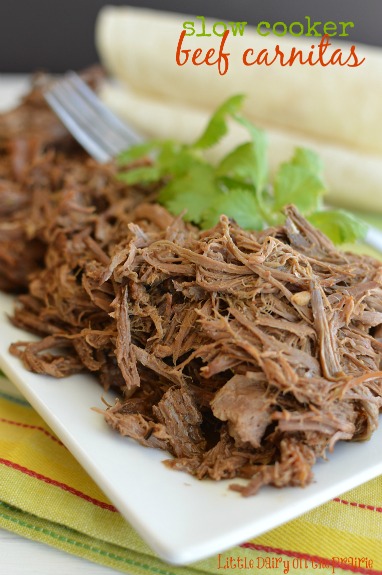 Mexican food is one of my favorite foods of all time. When we go out for Mexican I order something that I either can't make at home or that takes lots of effort to make at home. Justin and Carson always orders carnitas. I admit they are yummy, but I can make them at home so easily. Justin even admitted after he ordered carnitas last time that he wasn't going to order them anymore. He said they are just as good, or better, at home!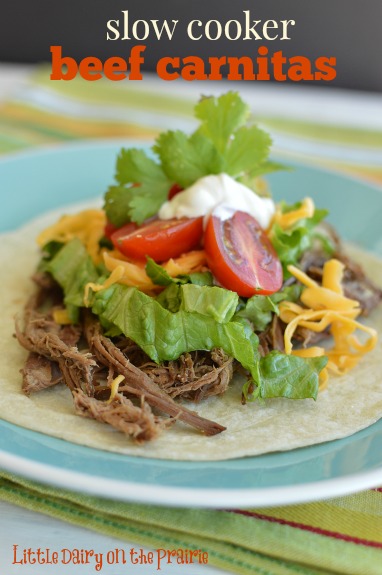 I always use a fairly good sized roast. Then I have the meat already made for a few nights during the week. The first day, I usually serve the meat on a tortilla shell with all the fixings. Later in the week the Beef Carnitas reappear as nachos, quesadillas, in a tortilla soup, as a "carnitas" salad or even again as on tortilla shells! I'm telling you, once you have meat already made in the fridge, you have dinner in the bag! These Beef Carnitas are so versatile your family won't even notice you are feeding them the same thing over and over!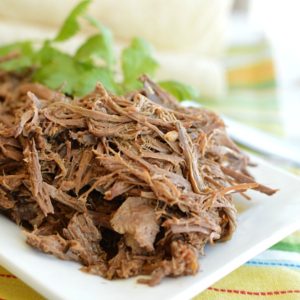 If you like the cook once and eat it three or four times theory, these beef carnitas are for you! Especially since they begin in the slow cooker. So little effort for so much yum!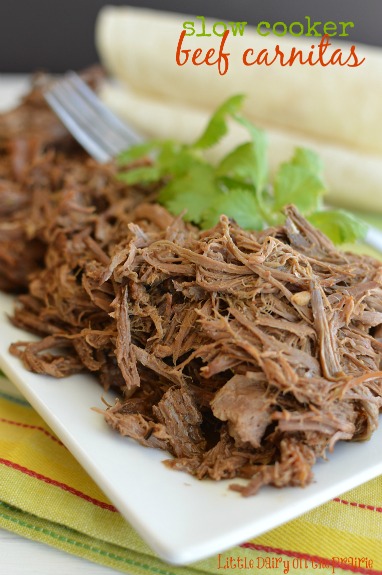 Slow Cooker Beef Carnitas
Get a head start on the week with Slow Cooker Beef Carnitas! This beef comes out of the slow cooker bursting with flavor and extra tender. These carnitas are so versatile you can serve them to your family all week and they will never know!
Ingredients
3-4

pound

roast

salt and pepper

to taste

1 14.5

oz.

can chicken broth

1

T.

cumin

1

T.

chili powder

1

T.

oregano

3

cloves

garlic

minced

hot sauce to taste
Instructions
Generously season roast with salt and pepper. Place roast in slow cooker. Pour chicken broth over meat. Cook on high 4 hours, or until it pulls apart easily.

Remove roast from slow cooker. Shred. I pull it apart with two forks.

Add shredded beef back to slow cooker. Add seasonings and stir to distribute.

Cook roast on low for at least 2 hours.

Remove roast from drippings with slotted spoon. Serve on tortillas, chips, lettuce or anything else you can imagine!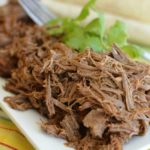 tried this recipe?
Make sure to share it with me! Leave a review or tag me on Instagram