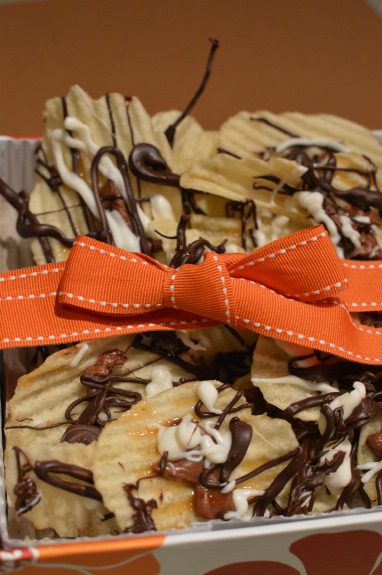 Today is the final post of "Spud Harvest". I'm bringing you a recipe for a true "Idaho" candy. As a child, we rarely had chips in our home. Having chips was like having Christmas. I must still be recovering from chip deficiency in my early years because I still cannot get enough of them. I'm even guilty of promising not to go back for seconds on the chips. Then I wait until my kids look the other way and steal a few off of their plates. Don't tell them, or they might not want to sit by me anymore!
The other day I saw some chocolate covered potato chips in "Cal Ranch". (That's where we shop for chimney sweeps, pitchforks, Christmas toy tractors, boots, salt licks for the horses etc. They cater to ladies too. I bought some canning supplies, a cookbook, spices, and other unusual items there too. We go there alot!) You know I can't leave well enough alone! In my mind I could just imagine these chocolate covered chips with caramel and white chocolate too! I tried it and they were as good as I was imagining! You gotta make them. It's a perfect combination of salty and sweet!
Today I'm also bringing you some pics of the fun we have had during Spud Harvest!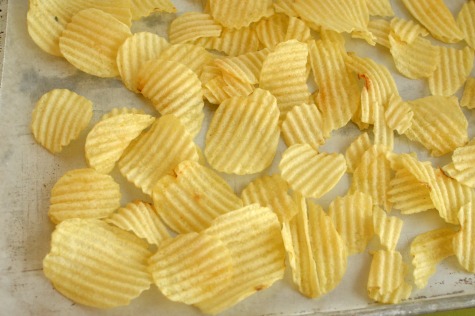 Spread some potato chips on a wax paper lined cookie sheet. Try not to eat them all.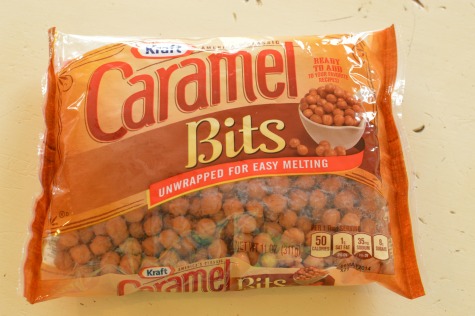 When the kids aren't here to unwrap caramels, these little Caramel Bits save the day. Melt them with a little evaporated milk. Stir and melt until smooth and creamy. Drizzle over the chips.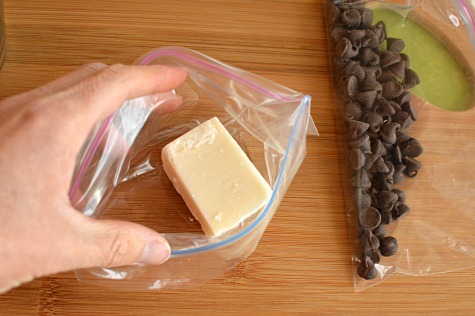 Put white chocolate in a zip lock bag. Put semi sweet chocolate chips in a separate zip lock bag. Melt white and semi-sweet chocolate chips in the microwave. I melted them at 1/2 power. Microwave at 30 second intervals. Kneed with fingers between intervals. Continue until chocolates are smooth and melted.
Snip a small section of one corner of each zip lock bag off. Squeeze the chocolate out and drizzle all over potato chips. Amounts are to taste. I recommend lots of caramel and lots of chocolate. Otherwise it's just potato chips!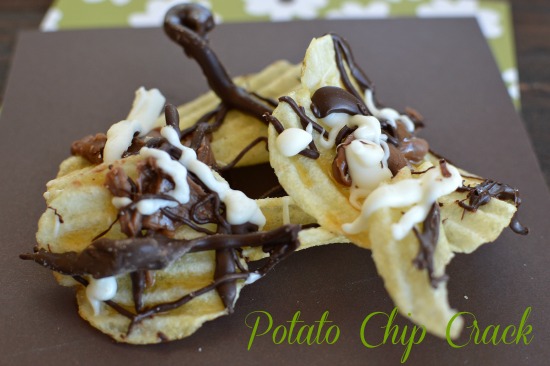 I love snacking on these things while watching a little football. Or any other time that I'm craving the salty sweet combination, which happens to be almost all of the time! Maybe you should make some and eat on them during General Conference this weekend!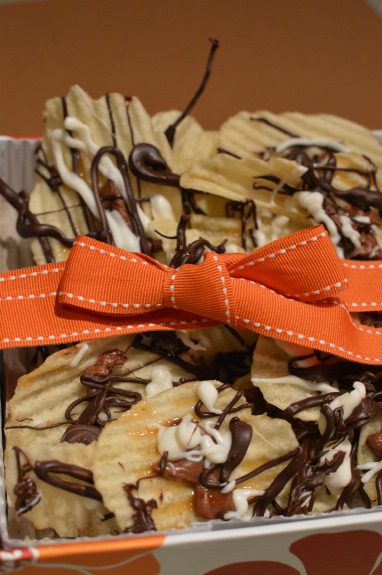 Potato Chip Crack
Beware, this sweet and salty combination is highly addictive! It's so worth every bite!
Ingredients
Potato Chips

Semi Sweet Chocolate Chips

White Chocolate Chips

or Dipping Chocolate

Caramel Bits

or caramels

Evaporated milk
Instructions
Amounts in this recipe are all to taste. In my opinion the more caramel and chocolate the better!! Make enough for just you or enough to share!

Line a baking sheet with wax paper. Spread potato chips in a single layer on wax paper.

Melt caramels and a little evaporated milk in microwave. Melt them at half power in the microwave until smooth and creamy.

Melt semi-sweet chocolate chips in a zip lock bag in the microwave. Once again, I use half power and microwave in 30 seconds intervals. Kneed with fingers and keep microwaving until smooth. Snip a corner of the bag and drizzle over the potato chips.

Repeat semi-sweet process with the white chocolate!

Let sit until chocolates and caramels are hardened.

Enjoy!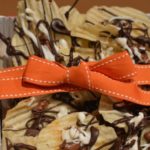 tried this recipe?
Make sure to share it with me! Leave a review or tag me on Instagram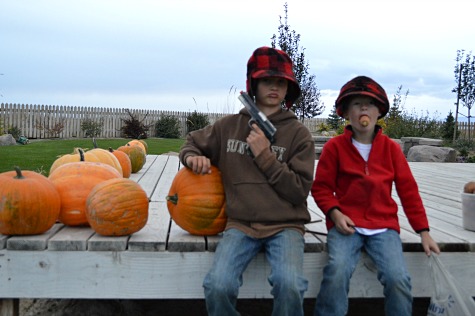 Now on to some pics of our Spud Harvest! We really did harvest our garden. My littlest boy decorated the deck with these pumpkins. He was so proud of himself that I left the pumpkins there. Once he goes back to school I will move them and decorate the front of the house a little bit too! Of course, we had to bring an air soft gun to the garden. Just in case!
I was hoping to be able to use my older two boys a whole bunch more than I did. Somehow Justin always wins and gets to use them instead of me. But I did have my trusty little helper! It took him a little longer to pick the potatoes up because he had to eat his carrot while he worked. He is best at side tracking me and making me want to kiss his cheeks. Hey, he's the baby! We still have lots more potatoes and carrots left to harvest, but I decided to leave them there for awhile longer.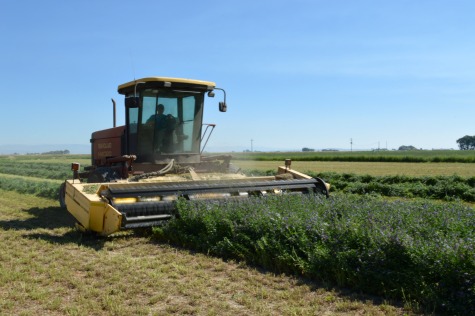 We hoped to have Carson do more of this! The dang weather did not cooperate. Even though he didn't swath he was busy doing lots of other jobs around the farm. I appreciate him!
During Spud Harvest we don't have to go to school. All of the other activities are still going on though. Branson had early morning football practice and two football games. Payson had to finish a huge homework packet. And the boys still had piano lessons. That means we still had to do some of the normal school things.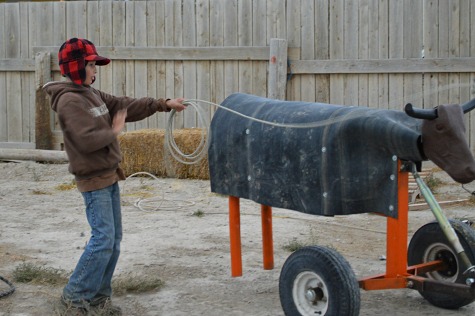 My boys hired my talented sister-in-law to build this roping dummy for them. Since we brought it home during spud harvest, it's the new toy! The boys loved spending hours roping it.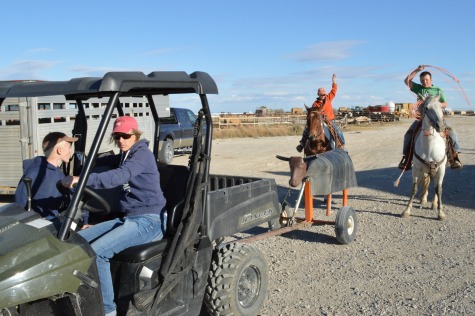 I made a trade with Carson. He pressure washed my house while I washed the windows. Then I had to pull his roping dummy for him. The only problem was that the weather was perfect during the pressure washing. It wasn't so nice during the roping. The wind was blowing so hard and my baby couldn't wait to come int the house. But I lived up to my end of the deal and pulled the dummy. By the way, my house looks really nice!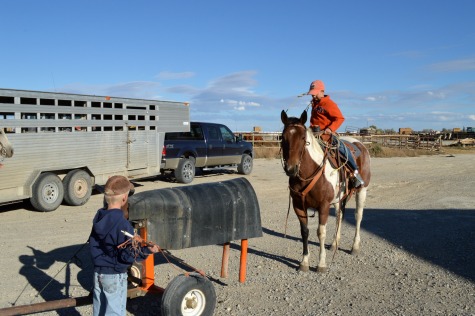 My youngest two boys built a bow and arrow out of an old whip and some baling twine. Too bad Branson didn't want Payson to play bow and arrow next to his horse!
Even though the weather was less than ideal, we still accomplished lots of work. We had fun too! Anytime the boys are home we put them to work. I'm happy to say that we still enjoy being around each other!