There's so much to love about Peppermint Bark Poke Cake! First of all, who could resist a white cake mix all dressed up with peppermint flavored sweetened condensed milk, then topped with a hot fudge layer, and piled as high as possible with cheesecake whipped cream! Oh, and those candy cane pieces on top add the perfect amount of crunch!
Thanks to my friends at Dairy West for sponsoring todays post! I'm madly in love with dairy products, and as always, all opinions are my own! #DairyWest #UndeniablyDairy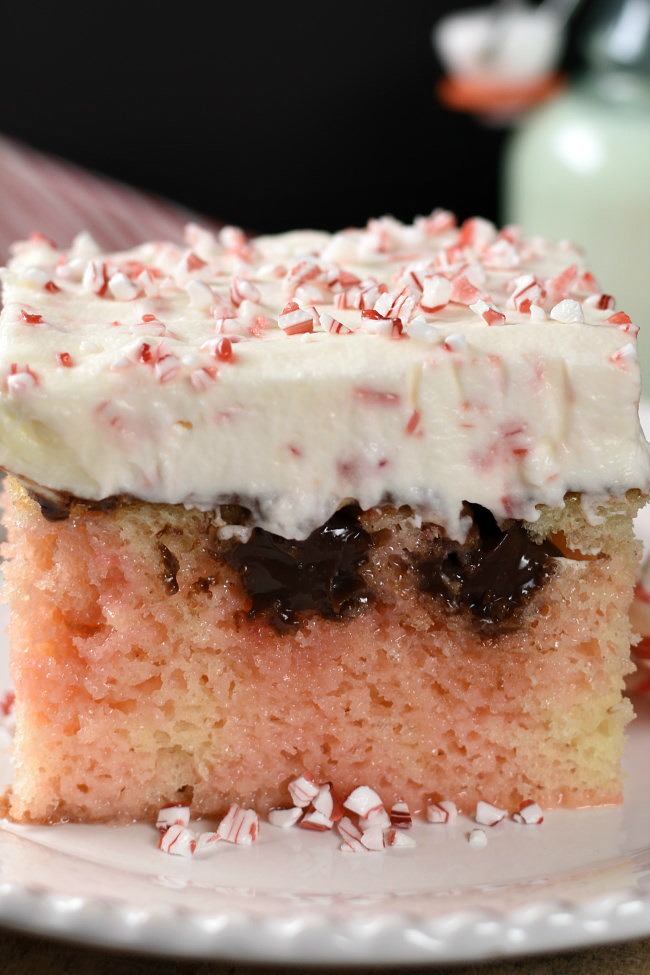 You know what else is to love about this cake? It's easy, and doesn't take much time at all to make. If you can make a cake from a cake mix, you're going to rock this recipe like a boss!
We all need a few, or a whole bunch, of those quick and easy recipes this time of the year. Am I right? Especially when you end up with a Christmas dessert as gorgeous as this cake! It's one of those recipes everyone always loves!
Before we talk about this scrumptious Peppermint Bark Poke Cake, we need to have a little chat. There's something I've got to get off my chest. So here it goes…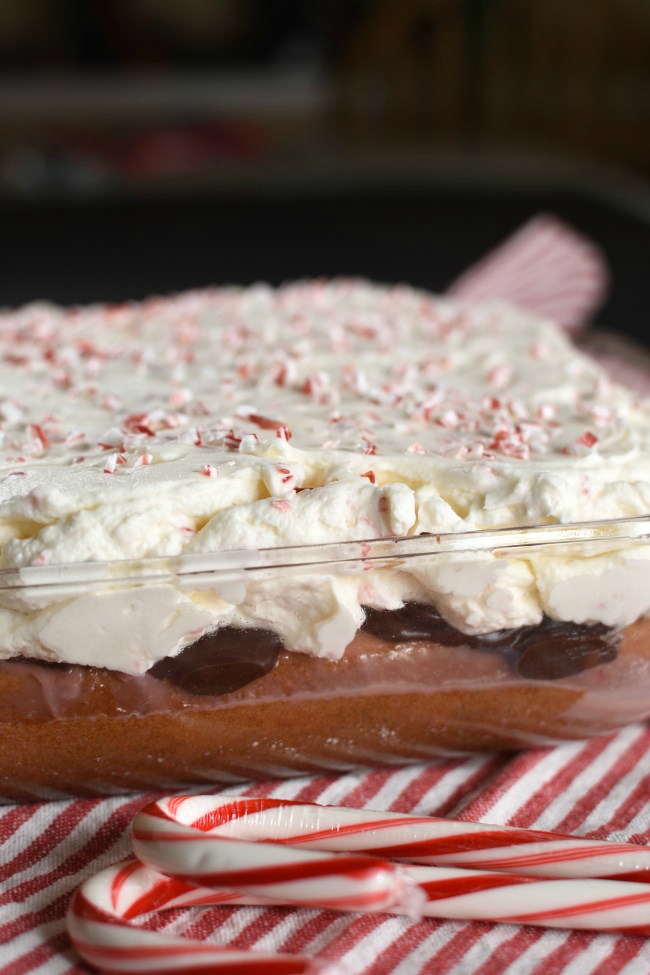 Who is a farmer?
The other day my 70 something, fellow dairy farmer neighbor came over to my house. Just before he left, he turned around and said something that cut to my soul, "You know who a farmer is? It's someone who's willing to starve his family to death to feed the world".
I've been thinking about what he said ever since. It's pretty much dominated my thoughts, which is odd for me because thoughts of food usually invade every single space in my brain. I'm still thinking about food, but this time it's about what it takes to produce food.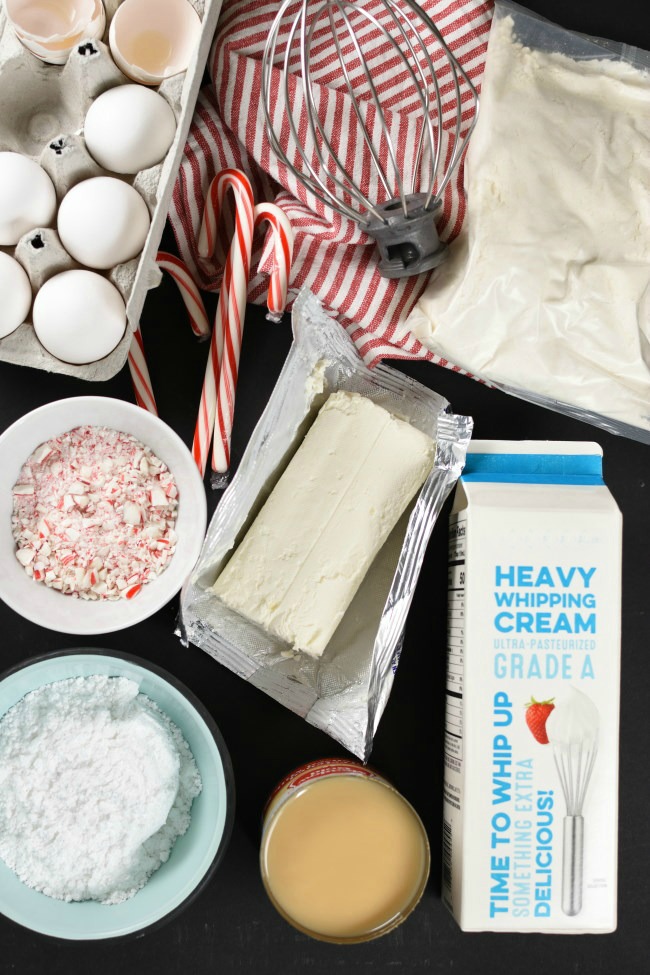 Where does my food come from?
My thoughts turned back to being at the grocery store years ago. This man in the aisle next to me mentioned he was going to have to turn off his cable TV, and his kids might not be able to drink milk, if the price of groceries didn't go down. What? Call me judgmental if you'd like. But I was standing there watching him bag up his cases of beer, bottled water, candy, chips, and other "luxury" grocery items.
It was all I could do to not blurt. I wanted to tell him that at the time my family was going farther into debt every single day because we were selling our milk for less than it costed to produce it. I had to bite my tongue or else I knew I would suggest ways he could cut his grocery bill without depriving his kids of their $1.86 gallon of milk.
A few years later, I wandered over to the milk case at the grocery store and noticed huge signs apologizing to consumers for the high prices of milk. Jaw drop! Yes, milk prices were actually high enough that we didn't have to borrow money every month to feed the world. I guess we should feel guilty for that. But I didn't, and I still don't. During those short years of high milk prices all we were trying to do was catch up from the previous years of lows. Nope. Not one bit guilty!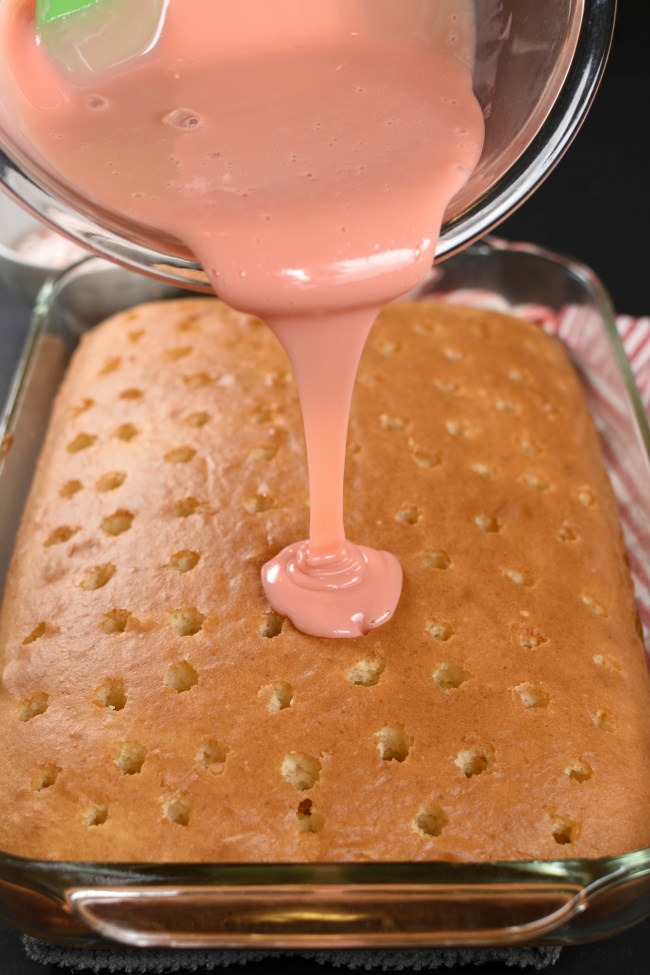 What is the history of the price of milk?
Farmers get paid a price per 100 pounds of milk. In 1980, the price of milk was $11.88 per hundred pounds of milk. I'm estimating the pay price in 2018 to be under $12.80. Since 1980, cost of living has risen 300%. Price of milk is up 8-12%. My friends that's not enough! Not even close!
My purpose is to help you understand what's happening behind that jug of milk. I think consumers should understand they are buying food for less than it costs to produce it. As a consumer myself, that scares me. I understand what happens to businesses that don't make a profit.
Shouldn't food be a priority?
We were chatting with Justin's cousin one day and he said, "People are willing to pay quite a bit of money for luxury items, for entertainment, but when it comes to necessities, they think they shouldn't have to pay much for it. They deserve it."
If I wasn't in control of my own food supply, I'm pretty sure I'd be more interested in the wellbeing of farmers, than the wellbeing of movie theaters, satellite TV companies, and clothing retailers. My guess is you could last for a while without a fun new blouse, without going to see that new movie, but you might get a bit hungry without food.
Squishing the farmer until he can't stay in business feels a little bit like killing the goose that laid the golden egg. Literally!
Thanks for listening to my rant for a minute. Farming isn't always about cuddly calves and driving tractors. It's about paying bills, figuring out how to keep it all together for one more month, and trying to move on with hope. Okay, enough about that sad, but true, story!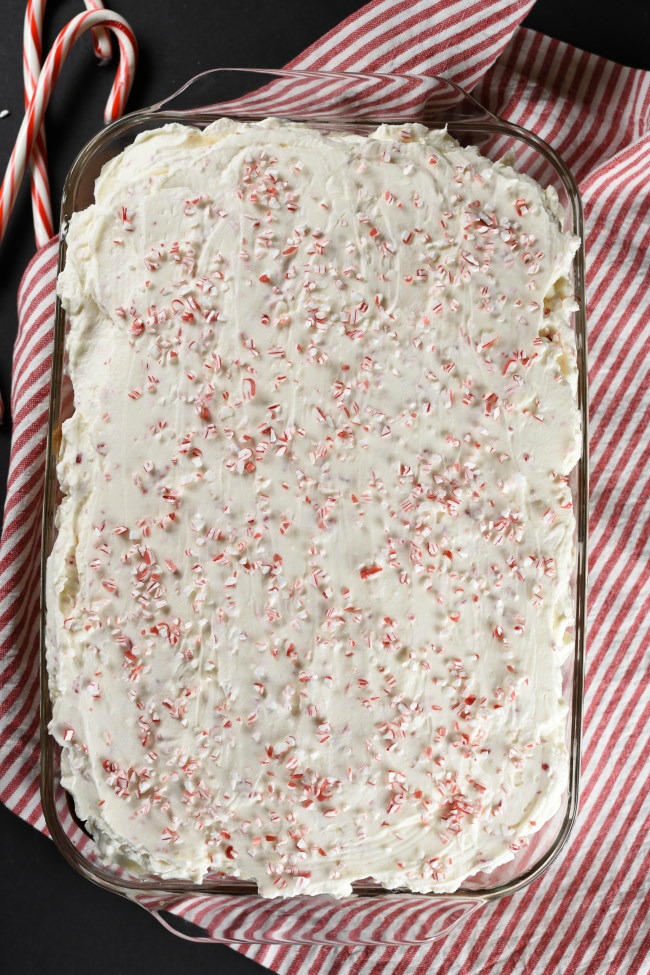 Let's talk about Peppermint Bark Poke Cake!
There's a few important little info to know about this cake.
You need to plan a little bit of extra time for the cake to cool and to allow all the flavors to marry each other! It's best after it sits for a few hours or overnight. Which makes it a fantastic make ahead dessert!
Use real whipped cream! Real whipping cream is cream made from milk, whipped topping is made of water, corn syrup, and preservatives.
Save sprinkling crushed candy canes over the cake until right before you serve the cake. You could top it with crushed peppermint bark candy too. If you go that route, it can be added earlier.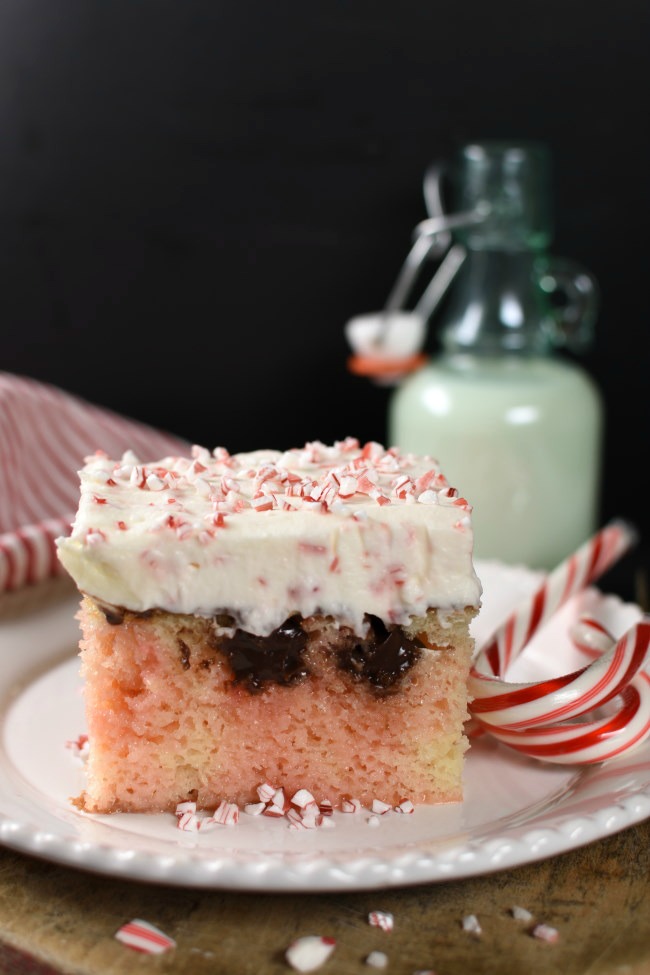 What's the difference between sweetened condensed milk and evaporated milk?
You'll need sweetened condensed milk to make Peppermint Bark Poke Cake.
Let's look at what's the same first. Both are shelf stable products. Both have been cooked until much of the water content in milk has been evaporated out.
Evaporated milk doesn't have any added sugar. It's thicker and creamier than traditional milk. You can substitute evaporated milk for traditional milk in recipes.
Sweetened condensed milk has sugar added to it, making it sticky, extra sweet, and almost caramel like. Simply adding sugar to evaporated milk is not a replacement for sweetened condensed milk.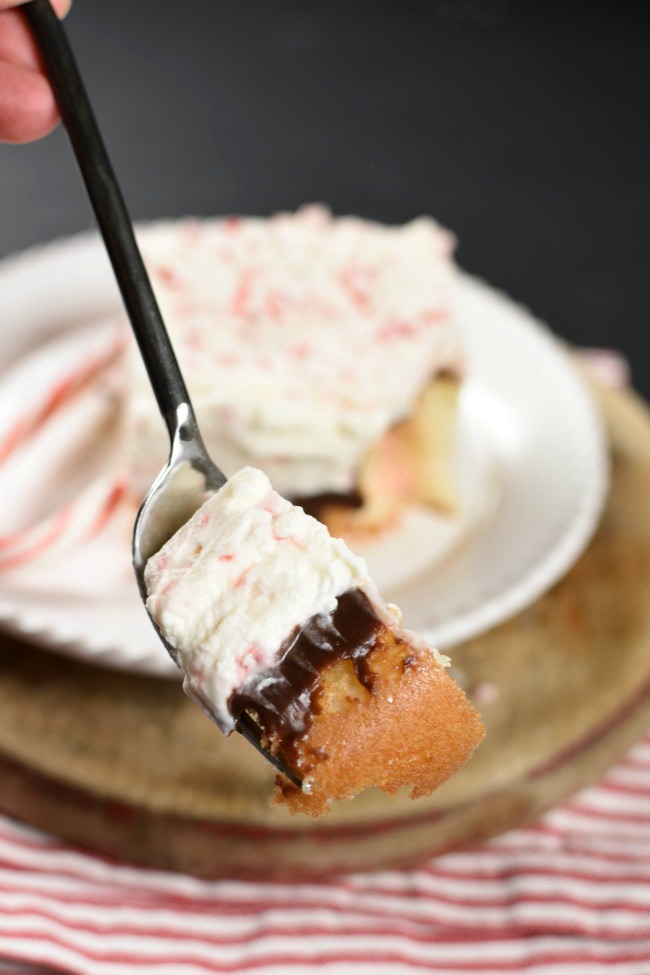 Grab the printable recipe for Peppermint Bark Poke Cake!
Seriously, add this cake recipe to your holiday baking list! And for heavens sake, please don't complain about the cost of the cream it takes to make it!
Typically I try to be a positive person, and today I feel a bit like a Debbie Downer. But, at least now you know a bit more about what it looks like on this side of the gallon of milk, brick of cheese, or cube of butter! Have a fantastic day anyway!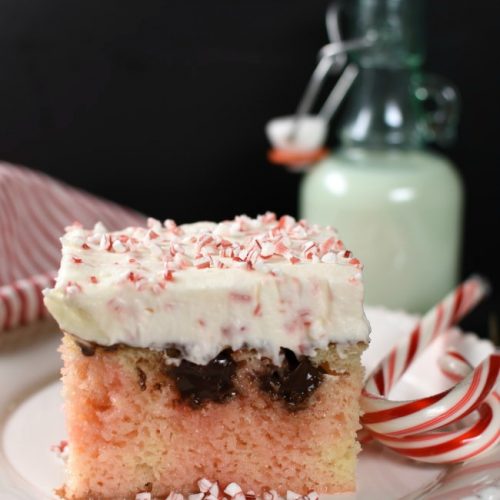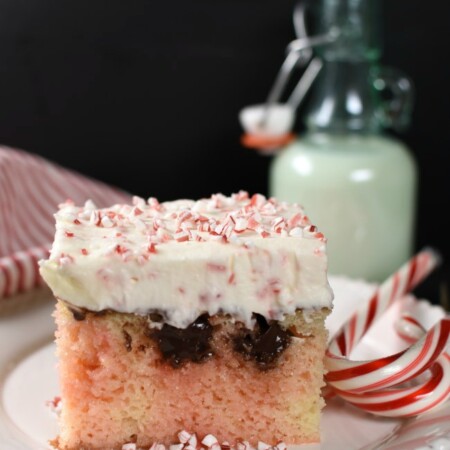 Peppermint Poke Cake
Peppermint Poke Cake is not only a gorgeous holiday cake, it's the easiest dessert to make! To make life easy it begins with a cake mix, then the holes are filled with pretty pink peppermint flavored sweetened condensed milk. The hot fudge layer is irreisitible! Don't forget about the cheesecake icing sprinkled with crushed candy canes either!
Ingredients
For the Cake
1

15 oz. box

white cake mix

(size slightly varies by brand)

ingredients listed on cake mix box

(typically eggs, water, and oil)
For the Peppermint Sauce
1

14 oz. can

sweetened condensed milk

(make sure it's not evaporated milk)

1

tps.

peppermint extract

2-3

drops

red food coloring
For the Hot Fudge Layer
1

12 oz. jar

prepared hot fudge sauce

(I like Smuckers spoonable)
For the Cream Cheese Icing
1

8 oz. pkg

cream cheese

(room temperature)

1

c.

powdered sugar

1 1/2

c.

heavy whipping cream

1

tsp.

mint extract
Instructions
For the Cake and Peppermint Sauce
Bake cake mix according to package directions. Be careful not to overbake cake.

While cake is baking mix sweetened condensed milk, peppermint extract, and red food coloring together. Start with just a couple drops of food coloring and add from there to get the desired color of pink. You may also stir in about 3 T. of crushed candy canes if you'd like. It makes the cakes extra pretty!

A couple minutes after removing cake from oven, poke holes about an inch apart in the cake. I use the back of a wooden spoon to poke holes. The holes should be about 1/4 inch in diameter. A drinking straw will work too.

Pour peppermint sauce over cake. Try to get as much of it as possible in the holes.
For the Hot Fudge Sauce Layer
After cake has completely cooled microwave a jar of hot fudge sauce only until it's spreadable. Amount of time will vary depending on how thick hot fudge is before microwaving. Microwave in 10 second intervals, stirring after each, until desired consistency.

Pour hot fudge over cake. Gently spread until evenly covering cake.
For the Cream Cheese Icing
In a stand mixer, beat heavy cream stiff peaks form. Remove to a seperate bowl and set aside.

In the same stand mixer bowl, cream cheese, mint extract, and powdered sugar. Beat until fluffy.

Fold whipped cream into cream cheese mixure. Be gently so it stays fluffy!

Spread cream cheese icing over cooled cake.

Let refrigerate until time to serve.

Garnish with crushed candy canes just before serving. You can garnish cake right after frosting, but they might bleed on the cake. You decide if you want to take your chances!

Refrigerate cake for 4 hours or overnight!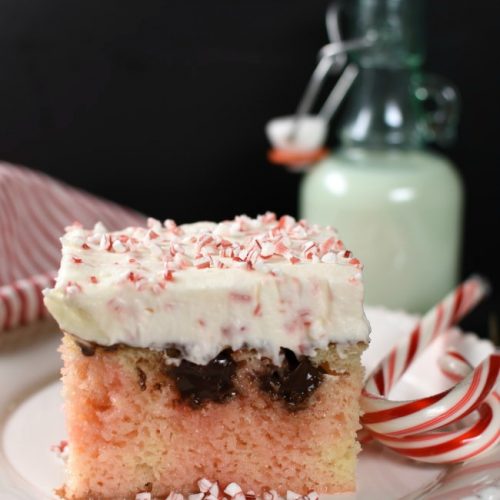 tried this recipe?
Make sure to share it with me! Leave a review or tag me on Instagram