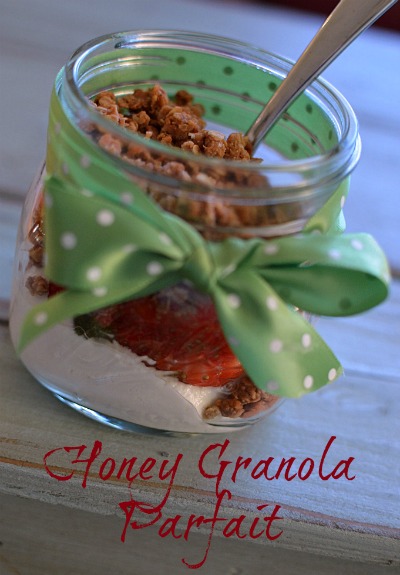 I ate oatmeal for breakfast almost every weekday when I was younger. I still can't do oatmeal. In fact, it took me a long time to be able to just rinse the gooey stuff out of my kids bowl after they ate oatmeal. For a long time, I wouldn't even put oats in cookies or apple crisp topping. Maybe I am maturing, probably not. I have grown up enough that I will eat oats (not oatmeal) in lots of things and actually like it. A few years ago, I started experimenting with homemade granola recipes. This one is a keeper.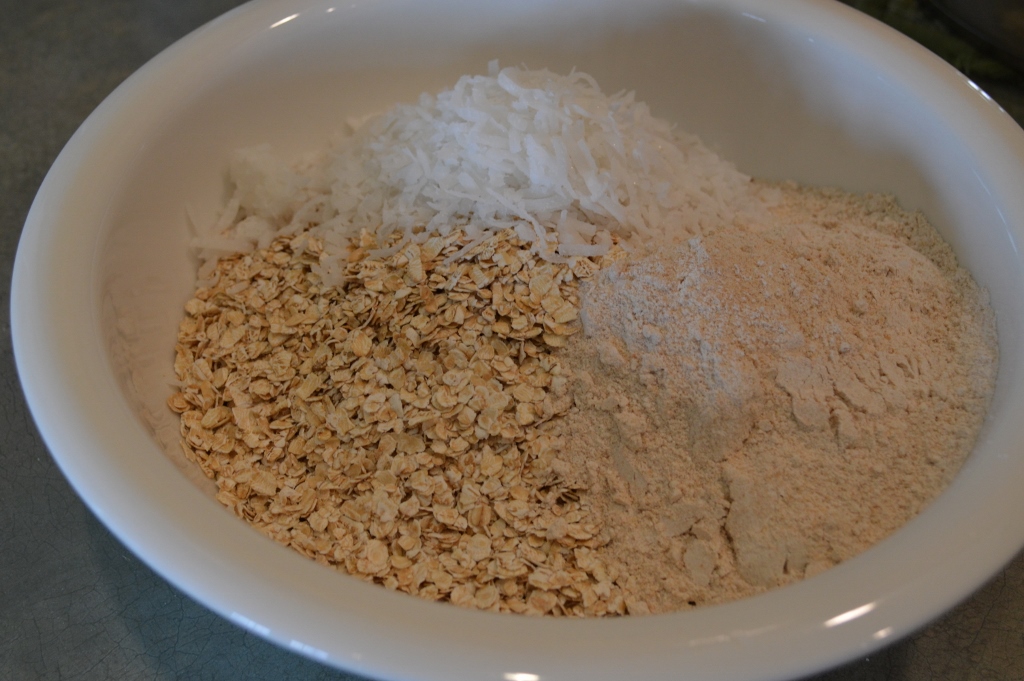 Preheat oven to 300 degrees. Put oats, wheat flour, shredded coconut, flax seed and walnuts in a big bowl and stir them together.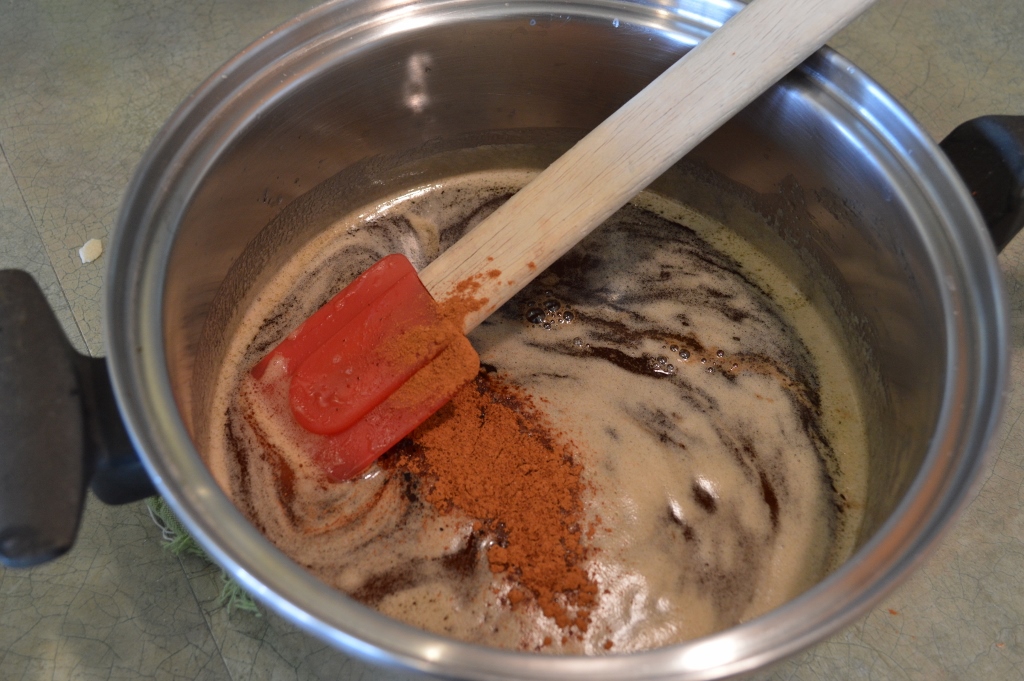 In a sauce pan, over medium heat, combine brown sugar, honey, butter and water. Bring to a gentle boil. Let bubble for a minute. Take it off the heat and add spices, salt and vanilla.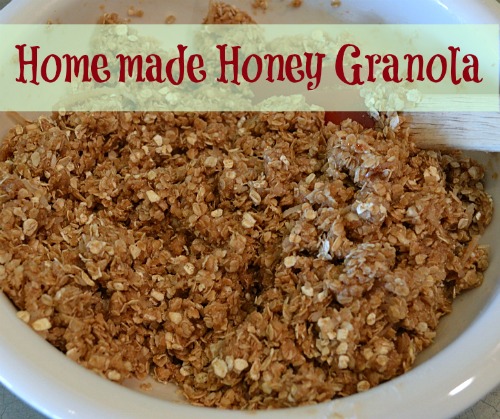 Pour syrup over the dry ingredients in the mixing bowl. Stir them together until dry ingredients are moist and clumps have formed. Let is sit for about ten minutes.
Line a baking sheet with aluminum foil. Spread granola on the baking sheet. I like my granola in good size chunks. So I try and leave them in a little bigger than pea size pieces.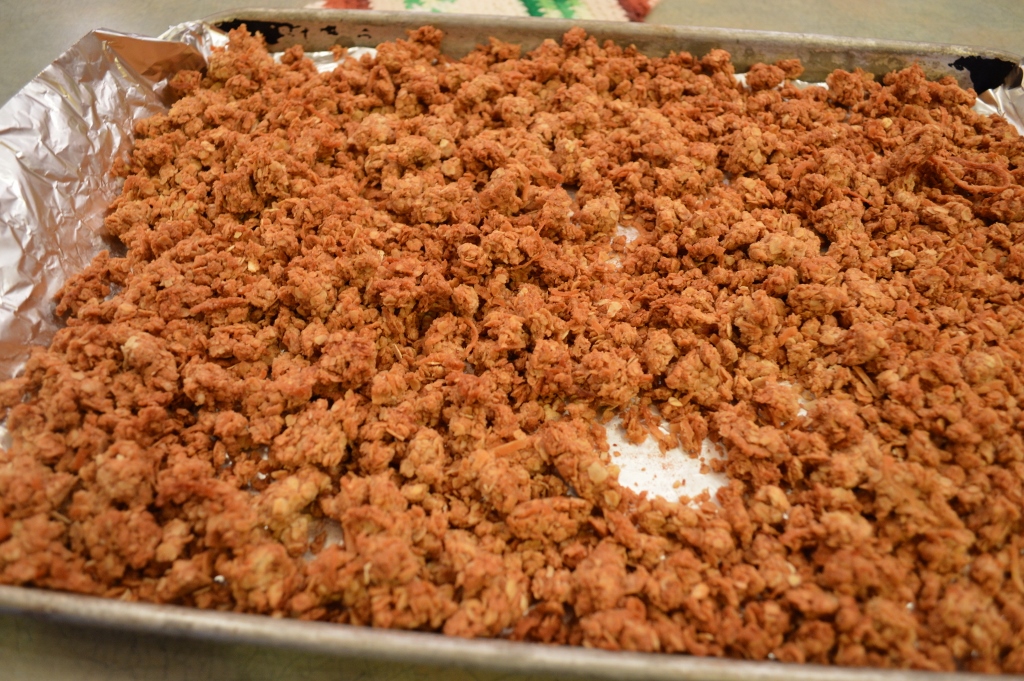 Bake the granola for 15 minutes. Take it out and gently stir it. Repeat this 2 more times. This makes 45 total minutes of baking time. The granola should be golden brown and crunchy. Let it cool. Store granola in an airtight container.
Some vultures showed up as soon as I took this out of the oven. They ate tons of this granola. They were fighting over the biggest chunks. It's a boy thing.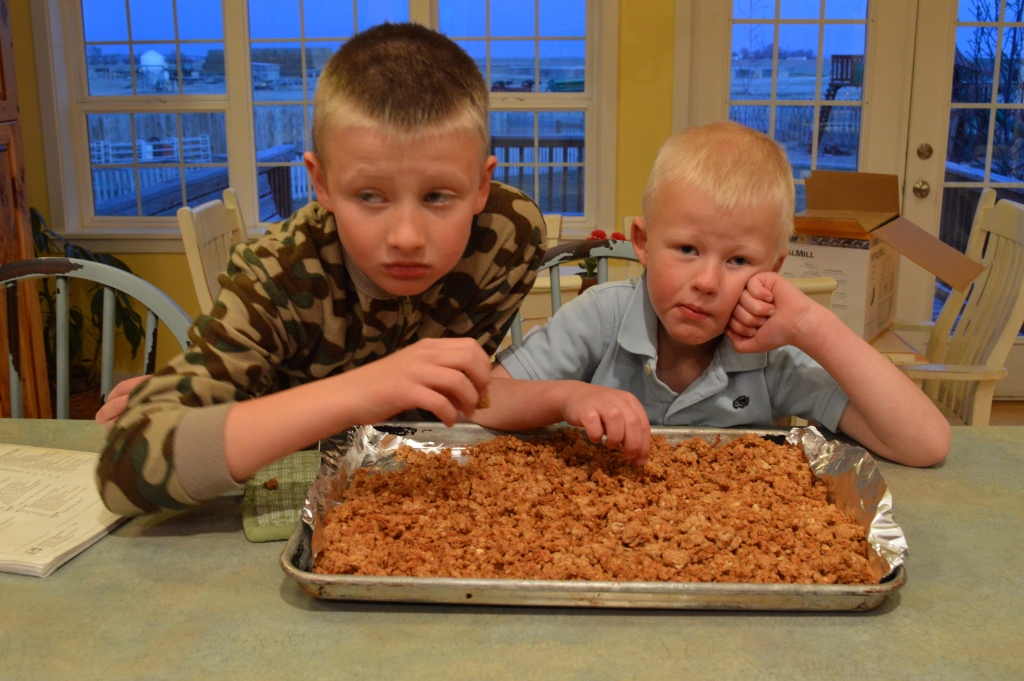 All that eating and fighting wore my baby out. Actually, I added this picture because I can't resist those squished, chubby cheeks.
My favorite way to eat granola is in a Greek Yogurt Parfait. (Doesn't the word parfait remind you of Shrek and Donkey?)
Sometimes I go to bed knowing my mornings are going to be hectic. So, at night, I put vanilla Greek yogurt in a Mason jar, with fresh or frozen fruit on top. Put a ring and lid on. In the morning, all I have to do is get it out of the fridge and put some granola on top. This is also a great thing to send with my boys when they are heading out the door before breakfast. Then they will know that I love them on their way out the door. Sometimes I need that extra ten minutes of sleep in the morning. And this little breakfast short cut is my ticket. Make it and set your alarm ten minutes later!!
Honey Granola
Honey granola has the perfect amount of sweet. I love adding the crunchy texture granola to my yogurt.
Ingredients
3 1/2

cups

oats

1 1/4

cups

whole wheat flour

1

cup

shredded coconut

optional

1/4

cup

flax seed

optional

1

cup

coarsely chopped walnuts

optional

1/2

cup

brown sugar

1/3

cup

honey

1/2

cup

butter

real

1/4

cup

water

1/2

teaspoon

salt

1

teaspoon

cinnamon

sprinkle of nutmeg

1

teaspoon

vanilla
Instructions
Preheat oven to 300 degrees.

Put oats, flour, coconut, flax seeds and nuts in a large mixing bowl. Stir to combine.

In a sauce pan, over medium heat, combine brown sugar, honey, butter and water. Bring to a gentle boil and let bubble for a minute.

Take off heat and add cinnamon, nutmeg, salt and vanilla. Stir.

Pour over dry ingredients and stir until combined. Clumps should form. I like mine to be a little bigger than pea size. Let sit for about 10 minutes.

Spread granola on an aluminum lined baking sheet.

Bake for 15 minutes and then gently stir. Repeat two times. Bake for a total of 45 minutes. Granola should be golden brown.

Let cool. Store in air tight container.
tried this recipe?
Make sure to share it with me! Leave a review or tag me on Instagram