My Farmers Omelet is the packed with zucchini, tomatoes, and fresh herbs from the garden! Because farmers love meat this omelet is loaded with sausage and bacon too! It's exactly the kind of breakfast I want start my day with!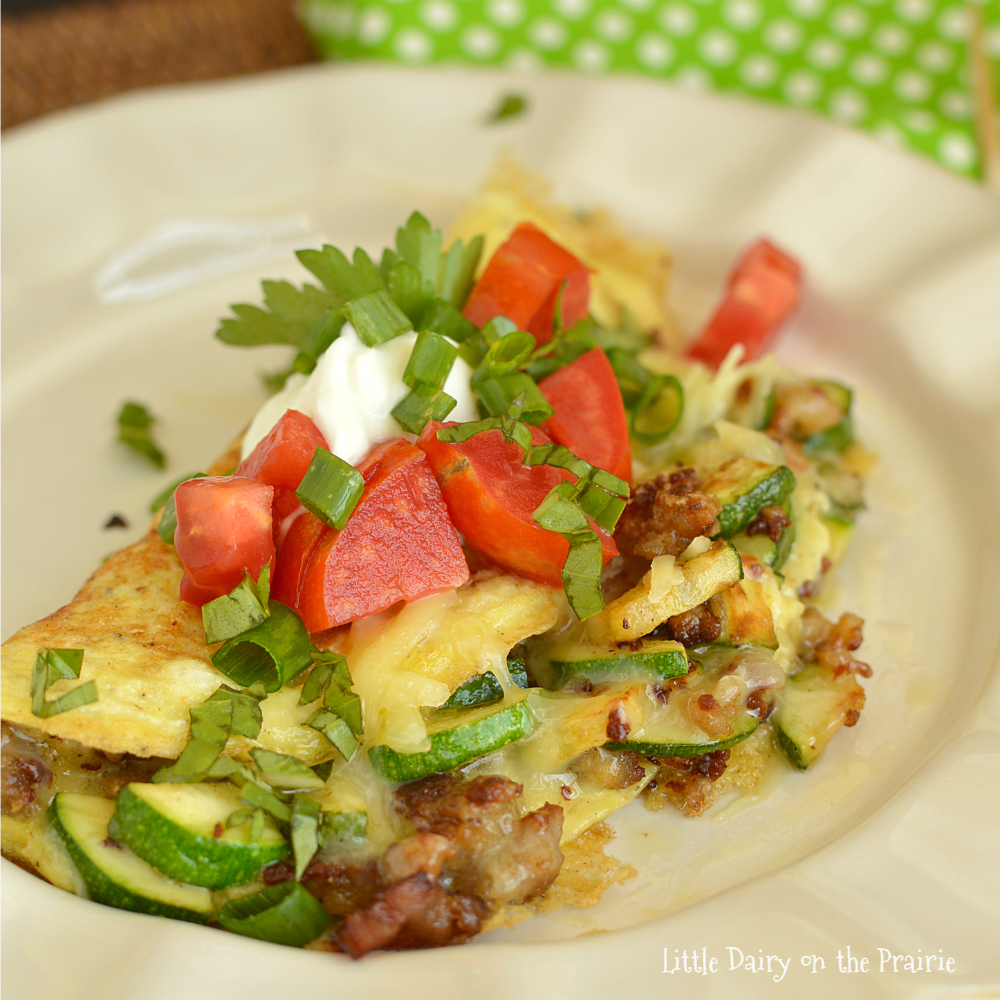 My poor garden actually isn't doing very well this year, with the exception of my zucchini! Of course it's exploding and I have more of it than I could ever hope to use! I am one of those people who pawns zucchini off on unsuspecting neighbors, employees, passerby's, pretty much anyone who's willing to take a bag! In case you are one of a zucchini passer outer, or an unsuspecting neighbor try one, or two, or these Zucchini recipes; Easiest Ever Grilled Zucchini Packets, Chocolate Zucchini Picnic Cake, Chocolate Zucchini Texas Sheet Cake, Zucchini Meatballs, or Zucchini Breakfast Cookies. I was trying to decide which one to tell you to try first but I can't decide. Try them all, if you have one zucchini you probably have plenty! My boys gobble all of them up! They also gobble up a Farmers Omelet pretty fast!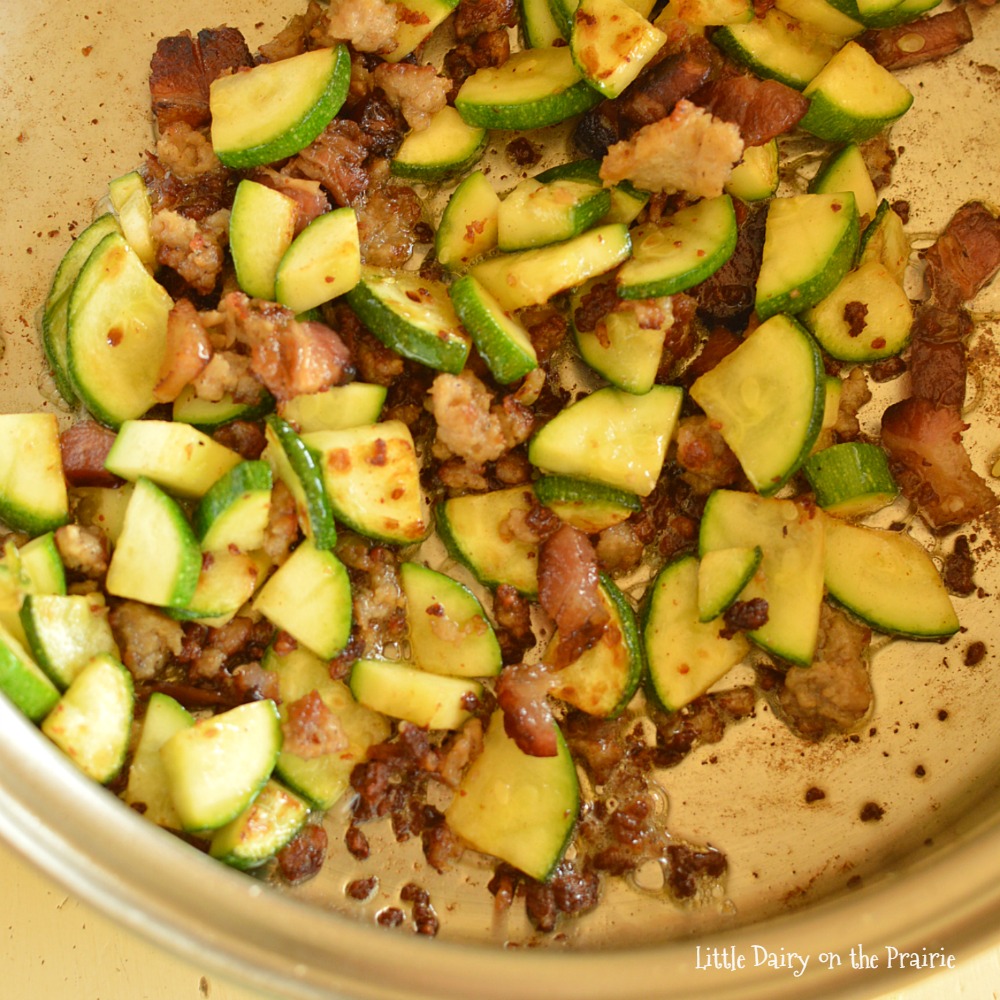 Start out by browning and crumbling some sausage and bacon. Add zucchini and onions and cook until tender.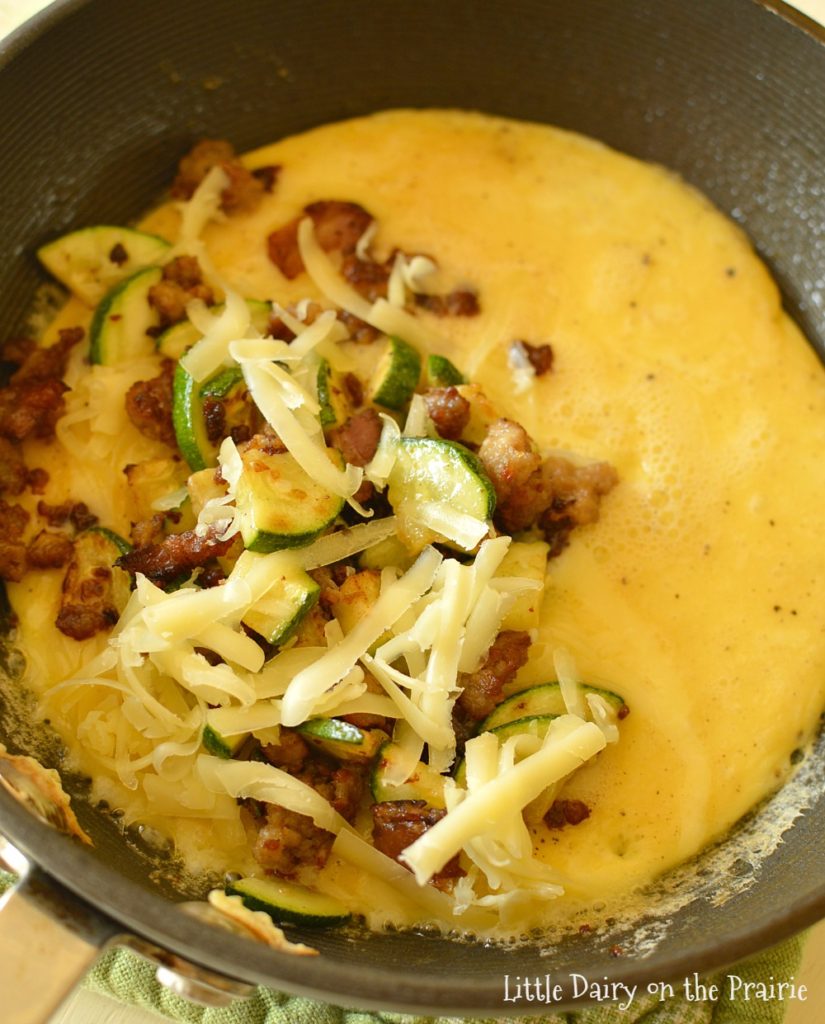 In a small skillet, or omelet pan, add egg mixture. Top one half with cheese, then zucchini/meat mixture, then more cheese. Let it cook for a bit then close it up. Flip it over. You know the routine. Just make an omelet.
Of course an omelet is better topped with tomatoes, basil, scallions, and sour cream! It's everything you love about your garden in one delicious bite! You really need to add this Farmers Omelet to your breakfast menu ASAP! Your are going to love it and as much as you think you are going to have zucchini coming out of your ears forever…it will freeze and they will be gone until next year! So get going on, make yourself a Farmers Omelet tomorrow for breakfast, or today for dinner, or whenever. Just make one!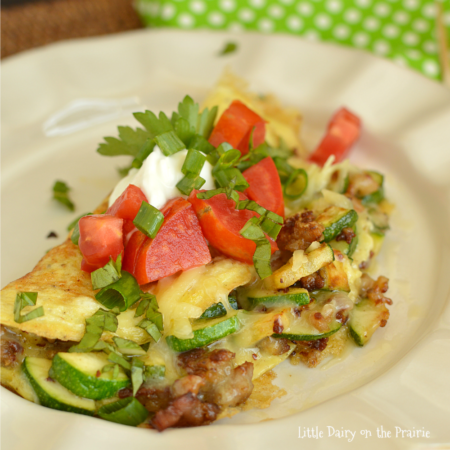 Farmers Omelet
Ingredients
1/4

c.

sausage

1

slice

bacon

cut into pieces

1

small zucchini

1

T.

onion

1/3

c.

grated cheese

I used white cheddar but anything will work. Pepperjack, swiss!

3

eggs

1

T.

milk

salt and pepper

tomatoes

scallions

basil

parsley

sour cream
Instructions
Cook bacon and sausage in a skillet until crumbled and cooked almost cooked through. About two minutes before completely cooked add zucchini and onion. Continue to saute until veggies are crisp tender. Remove from heat and drain on paper towels.

Whisk eggs. Add milk, salt and pepper. Whisk together.

Warm a skillet, or omelet pan, over medium heat. Spray skillet with nonstick spray. Pour egg mixture in pan. Let it cook, without stirring, until it starts to set. (I like to put a lid on my pan so the omelet cooks through without burning the bottom and having a raw top.) Before the eggs are cooked through layer cheese, zucchini/meat mixture, and more cheese on half of the omelet.

Flip the "unloaded" half of the omelet onto the "loaded side. (I like to put my lid back on). Let cook until cheese is melted and the omelet is cooked through.

Top with your choice of toppings. I like tomatoes, scallions, basil, parsley, and sour cream!

NOTE: Of course you can double, or triple to make more omelets.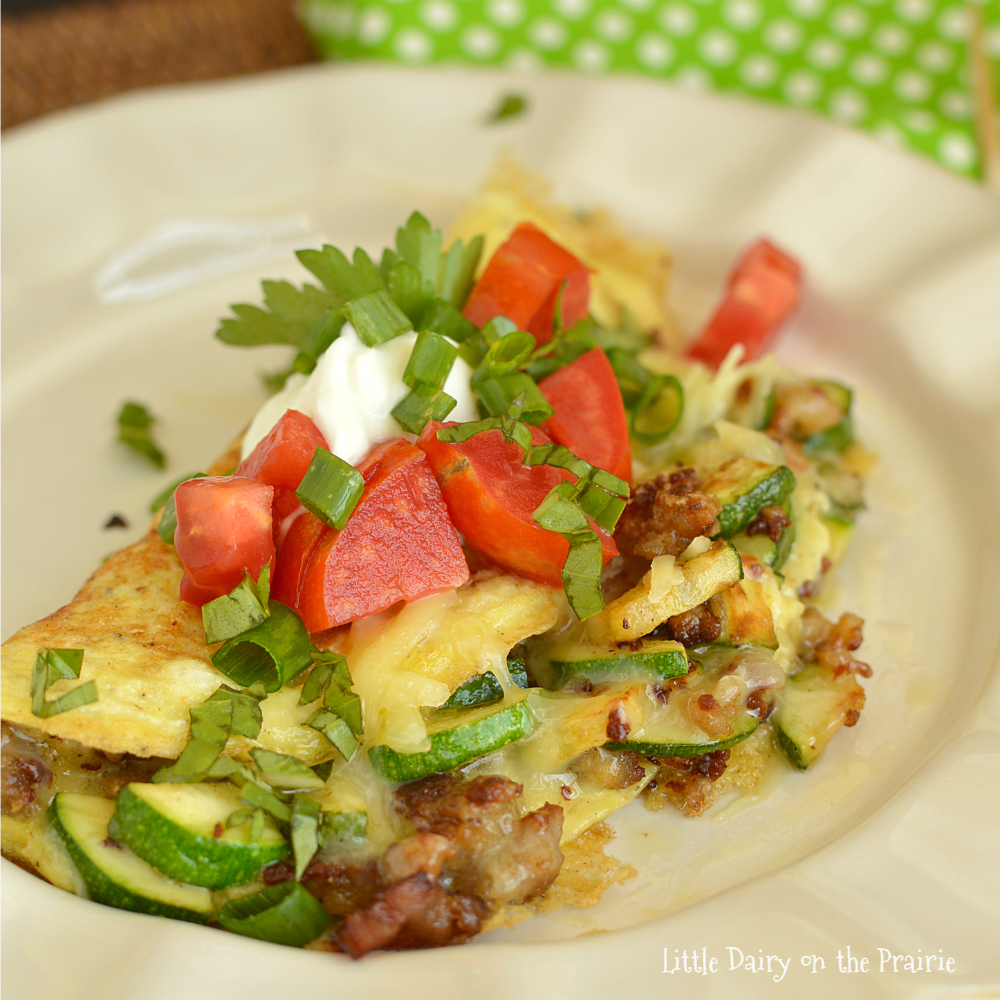 tried this recipe?
Make sure to share it with me! Leave a review or tag me on Instagram