This Easy Ham and Cheese Roll-Ups post has been compensated by Collective Bias, Inc. and its advertiser. All opinions are my own! #InspireWithCheese
Easy Ham and Cheese Roll-Ups have two ingredients and take about five minutes to make! They are fantastic served by themselves, on top of crackers, threaded on skewers with fruits and veggies, or on top of a salad! Easy and delicious finger foods that include cheese are always a win in my opinion!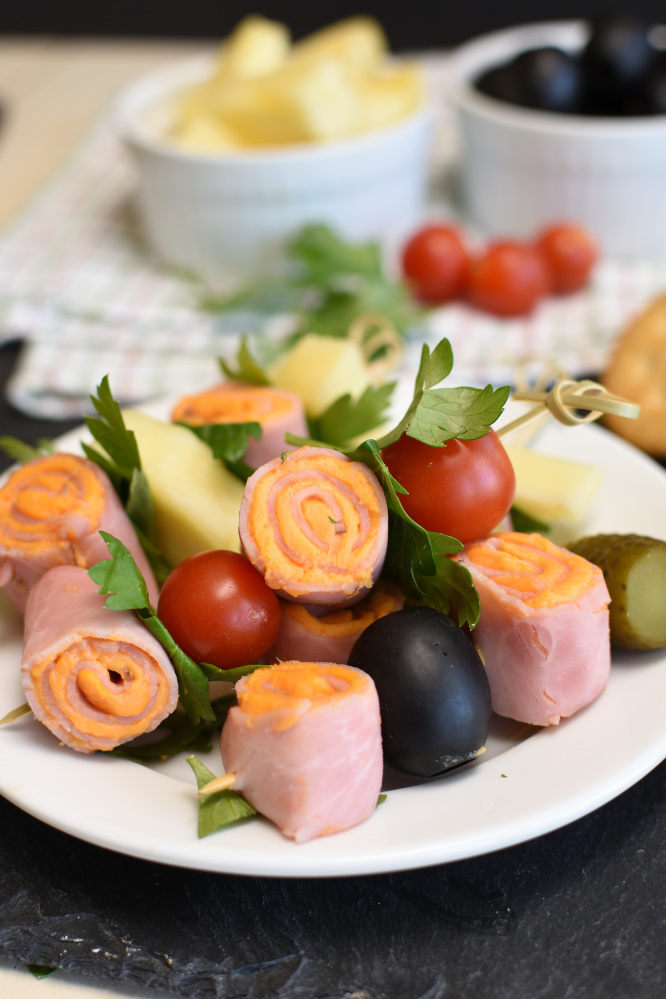 The holidays are basically here and that means we are supposed to come up with amazing recipes for everything from drinks, appetizers, and desserts to share several times a week. There are work parties, friend parties, church parties, and more family parties than most people wish! Oops, did I just say that outloud?
It can be exhausting trying to keep up with all the goodies you are supposed to bring!
And, it's especially tiring if you are one of those people who always wants to show up with "that" dish, or appetizer, or dessert? You know the dish that everyone just cannot quit talking about? The one everyone wants to know who made and if they can get the recipe?
I'm also that person, and probably like most of you, I'm limited on time and could always use one more quick and easy appetizer that still delivers that wow factor!
If the holidays make you feel like you are running in circles trying to squeeze it all in, you are in luck because today I'm sharing my recipe for Easy Ham and Cheese Roll-Ups! They are going to make your life simple, and yummy! Promise!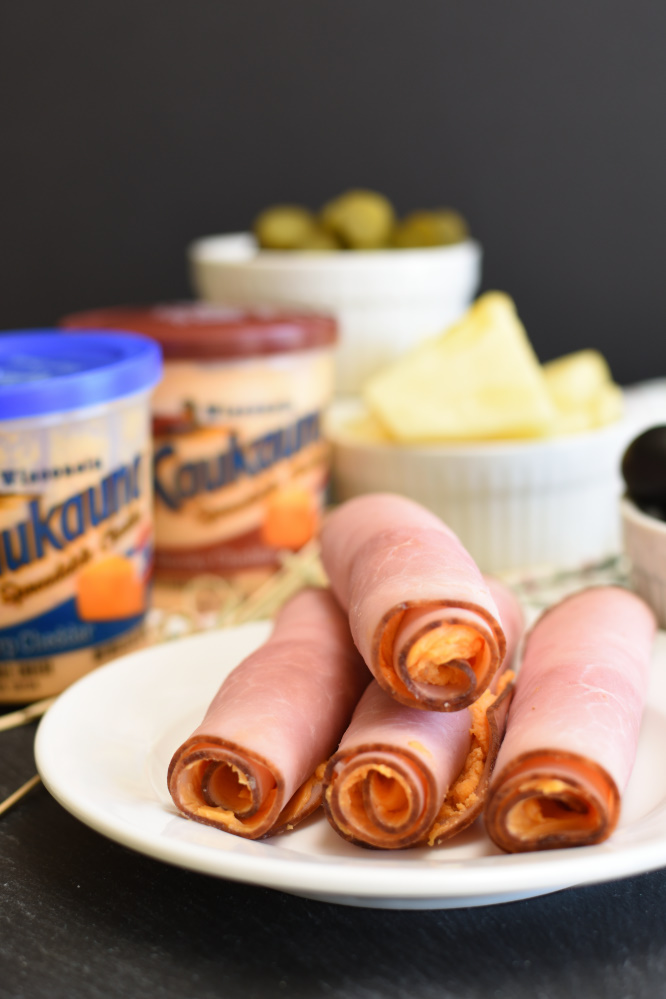 Wait a minute…I'm not entirely sure if you would technically even call this a recipe since it only has two ingredients; deli ham and Kaukauna® Cheese Spread Cups! In my book it doesn't hurt that it only takes about five minutes to whip up Easy Ham and Cheese Roll-Ups either!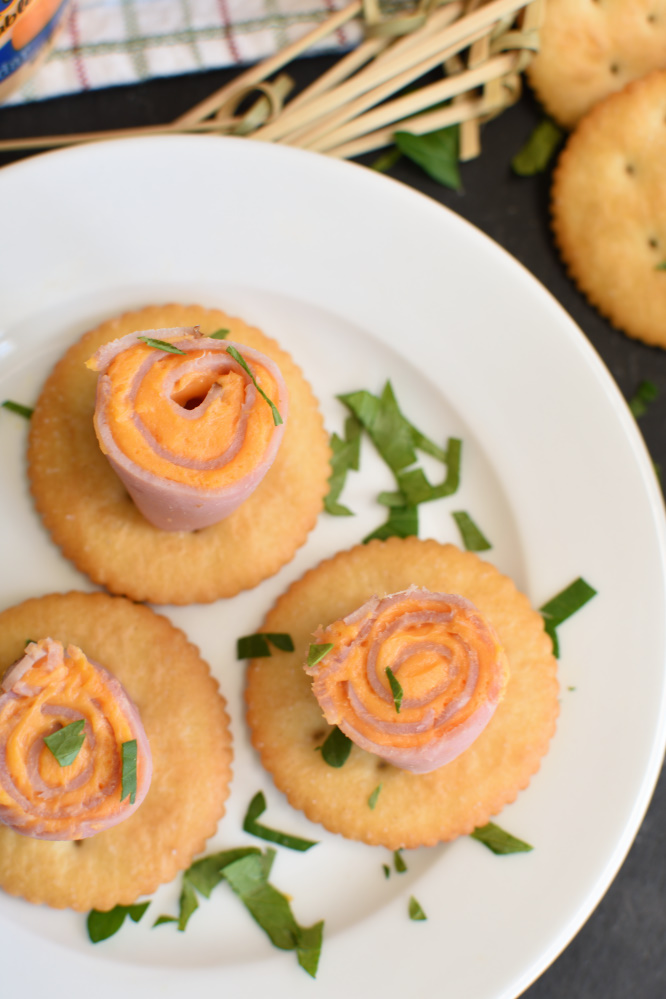 After making the Ham and Cheese Roll-Ups you can pile them on a plate or get as creative as you would like to make its presentation perfect!
Easy Ham and Cheese Roll-Ups are delicious served right on top of a crackers. It's a new way to serve an old classic and it's as yummy as ever!
Kids think they are extra fun when they are threaded on a skewer with other goodies like olives, cherry tomatoes, and pickles! They are really delicious with pineapple too! I have to admit I think eating food off a little stick is fun too!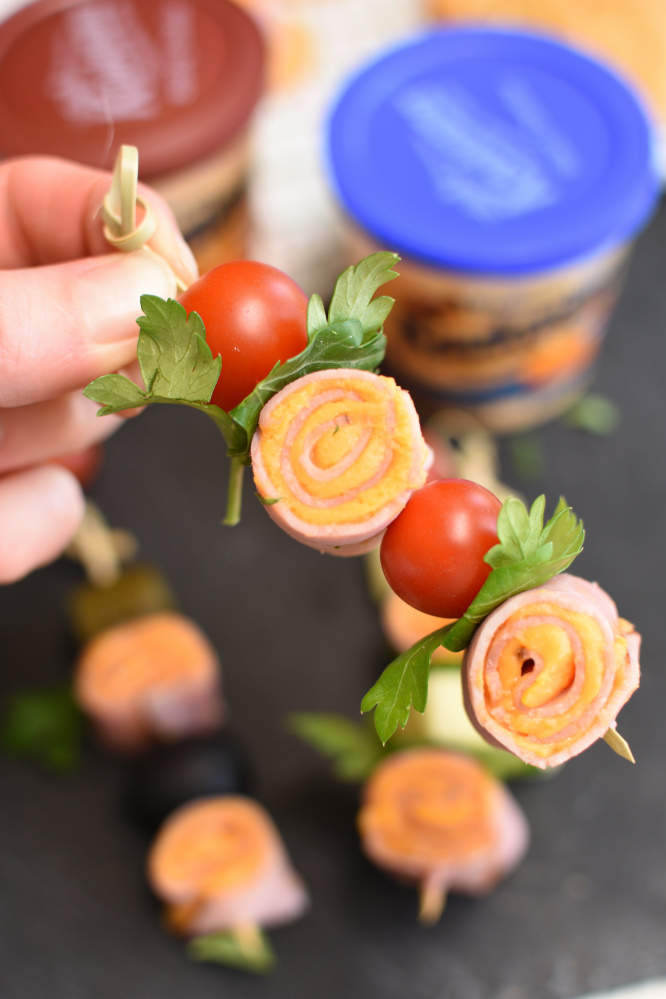 The other day when I was at Albertson's I swung by the deli and grabbed two different kinds of Kaukauna® Cheese Spread Cups; Sharp Cheddar and Smoky Bacon. You can choose from Pepper Jack, Bacon Jalapeno, Asiago Cheese, or Sriracha varieties too! Any of them would be fantastic in Easy Ham and Cheese Roll-Ups!
Kaukauna® comes in cups, but it also comes in logs and balls which makes entertaining easy! They are made with real high quality delicious cheddar cheese which is something that's important to me since I happen to own a dairy! No fake stuff here!
Kaukauna® is delicious all on it's own but it's also a fantastic ingredient to use in recipes!You can learn more about Kaukauna® by going to their website, or get recipes and ideas by following them on Facebook and Pinterest! Be sure to grab a coupon to save on any Kaukauna® products from 11/15/17-12/31/2017, or when coupon expires!
For a chance to win prizes through a Kaukauna® sweepstakes, you can either share a pre-written tweet, visit the social hub, visit Kaukauna®'s Facebook page, or visit Kaukauna®'s Pinterest page! Four lucky winners will win an "entertaining basket" that includes a $250 Visa gift card, apron, oven mitt, kitchen towel, Kaukauna® cheeseboard, and serving platter. Ten lucky winners will receive a $100 Visa gift card, and fifteen lucky winners will receive either a $25 Visa gift card, a Kaukauna® cheeseboard, and an oven mitt or apron! Sweepstakes entry dates are 11/15/2017 12:00am ET to 12/31/2017 11:59pm ET. See Official Rules: http://cbi.as/a10gz
#InspireWithCheese #Sweepstakes (11/15 to 12/31)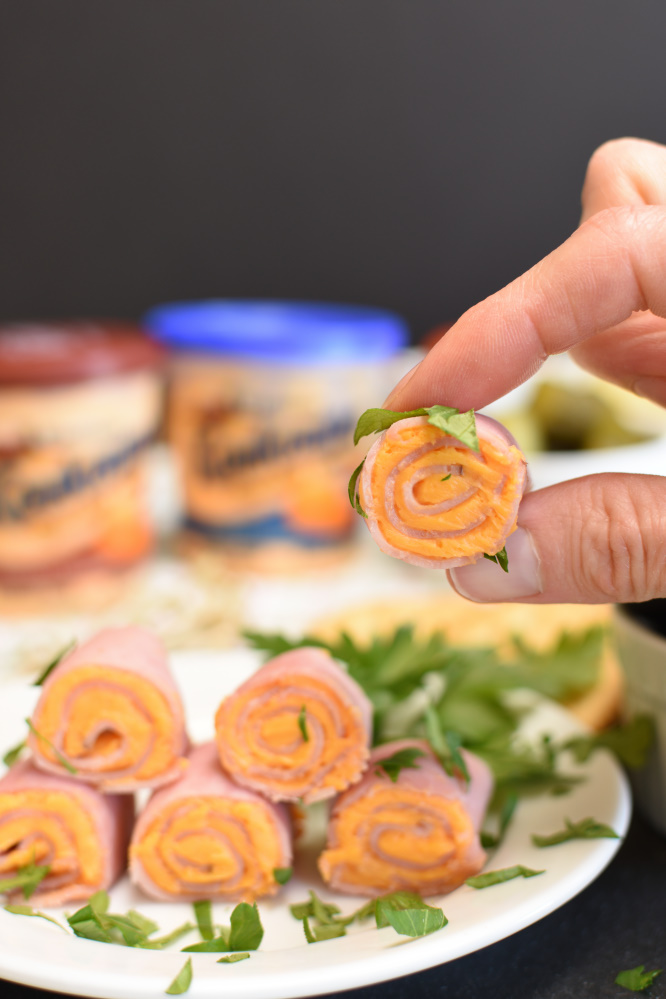 Easy Ham and Cheese Roll-Ups are great for entertaining because they are easy to make, deliver that wow factor when it comes to a tasty appetizer, and are pretty on a platter!
If you are entertaining save yourself the hassle of complicated and time comsuming recipes and add Easy Ham and Cheese Roll-Ups to your next party! If you are headed to a party they transport easy and can be made ahead! Can't beat that!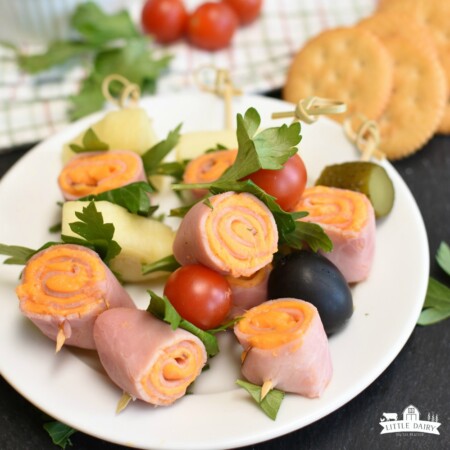 Easy Ham and Cheese Roll-Ups
Easy Ham and Cheese Roll-Ups are the easiest finger food in the world to make! Let your creativity run wild and present them any way you want!
Ingredients
deli ham slices

Don't buy shaved ham, you want the ham slices thick enough to spread cheese on them

Kaukauna Cheese Spread Cups

Any variety you choose. I used Extra Sharp Cheddar and Smoky Bacon

OPTIONAL:

pineapple chunks

cherry tomatoes, pickles, olives, spinach, parsley, bread cubes

crackers

NOTES: It's easy to make enough of these to feed an army or just one for you to enjoy! Adjust the amounts of ingredients to the amount of Easy Ham and Cheese Roll-Ups you want!
Instructions
Dry deli ham off with a paper towel. Lay flat.

Using a knife spread Kaukauna Cheese over ham. Letting the cheese come to room temperature before spreading worked best for me.

Tightly roll ham up!

Slice in about 1/3 inch rounds.

TO SERVE:

Easy Ham and Cheese Roll-Ups can be served exactly as they are.

Kids love them on top of crackers.

You can thread them on skewers with pretty much any fruit or veggie you can think of. It would also be fun to add cubes of bread. I like adding something green like spinach or parsley between vegggies to make it pretty.

These are fantastic served on top of salads.
tried this recipe?
Make sure to share it with me! Leave a review or tag me on Instagram