Can you even think of anything cuter than Bird's Nest Cookies for celebrating all things spring? They begin with a super yummy, yet simple thumbprint cookie rolled in walnuts. All that's left is making these pretty little blue robin eggs and nestling them inside thier nest! If you are looking for a delicious and festive Easter treat look no further!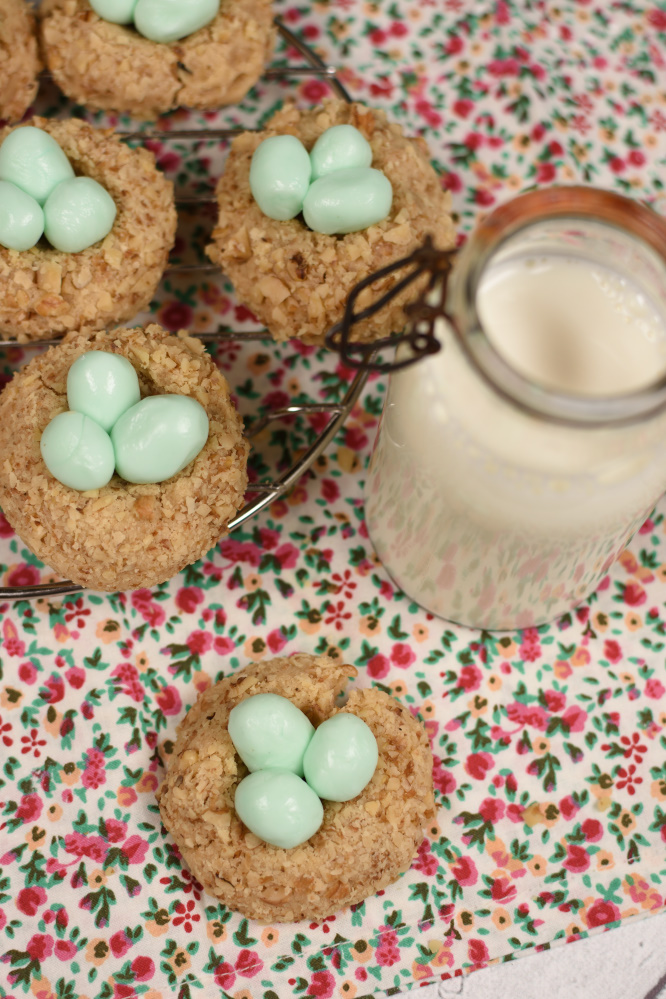 Spring is right around the corner and I couldn't be more excited! I'm ready to mow my lawn, wash my car, jog outside, open the windows and wear flip flops!
I have to remind myself I live in Eastern Idaho and just because we are enjoying gorgeous weather today doesn't mean it won't snow tomorrow.
That's the way it works around here. They say if you don't like the weather to just wait for an hour and it will change.
Well, regardless of what's happening outside I'm pretending like spring is here to stay and the perfect way to celebrate is with the cutest little Bird's Nest Cookies in the world!
My mom used to make these all the time when I was little. I've always remembered how incredibly delicious the perfectly colored the blue robin eggs were. Not only was the color spot on, those little eggs taste ah-mazing!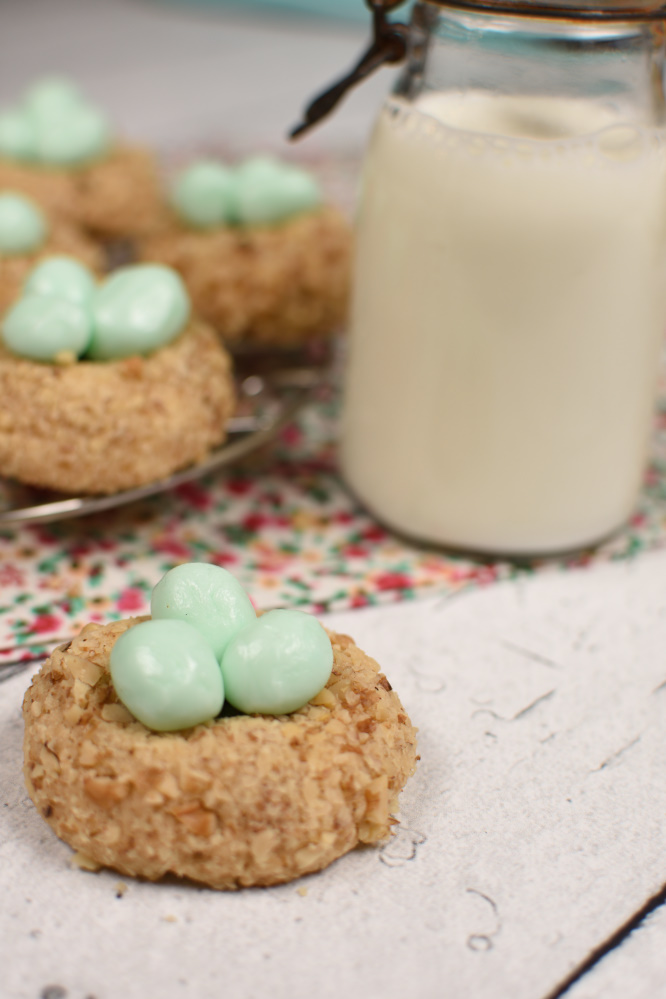 I'm not going to lie, I thought about just sticking malted eggs or some other store bought candy Easter eggs in the nest just to make the whole process simple.
I mean who has time to make and roll out their own candied Easter eggs?
Shortcuts in the kitchen save my life everyday. But I'm here to tell you that sometimes not taking the easy way out is totally worth it.
No doubt, making your own blue robin eggs for these Bird's Nest Cookies is worth every minute you spend on it! Seriously, make your kids wear dirty underwear if you have to but don't skip the homemade eggs!
The eggs are my favorite part! And yes, when the cookie plate is passed around the dinner table I totally scope out the Bird's Nest Cookie with the biggest eggs!
Don't judge me, you're going to do the same thing once you try them!
Aren't Bird's Nest Cookies about the most adorable thing you've ever seen? They just seem like the perfect way to welcome spring and they are absolutely adorable on Easter buffets!
Bird's Nest Cookies
Bird's Nest Cookies begin with a simple thumbprint cookie then have the cutest, and most delicious, candy robin eggs nestled inside their nest! They are the cutest spring/Easter cookie!
Ingredients
COOKIES:

1

c.

butter

1/2

c.

brown sugar

2

eggs

1 1/2

tsp.

vanilla

2 1/4

c.

flour

1/4

tsp.

salt

1 1/2

c.

chopped walnuts

CANDY EGGS:

2

T.

butter

3

T.

light corn syrup

1/2

tsp.

almond extract

2

c.

powdered sugar

2

drops blue food coloring

adjust to personal preference

1

drop green food coloring

adjust to personal preference
Instructions
Preheat oven to 350 degrees. Line a baking sheet with parchment paper.

Cream butter and sugar. Add eggs, one at a time, and vanilla. Cream.

Sift in flour. Add salt. Beat until combined.

Form cookies into Tablspoon sized balls. Roll in chopped walnuts.

Bake for 10-12 minutes. Don't overbake. While cookies are hot make a thumbprint indention in them with your thumb. Remove to wire rack to cool.

Mix all Candy Egg ingredients together. The mixture will be thick. It's almost the consistency of play dough.

Once cookies have cooled roll little pieces of candy egg mixture into egg shapes. Make them small enough to fit in the cookie nests. Place 2-3 eggs in each cookie nest!

Store in an airtight container for up to 2 days.
tried this recipe?
Make sure to share it with me! Leave a review or tag me on Instagram