If you and I can agree that Krispie treats are one of the most addicting little treats in the world, you are going to flip for these Salted Caramel Corn Krispie Treats! They are soft and salty/sweet, with little bits of crunchy caramel corn! I was completely addicted until the entire pan was gone!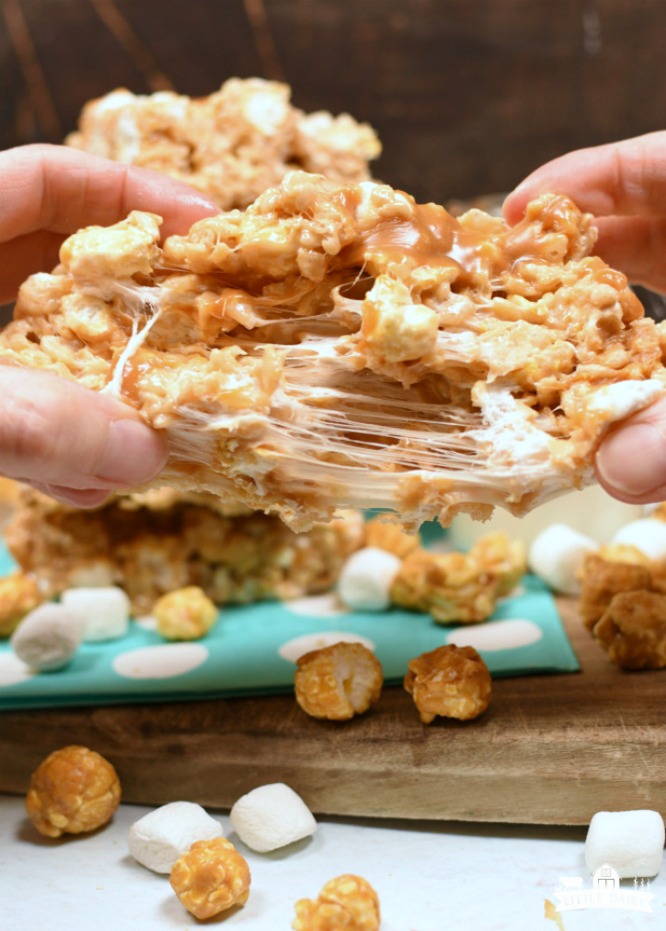 So I think I already told you that I joined a little "healthy" challenge group at the end of last year and loved it so much I signed up for another twelve week round this year!
I love this group because it keeps everything simple; don't eat as much, eat at the right times, and exercise. It's nothing really different than what I already knew, but for some reason having to be accountable helps me stay on track.
Every Monday morning I have to weigh in and share my weight with my health coach. Let me tell you, I DO NOT want to gain weight from week to week, but even more than that I don't want my health coach to know I gained weight! That's embarrassing!
In fact it's so embarrassing that when I signed up for my first 12 week session I refrained from making rice krispy treats the entire time! Eeeek! Three months without marvelously addicting krispy treats…that's a record for me!
Check out my Salted Caramel Corn Krispy Treat Video to see exactly how to make them!
There was no doubt in my mind if I would have made Salted Caramel Corn Krispy Treats, or any other krispy treats for that matter, I would have eaten the entire pan and gained a some delicious weight!
I'm not going to lie, there were plenty of mornings when I was watching Pioneer Woman, wearing out the treadmill, and dreaming up new Rice Krispy Treat flavors!
Yes! I sabotage myself!
And now I'm here to sabotage you with Salted Caramel Corn Krispy Treats! They are everything I dreamed about when I was dying on the treadmill and maybe even more!
You guys Salted Caramel Corn Rice Krispy Treats are to die for!
They are squishy soft…exactly as krispy treats should be!

They take only a few minutes to whip up…hey quick it's important!

They are salty sweet…I'm swooning!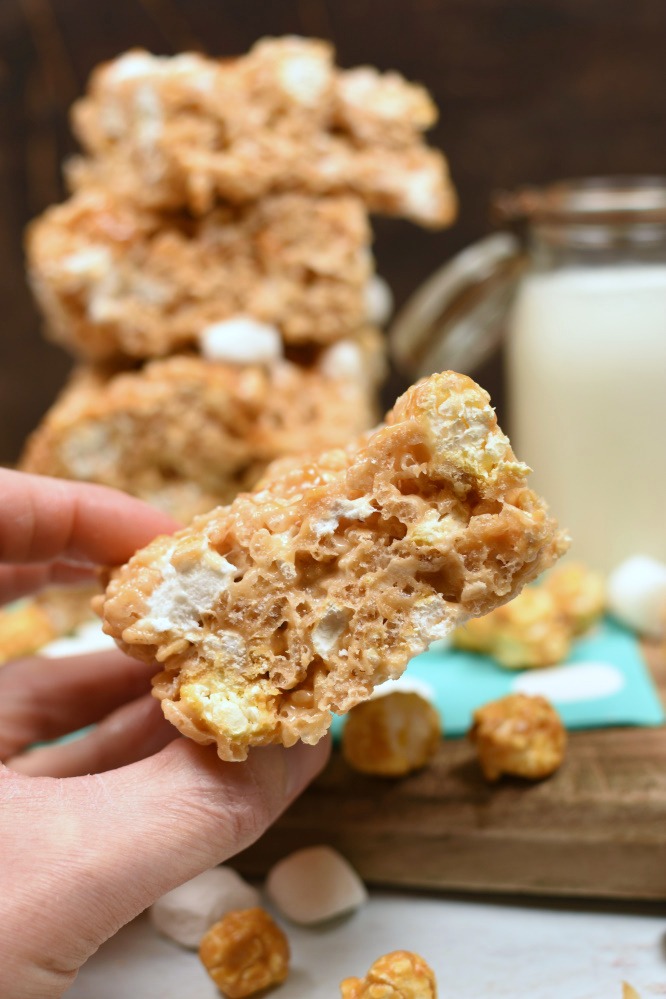 How to make Salted Caramel Corn Rice Krispy Treats even easier!
This recipe uses caramel bits…no unwrapping and no making caramel sauce from scratch!

I use already prepared caramel corn which is super easy!

Using the microwave is even faster than cooking them on the stove! So. Darn. Easy.

Spray your hands with nonstick baking spray before you start smoothing the krispy treats out. They won't stick to your hands this way!
Salted Caramel Corn Rice Krispy Treats are my go to treat for pretty much any occasion!
They don't melt in the summer heat.

They hold up well when traveling.

Kids and adults both love them.

I almost always have the ingredients on hand.

And did I already mention they are sooooo easy?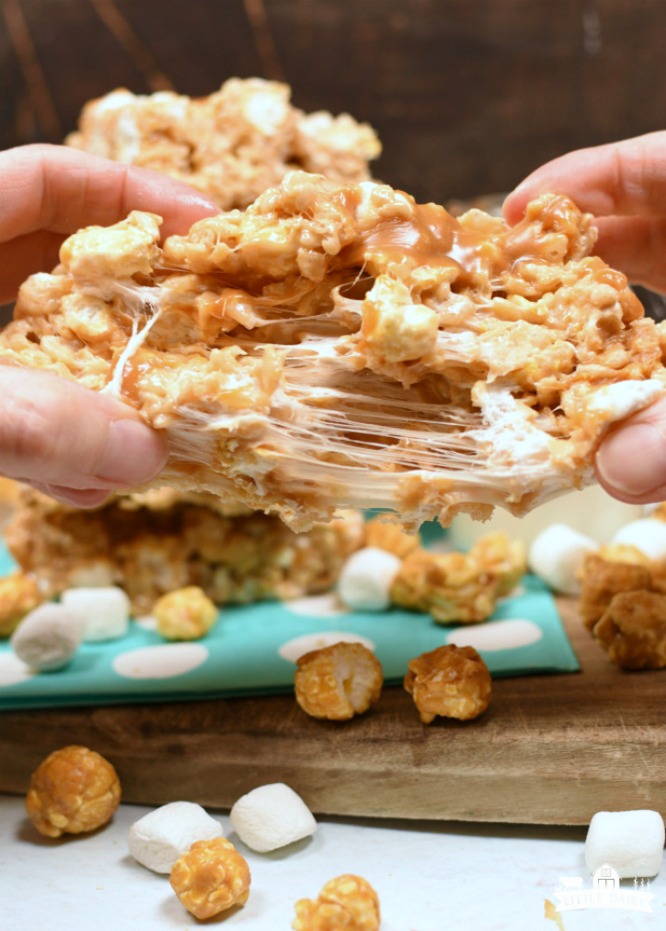 If you have a weigh in with your health coach right around the corner maybe don't make Salted Caramel Corn Krispy Treats…otherwise make them ASAP! You won't be sorry!
Here's the printable recipe!
Don't forget to sign up for my newsletter so you don't miss any recipes and follow me on Pinterest, Facebook, and Instagram to see what's happening behind the scenes here on the farm!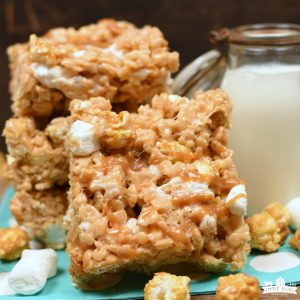 Salted Caramel Corn Krispy Treats
Salted Caramel Corn Krispy Treats are a squishy salted caramel krispy treat loaded with crunchy caramel popcorn! They can be made in the microwave or on the stovetop.You don't have to fuss with making homemade caramel sauce either! So addicting!
Ingredients
5

c.

Rice Krispy cereal

3

c.

chopped caramel corn

10

c.

mini marshmallows

divided

5

T.

butter

11

oz

caramel bits

reserve 1/2 cup for the top

1

tsp

kosher salt

1

tsp

vanilla

1

T.

milk
Instructions
Grease a 9 x 13 pan.

STOVETOP DIRECTIONS:

Add butter to a large pan and melt over medium heat. Add 7 cup of marshmallows and all but 1/2 cup of the caramel bits. Cook and stir until caramels and marshmallows are melted.

Remove from heat.

MICROWAVE DIRECTIONS:

In a large microwave safe bowl melt butter.

Add caramels cook for 30 seconds. Stir.

Add marshmallows to caramels and stir. Cook for 1 minute. Stir.

If caramels are melted continue with the following steps. If they aren't completely melted microwave for 20 second intervals, stirring after each interval until smooth and creamy.

REMAINING STEPS FOR STOVETOP AND MICROWAVE INSTRUCTIONS:

Add salt and vanilla. Stir.

Add cereal and chopped popcorn. Stir until coated. Add remaining 3 cups marshmallows. Stir.

Pour into prepared 9 x 13 pan.

Using fingers and gently spread treats out. If you press too hard the treats won't be as squishy and soft. I also spray my hands with non stick baking spray so the krispy treats don't stick to my hands.

In a microwave melt remaining 1/2 cup caramel bits and milk in microwave. I usually cook it in 30 second intervals, then stir. Repeat until caramels are smooth. Drizzle over the top of krispy treats.

Let set until completely cooled. Cut in to squares. Enjoy!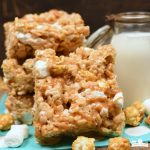 tried this recipe?
Make sure to share it with me! Leave a review or tag me on Instagram
Be sure to pin it for later!