This Pumpkin Roll Cheesecake Trifle post has been compensated by Collective Bias, Inc. and Conagra Brand. As always all opinions are mine alone. #reddiforfall #CollectiveBias
If you are looking for an impressive yet simple fall dessert, and who isn't, look no further than Pumpkin Roll Cheesecake Trifle! Pumpkin Rolls are already amazing on their own but when you layer them in a trifle they take on a whole new level of yumminess!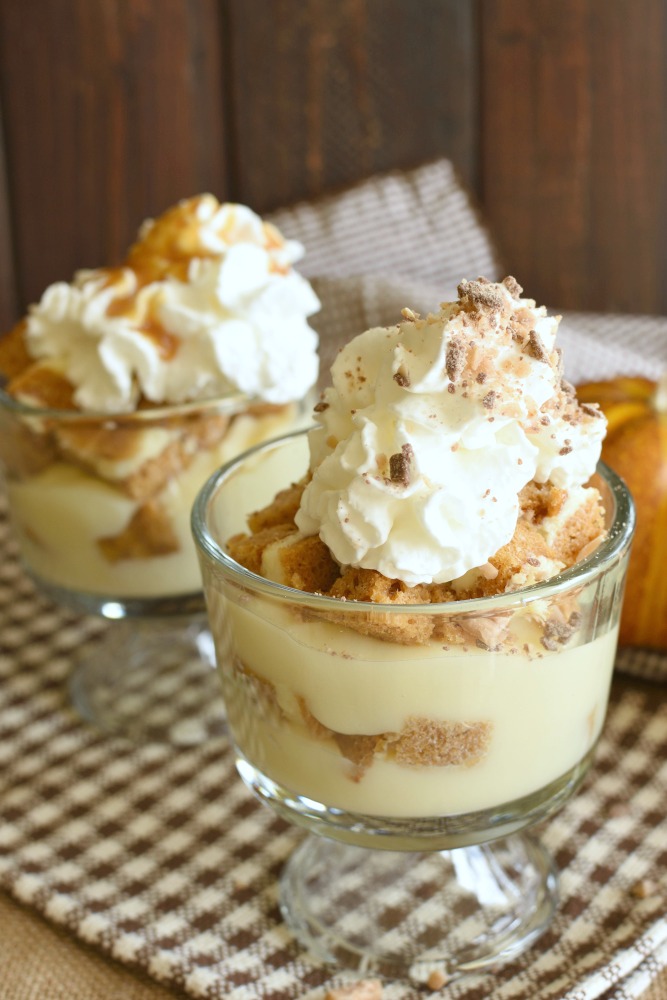 Who's ready for fall? I'm reluctant to let go of summer and my evening walks, my garden, and washing the car on my lawn because I know winter is just around the corner and I'll be back to jogging on the treadmill in my basement! Ready or not…here it comes!
For now I'm not going to think about winter, I'm just going to focus on fall because it is one of my favorite times of the year! Afterall who can resist pumpkins, apples, snuggling up in a blanket on chilly evenings, and a little slower pace than what we've been used to all summer long?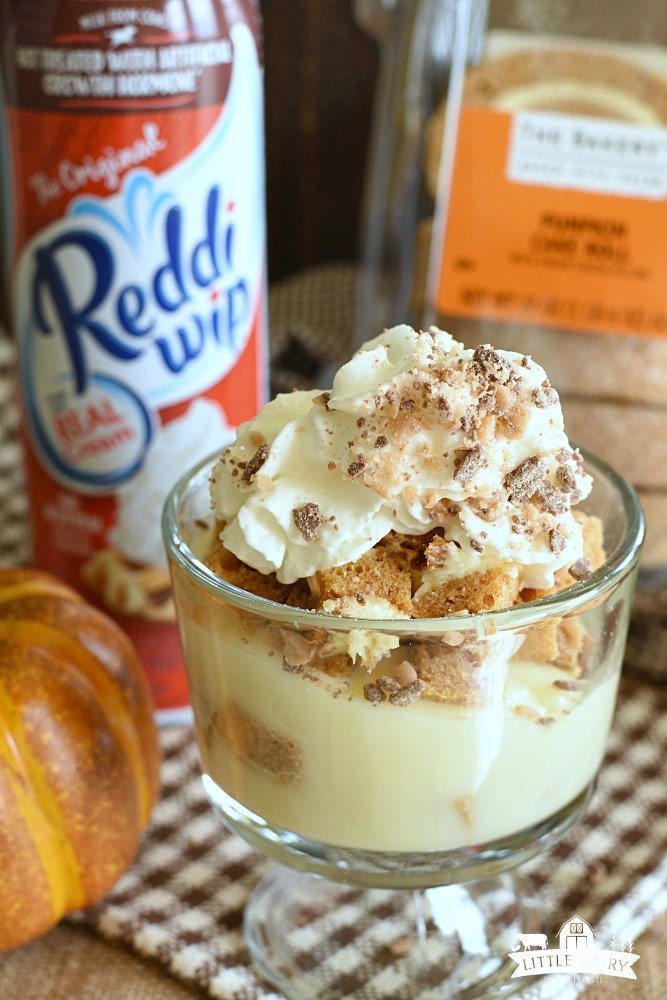 If you are ready to make Pumpkin Roll Cheesecake Trifle hover over the photo above to get the ingredients at Walmart Grocery!
Fall means all things pumpkin and my husband thinks pumpkin means pumpkin rolls. He likes them a lot! I agree with him, they are pretty tasty but for some reason I don't really enjoy making them. I'm not sure why because they are so pretty and so incredibly tasty but making them seems like an overwhelming task I just don't really want to tackle very often.
The other day when I was at Walmart I was wandering around the bakery and noticed The Bakery at Walmart Pumpkin Cake Roll with Cream Cheese Filling was already out! Yay for my husband! Yay for me! He gets his pumpkin roll and I don't have to make it! I picked up a can of Reddi-wip® too because I knew I would need it for my plans!
I grabbed a pumpkin roll with every intention of creating a Pumpkin Roll Cheesecake Trifle with it! I knew if I wanted to use it to make a Pumpkin Roll Cheesecake Trifle I would either need to make it as soon as I got home or I would have to hide it in the back corner of the fridge behind the beets!
Having an already made Pumpkin Roll from Walmart means putting Pumpkin Roll Cheesecake Trifle together takes about 10 minutes! Now that's a dessert we all can handle adding to our holiday menus! Especially when it looks this impressive and tastes this amazing!
This is a no bake dessert which is completely awesome in my opinion!
Make 2 boxes of instant cream cheese pudding according to package directions.
Cut Pumpkin Roll into cubes. Mine were about ¾" cubes.
All that's left is assembling the trifle! It can be made in individual serving dishes or a large trifle dish. Either way I like to use glass so you can see the pretty layers!
First, add a layer of cheesecake pudding to the bottom of dish.

Next add a layer of Pumpkin Cake Roll Cubes

Repeat both layers one more time.
At this point the Pumpkin Cheesecake Trifle can sit in the fridge for a few hours. When you are ready to serve add a good amount of Reddi-Wip® right on top! For some a little texture and crunch I like sprinkling a few toffee chips over Reddi-Wip®!
When I was first married I used to get so carried away when I was entertaining. I'm not sure if I felt like I had to prove that I knew how to cook and show off my skills a little, or maybe I was just really ambitious back then.
Over the years I've learned that when whenever I'm hosting and planning my menus I need to keep it simple. It's okay to have a couple items on the menu that take a little extra time. Then I try to make sure the rest of the dishes are simple and quick to make. This little tip has definitely helped me enjoy hosting because it's less stressful.
Pumpkin Roll Cheesecake Trifle is one of those fancy desserts that will save you time when it adding to your menu. Don't worry though, you are still going to get an impressive dessert that delivers with a huge WOW factor! Take a relaxing bath with the extra time you save yourself! Now that makes this dessert sound even more amazing doesn't it?
For more fall recipe inspiration check out Food You Love!
Pumpkin Roll Cheesecake Trifle
Pumpkin Cheesecake Trifle is an impressive, yet easier than ever fall dessert! Buying an already made pumpkin roll is a huge time saver!
Ingredients
1

Bakery at Walmart Pumpkin Cake Roll with Cream Cheese Filling

2 3.4

oz

boxes of instant cheesecake pudding

4

c.

milk

1

Reddi-Wip 13 oz.

4

T.

toffee chips
Instructions
Make pudding according to package instructions.

While pudding is chilling cut Pumpkin Roll into cubes. I cut mine in about 3/4 inch cubes.

Assemble trifles in individual size serving dishes or in a large trifle dish. Either way I like using a glass dish so you can see the pretty layers.

Add pudding to the bottom of the dish to create the first layer.

Add pumpkin roll cubes to create second layer.

Repeat twice more.

Chill for 2-3 hours.

Garnish the tops of Pumpkin Roll Cheesecake Trifle with Reddi-wip. Sprinkle with toffee chips.

Serve immediately!
tried this recipe?
Make sure to share it with me! Leave a review or tag me on Instagram