Pumpkin Magic Bars are ooey, gooey, and magically simple and delicious! They are the ultimate in comforting fall food!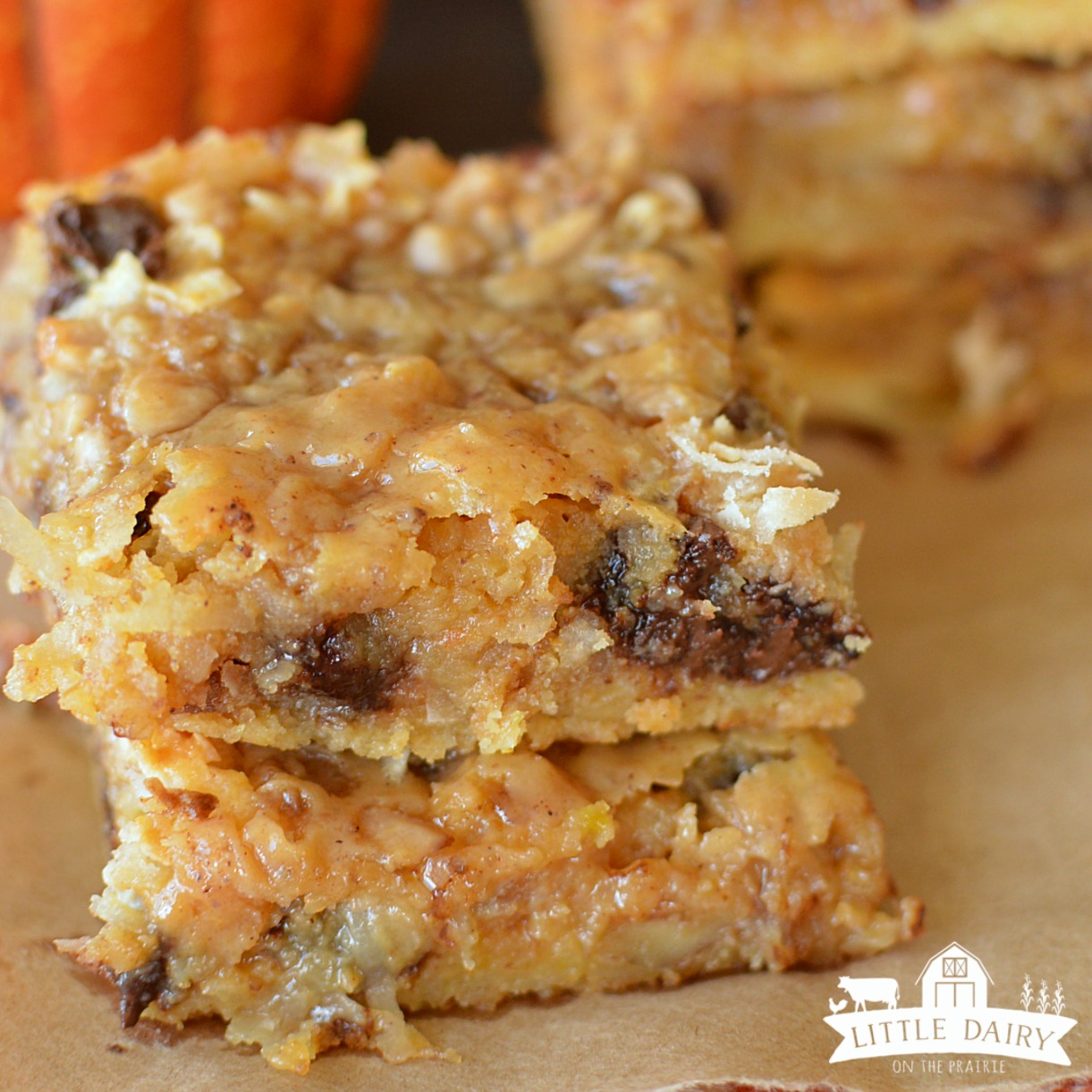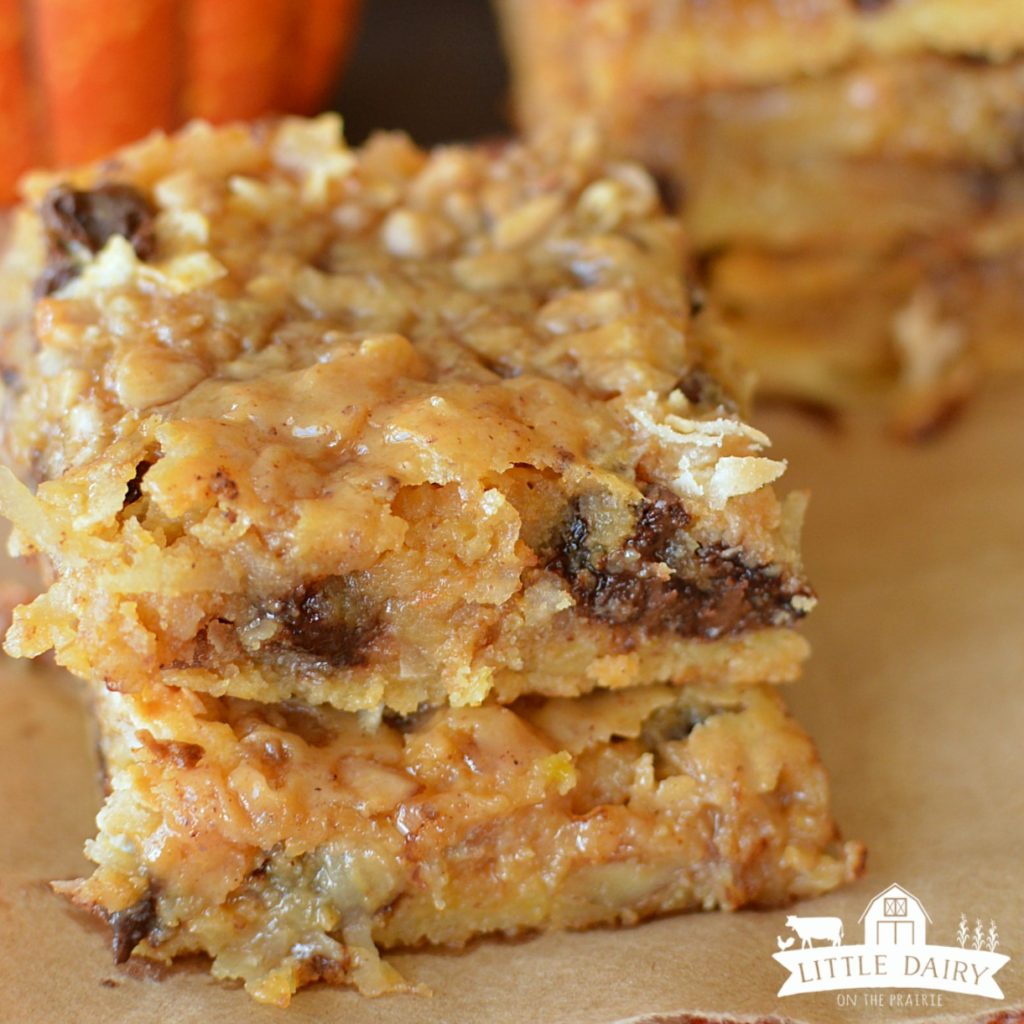 Last week our family went to the Eastern Idaho State Fair. We go every year, it's just what we do. The people watching is fantastic, and crazy, and a little frightening! Where do they all come from? Okay, I'll stop and be nice now. Let's talk about food instead shall we? We ate WAAAAY too much food at the fair. Burgers, corn dogs, Toffee Tumblers, soda pop, fried cheese curds, teriyaki rice bowls, a tiger ear, and probably more that I can't remember. We shared it's okay right?
I even talked these two into getting their picture taken!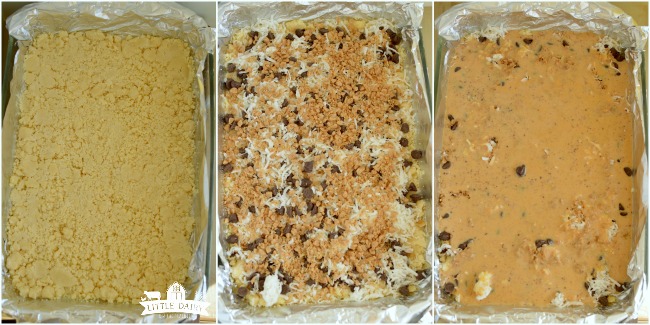 The day after the fair, I promised myself I would only eat apples and grapes for the next two days, you know to average with all the junk I ate at the fair. That lasted for one meal. Then I decided it was time to make Pumpkin Magic Bars. My jeans are still tight and after one bite of these bars I'm saying it was worth it! They are just as simple to make as traditional magic bars, just with a yummy little twist! I started with a crust made from a cake mix (easy right), sprinkled on way to many toppings, and poured a sweetened condensed milk concoction over the whole thing!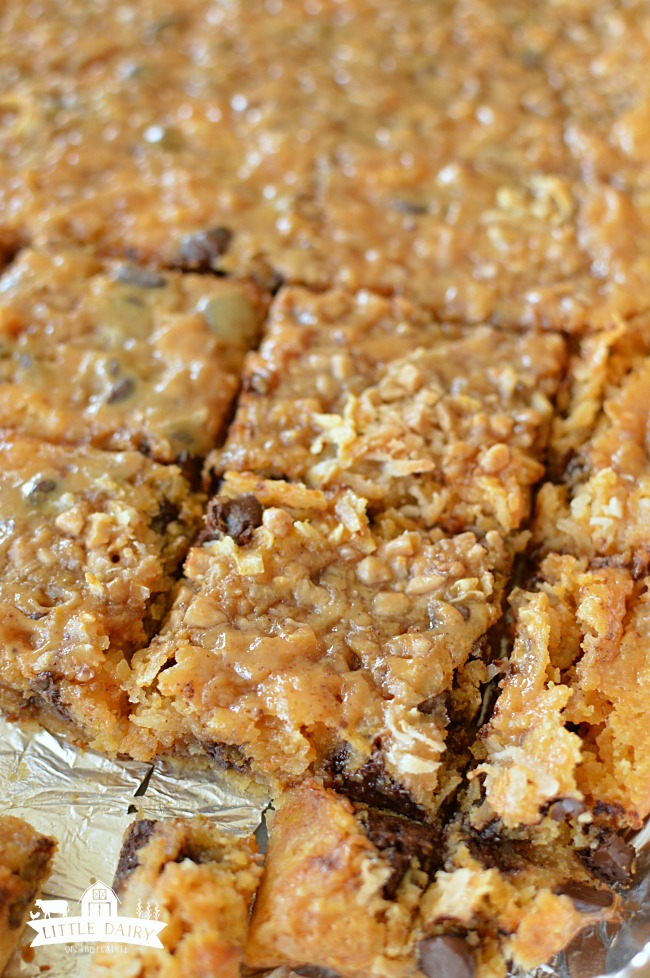 Bake em up. Let em cool. Cut em up. And eat em up! By the way, would you eat apples and grapes if these were staring at you?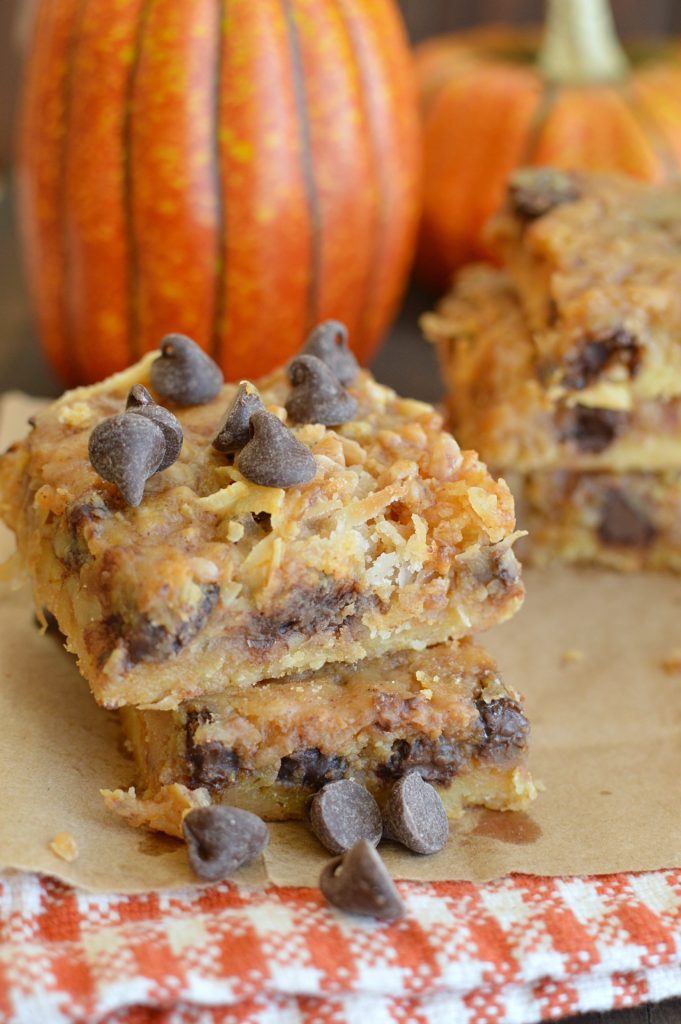 Look at those layers… first a cake mix crust, then chocolate chips, lots of toffee chips (I'm in to those lately), coconut, and walnuts, and finally a pumpkin-y sweetened condensed milk that turns into the most fabulous pumpkin caramel!

We have little to no willpower at our house so we started munching these while they were right out of the oven. Pumpkin Magic Bars are delicious while they are still ooey, and gooey, and soft, and warm. If you have willpower…you might want to let them sit so they don't fall apart in your hand, but I totally wouldn't judge you if you ate them straight from the pan with a spoon!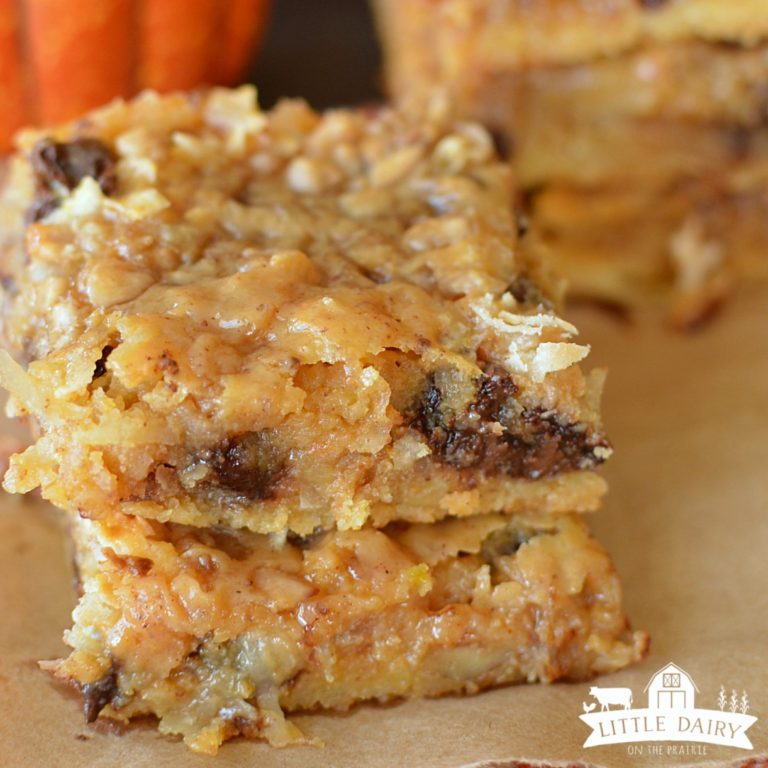 Pumpkin Magic Bars
Pumpkin Magic Bars are ooey, gooey, and magically simple and delicious! They are the ultimate in comforting fall food!
Ingredients
1

yellow cake mix

1/2

c.

butter

softened

1

c.

chocolate chips

1

c.

toffee chips

1/2

c.

shredded coconut

1/2

c.

walnuts

chopped

1 14

oz.

can sweetened condensed milk

1/4

c.

pumpkin puree

1/2

tsp.

pumpkin pie spice
Instructions
Preheat oven to 350 degrees. Line a 9" x 13" baking pan with aluminum foil. Spray the foil with nonstick cooking spray.

Mix cake mix and butter together. Mixture will be crumbly. Gently press in the bottom of the pan.

Sprinkle chocolate chips, toffee chips, coconut, and walnuts over the crust.

Mix sweetened condensed milk, pumpkin, and pumpkin pie spice together. Pour over the cookie in the pan.

Bake for 20-25 minutes. Let cool. Cut into squares. Store leftovers in the refrigerator.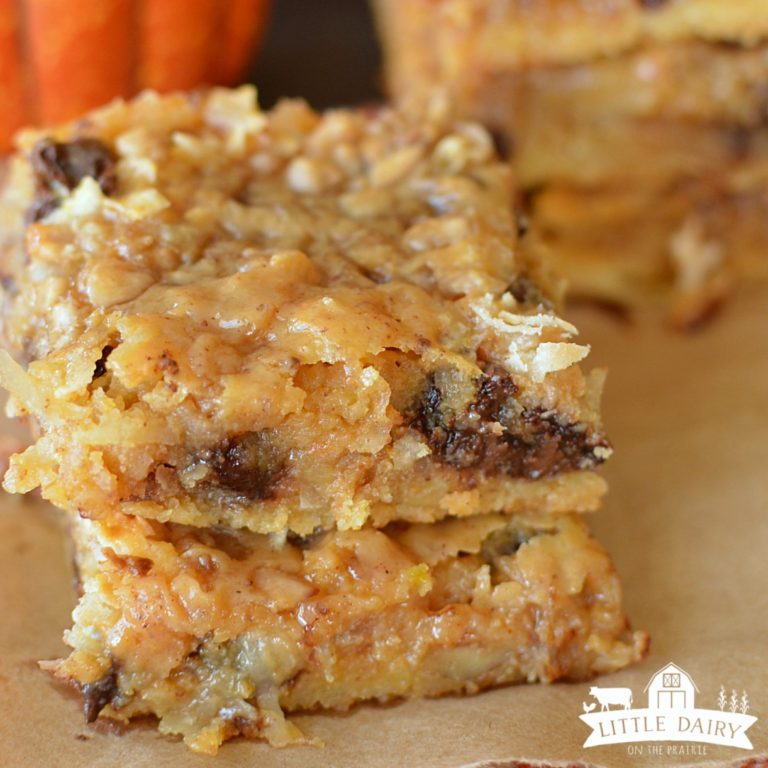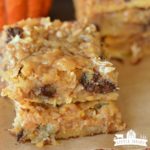 tried this recipe?
Make sure to share it with me! Leave a review or tag me on Instagram