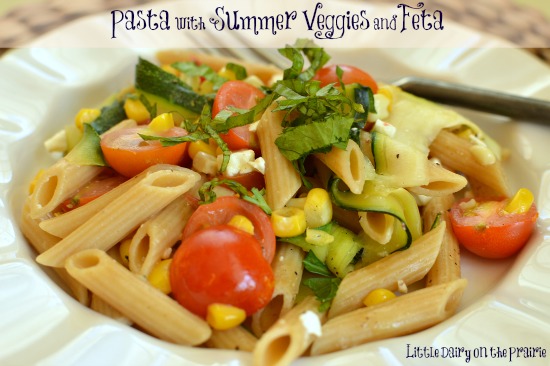 I can't decide if I love this time of the year or not? We are super busy on the Little Dairy right now, and my boys are back in school. That's two strikes against this time of the year! But…my garden is in full swing and I'm loving all the yummy produce I'm getting from it. I saw a pasta dish similar to this in the Real Simple Magazine and knew I needed to try making something like it. This is what I came up with. This made the perfect lunch for the Big Boss and I. It was quick, simple and super tasty. It would have been super tasty with grilled chicken mixed in.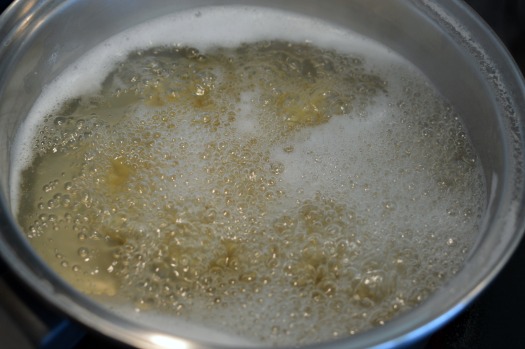 Boil some pasta according to package directions. Drain. I used whole wheat, it was a good choice.
Cut some cherry tomatoes in half.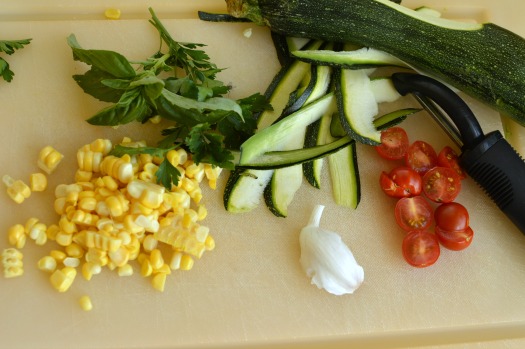 Peel and press a clove of garlic.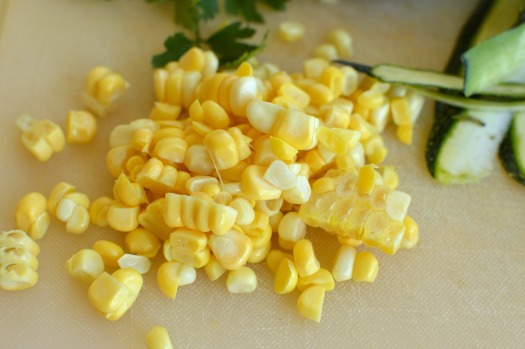 Cut the kernels off a cob of corn.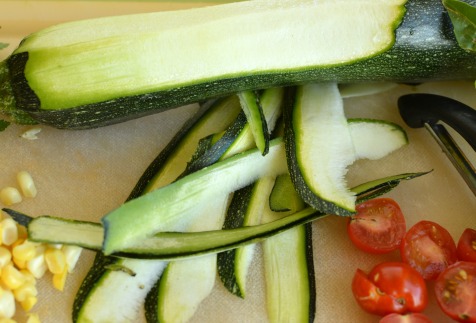 Use a vegetable peeler to "peel" some ribbons of zucchini.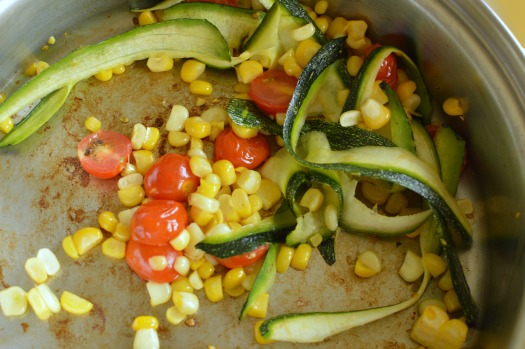 Add some butter and olive oil to a saucepan. Heat over medium heat. Then add corn, garlic, zucchini ribbons and salt and pepper. Sautee about 5 minutes. Add 1/2 cup chicken broth. Give it a stir. Toss pasta and tomatoes in with other veggies.
Stir in feta.
Top with basil and parsley!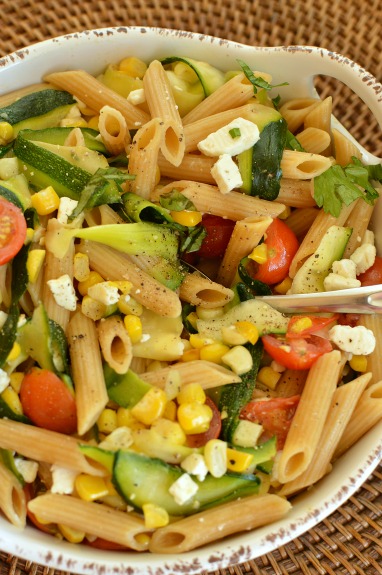 You should go to your garden, or the farmers market or your neighbors garden and grab some veggies and make this pasta! A light pasta dish with all these fresh veggies hits the spot on a hot summer day! (If you were my neighbor I would share with you!!)
This salad is perfect for packing in lunches too!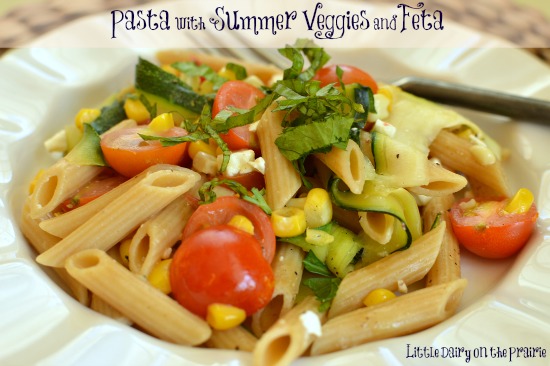 Pasta with Summer Veggies and Feta
A light summer salad that shows off the flavors of in season fresh veggies!
Ingredients
8

oz.

whole wheat pasta

1

T.

olive oil

1

T.

butter

1

clove

garlic

1

ear of corn

1

small zucchini

1

c.

cherry tomatoes

1/4

tsp.

salt and pepper

1/2

c.

chicken broth

or reserved pasta water

1/4

c.

feta cheese

1

T.

chopped fresh basil

1

T.

chopped fresh parsley
Instructions
Cook pasta according to package directions. Drain.

Halve tomatoes. Cut corn from cob. Cut zucchini into ribbons with vegetable peeler.

Heat oil and butter in a saucepan over medium heat. Add corn, zucchini, garlic salt and pepper. Sautee until tender about 5 minutes.

Add chicken broth. Stir over heat for a minute.

Add pasta and tomatoes to other veggies. Toss to combine.

Stir in feta, basil and parsley.

Serve immediately!!
tried this recipe?
Make sure to share it with me! Leave a review or tag me on Instagram