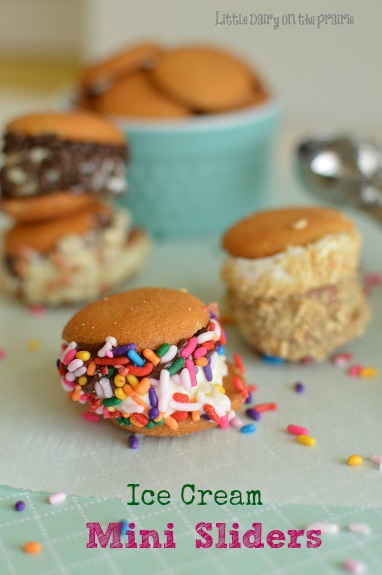 Did you know July 20th is National Ice Cream Day? I know I'm a day late sharing these Ice Cream Sliders. It's okay though cuz we ate them on National Ice Cream Day! The whole month of July is Ice Cream Month so I'm actually right on time!
I'm sure you know by now, my family eats dessert at least once a day. On those days when I don't have anything ready for dessert, we have the stand by. The stand by is ice cream! My boys refer to ice cream by color not by flavor. For example when we are dishing ice cream up they will say, "I want lots of brown ice cream and a little bit of white".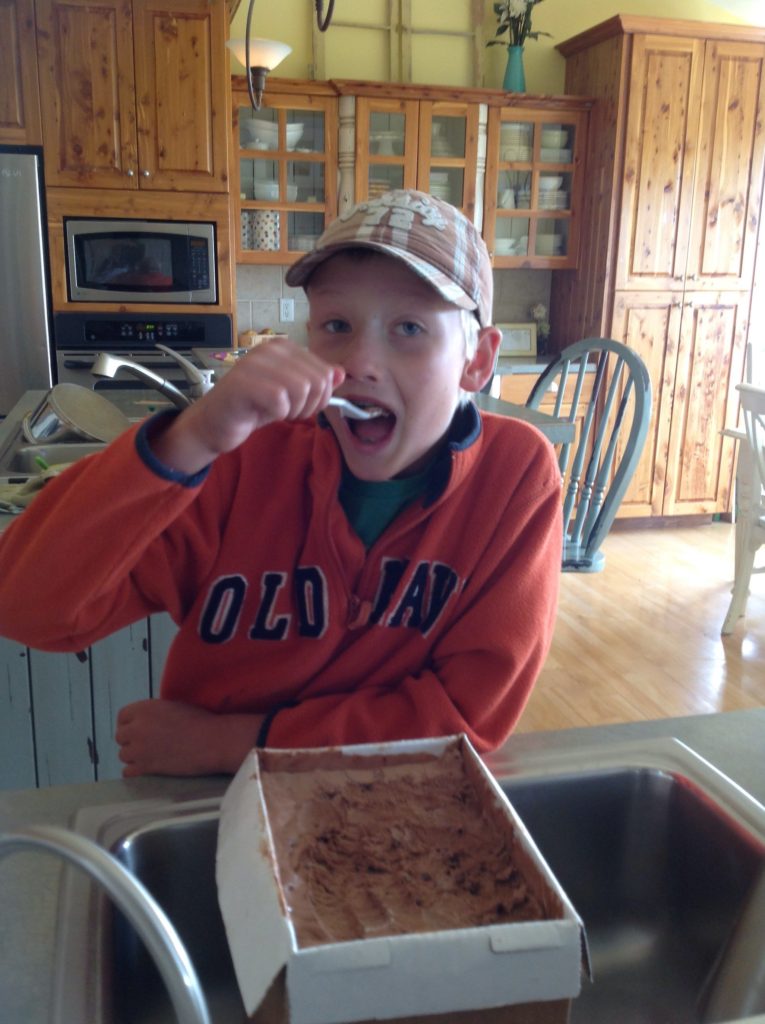 We buy our ice cream in 5 quart boxes then I scoop it into more manageable sized containers. The other day I was scooping the ice cream in the morning when this boy woke up. Yup. He decided to have ice cream for breakfast. Of course I let him, that's what his Dad does too. Many of our overnight guest have had ice cream for breakfast too! It's that good!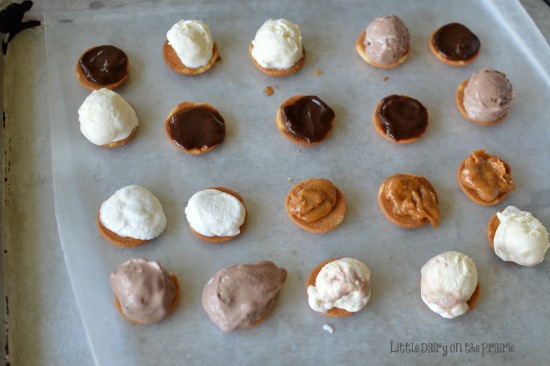 Ice Cream Sliders are a fun way to share ice cream on a hot summer day. They can be made a little bit ahead. I thought they would get soggy if I left them in the freezer for too long. My boys forgot Ice Cream Sliders where in the freezer for over 24 hours and they weren't soggy!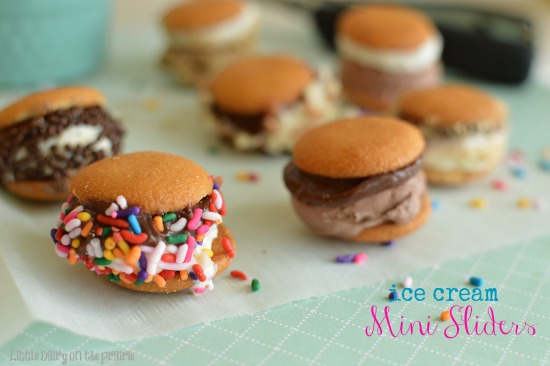 White ice cream, chocolate sauce and sprinkles are always a favorite. You could get really creative and use green ice cream, chop cherries to put inside or add a slice of banana. How about peanut butter, white ice cream and a banana. I could keep going but I won't. I'm sure you can think of your own
color
flavor combinations.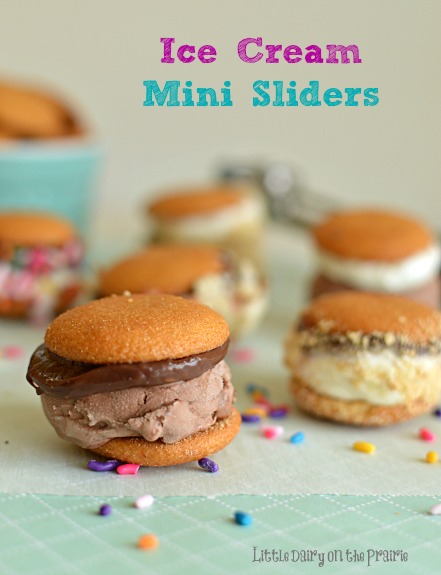 Anyway, it works best to make a few, stick them in the freezer, then make a few more. Or else you will have a big melty mess! Enjoy this mini version of a classic dessert!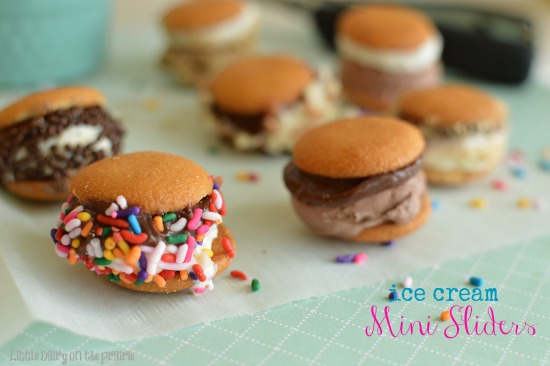 Ice Cream Sliders
Ice Cream Sliders are a mini version of ice cream sandwiches perfect for little hands. My family loves the endless flavor combos! Cute, easy and make ahead!
Ingredients
Vanilla Wafers

Assorted ice cream flavors

Hot Fudge Sauce

high quality (do not heat)

Marshmallows

optional

Toppings

Spinkles

graham cracker crumbs, chopped nuts
Instructions
Line cookie sheet with wax paper.

Set even numbers of vanilla wafers on wax paper with bottoms of wafers facing up.

Set each topping in it's own bowl.

Spread a small amount of chocolate sauce on half of the wafers. You could also use peanut butter or caramel sauce.

I used a large marshmallow, cut in half, on some of the wafers. After adding the marshmallow to the wafer I microwaved it for a few seconds until the marshmallow was puffy.

Scoop a small amount of ice cream on remaining half of wafers.

Sandwich one chocolate covered wafer and one ice cream wafer together.

Roll Ice Cream Sliders in toppings of your choice.

Freeze for a few hours. Serve immediately after removing from the freezer.

NOTE: This recipe has room for variations. Use your imagination to come up with your own flavor combinations. You could stack the sliders as high as you would like.

When I was adding the ice cream to the wafers I only did about six at a time. This helped allowed me to get them into the freezer without them melting everywhere!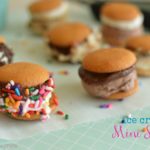 tried this recipe?
Make sure to share it with me! Leave a review or tag me on Instagram

Vanilla Wafer Ice Cream Sandwich is so fun and easy to make! Use you're favorite kind of ice cream and roll the sandwiches in fun toppings! These mini ice cream sandwiches are so fun for parties!