Greek Yogurt Halloween Parfaits – Load your kids up on something healthy for breakfast before they start devouring Halloween candy! It will make you feel like and good mom, and besides that these couldn't be easier or cuter!
When a holiday is approaching my brain goes crazy thinking of a million creative food ideas I could make. I'm pretty sure I spend too much time thinking about these things. In fact, I spend so long thinking about them that when the holiday arrives I've made very few of my ideas because I just can't decide which one to make first. Good grief! I should just start on one, then move to the next. Seriously, I have three boys who are more than happy to gobble up and crazy ideas I try! I finally decided to try these parfaits and let me tell you it was a good choice!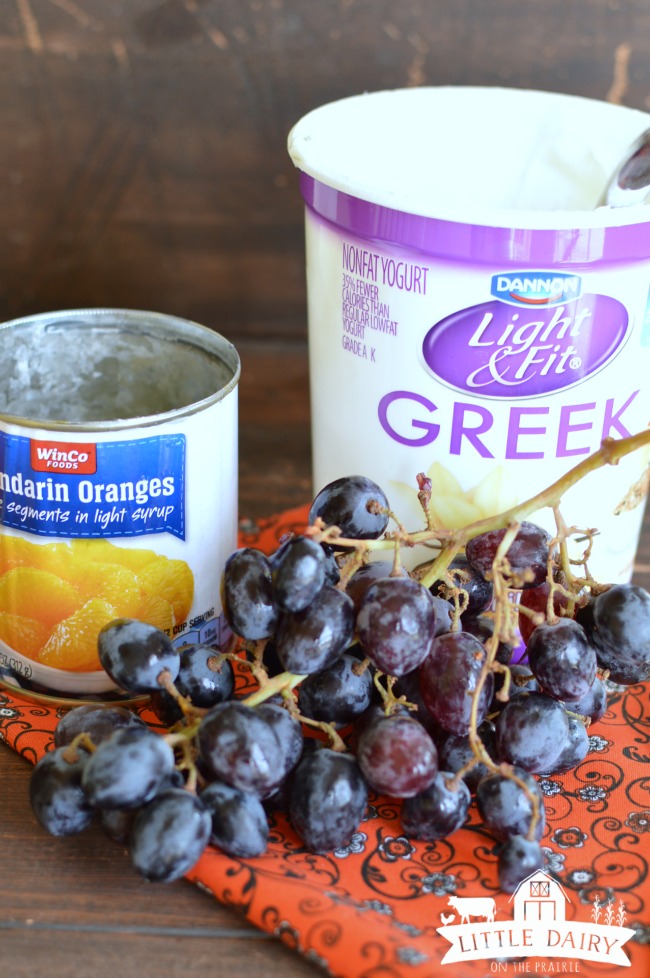 Greek Yogurt Halloween Parfaits – Ingredients
One of the best things about these parfaits is that they take just a few ingredients. You know the recipes with just a few ingredients are the ones you come back to time and time again.
You need a can of mandarin oranges to make 4 parfaits.
Black grapes, blackberries, or blueberries all are beautiful in these parfaits.
I like using vanilla Greek yogurt, it's the best!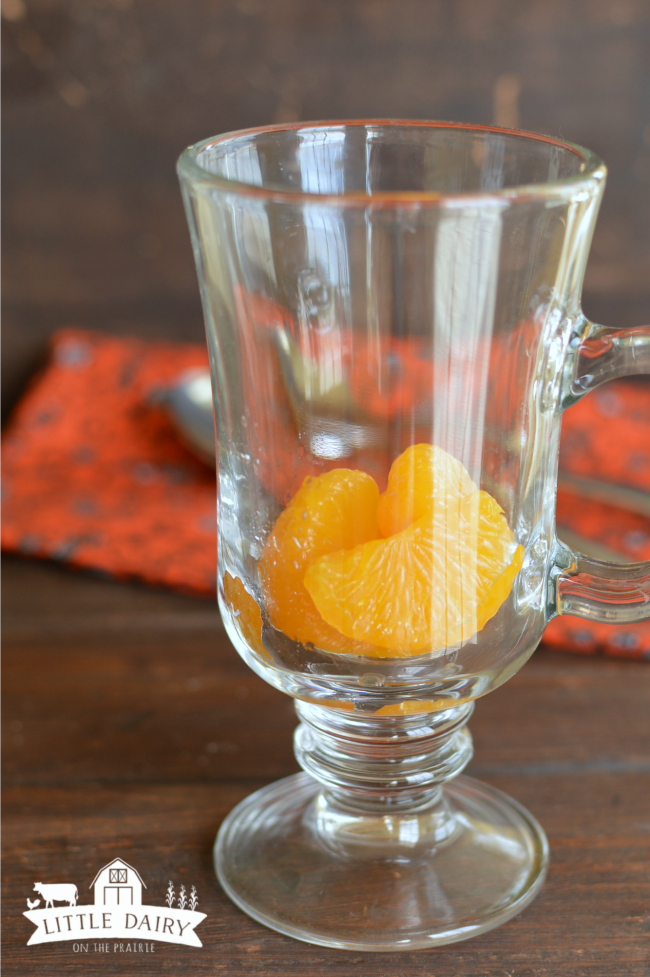 I made Greek Yogurt Halloween Parfaits the other day and accidentally forgot to take pictures of the steps, not that you really need pics to understand how to assemble these. I decided to make them again the next so I could take step by step pictures for you. My sister called me and we started talking about her baby, and my boys, and food, and who knows what else. That's when I completely forgot what I was doing and didn't take step by step photos. It's all her fault and I'll blame as much on her as possible! He He!
Greek Yogurt Halloween Parfaits Instructions
Layer some fruit and some yogurt in a glass. I like to start with fruit first and use two layers of each fruit.
Wash grapes awhile before you add them to the parfaits so they have chance to dry, it keeps the yogurt from getting kind of runny. Drain the mandarin oranges about 10 minutes before assembling the parfaits for the same reason.
Using a tall skinny glass makes the layers more defined, and colorful, and fun.
Carefully add a spoonful of Greek yogurt after each fruit layer. Try not to let get the yogurt on the edge of the glass.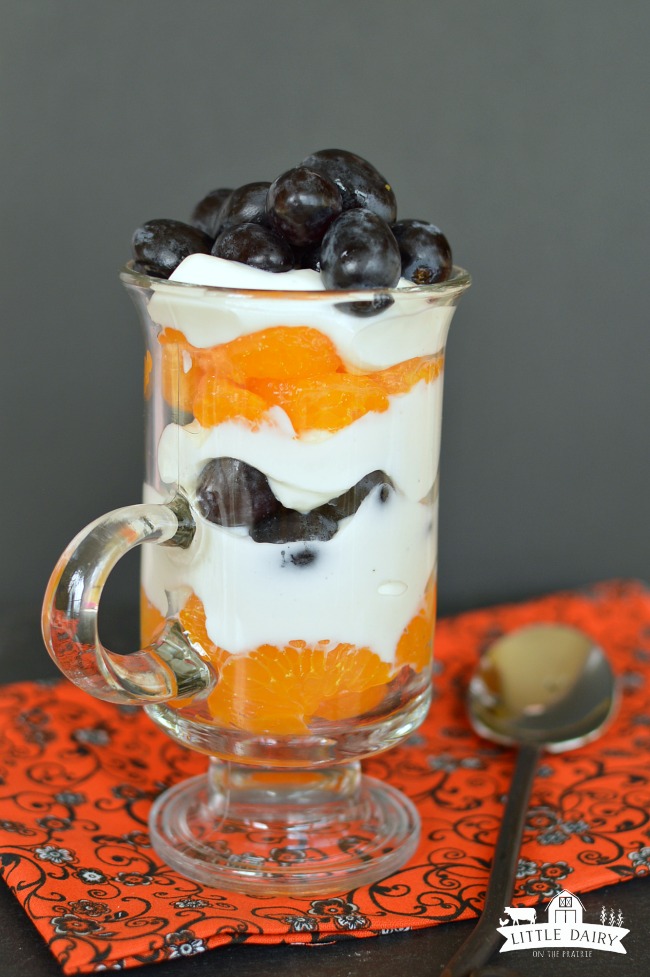 I always try to start my kids out on Halloween day with a healthy breakfast because I know they are going to get super overloaded with candy at school. You know what else I love about Greek Yogurt Halloween Parfaits? Halloween morning is always a crazy morning. One kid needs their face painted like a rodeo clown, the other can't find their life jacket that's been repurposed into a bull riding vest, and the other kid still needs me to sign a paper notifying the teacher that I'm fully aware of what's happening in history class. Really, who has time to make bacon and eggs on Halloween morning? Not me! Greek Yogurt Halloween Parfaits are so easy I think even Justin could make them, although they would be a huge mess!
Greek Yogurt Halloween Parfaits
Greek Yogurt Halloween Parfaits couldn't be cuter, healthier, or easier to make. They make such a great breakfast or after school snack for Halloween day, or anytime before Halloween for that matter!
Ingredients
6

oz.

vanilla Greek yogurt

1/4

can of mandarin oranges

drained

a handful of blackberries

blueberries, or black grapes, washed and dried
Instructions
Layer fruit and yogurt in a tall glass. I like the first layer to be oranges, then yogurt, then black fruit, then yogurt, then oranges, then black fruit.

NOTE:

Obviously this recipe can easily be altered to make enough for your whole family. If I had five people in my family I would divide the oranges into fifths. The amounts of Greek yogurt needed will vary depending on the size of the glass.

I like to use a tall skinny glass. It makes it easier to make lots of layers without ending up with 3 servings in one fat glass!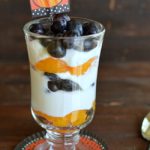 tried this recipe?
Make sure to share it with me! Leave a review or tag me on Instagram