German Chocolate Cake Bites are a fun new way to for those of us who love chocolate and coconut to enjoy our addiction! They are way faster and easier to make than they look and they only take a few ingredients, especially with shortcuts!
Click HERE to sign up for my email to make sure you don't miss out on any of my recipes!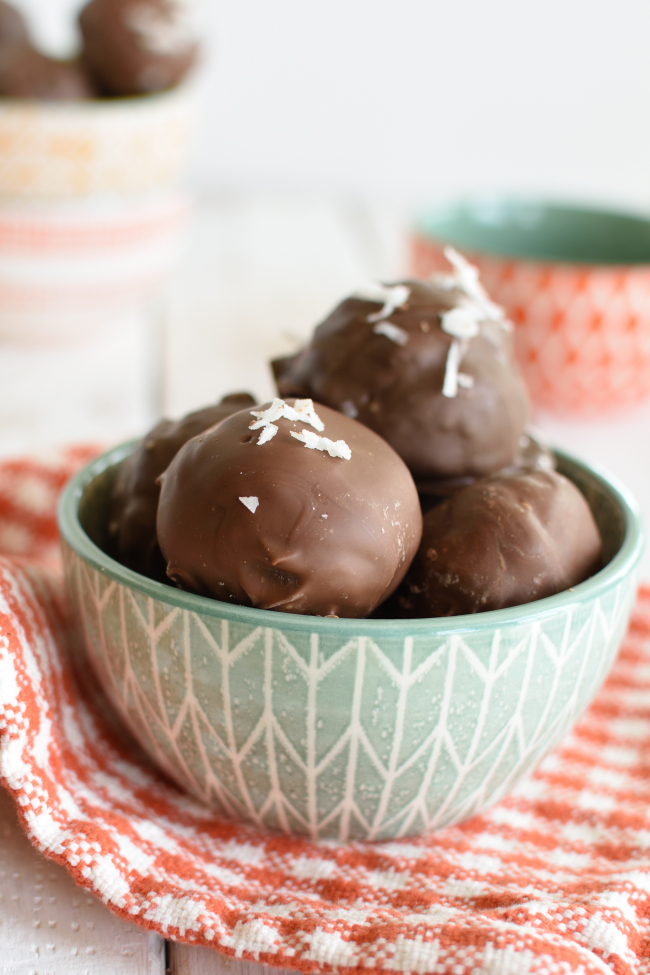 Justin goes crazy for cake bites, cake balls, Oreo balls, basically anything dipped in chocolate! Whenever we go to wedding receptions or parties where they are serving them he gets a little excited!
Let me be honest for just a second…I've never made cake bites until I made these! They just seemed like so much work compared to baking a cake in a pan and spreading a little frosting over the top. I was right, baking a cake is easier than making German Chocolate Cake Balls but it really was quick and easy to do! And even the coconut haters at my house devoured them!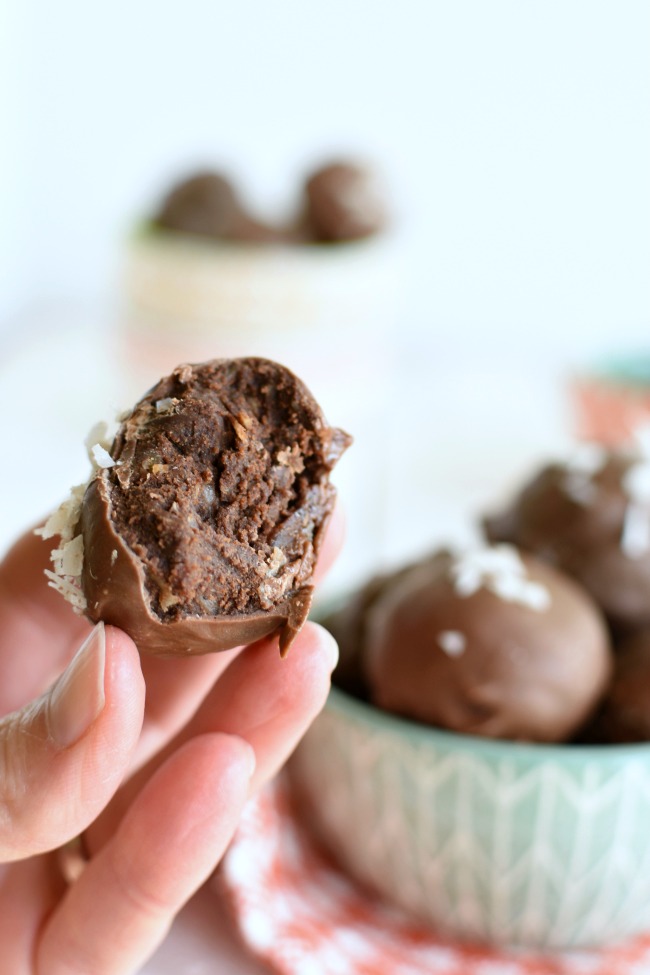 German Chocolate Cake Bites are all the decadence of German Chocolate Cake wrapped up in one individual sized little ball! How cute is that?
German Chocolate Cake Bites are so easy to make! Let me show you how!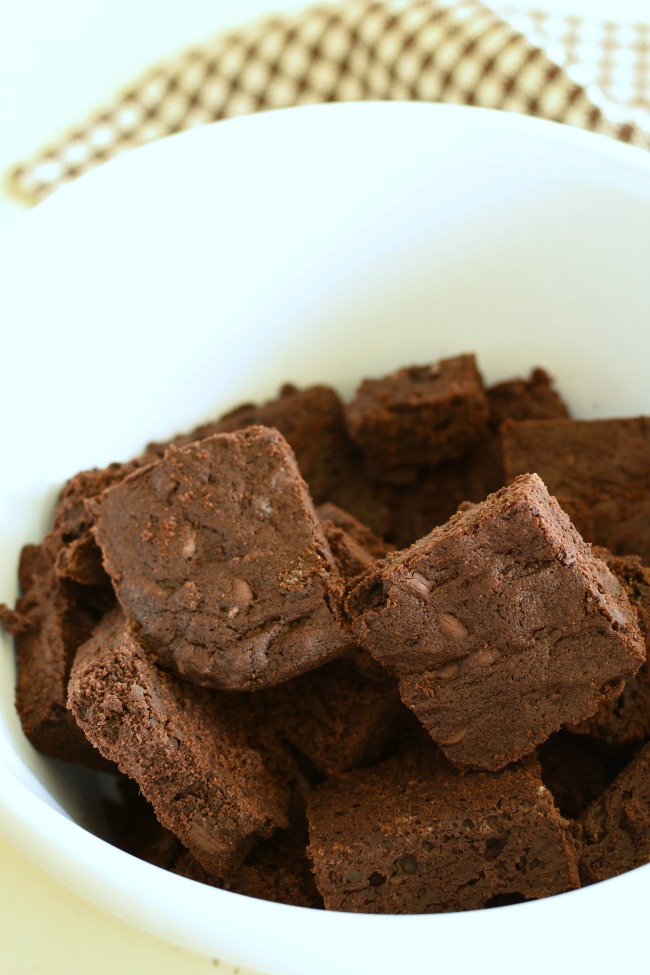 Here's the cheater tip for the day! These treats are even easier and no bake if you buy a pan of store-bought cake or brownies! I actually used a pan of cake like brownies to make my cake bites and it worked perfectly! There you go, I suggest taking a nap with the extra time you save today!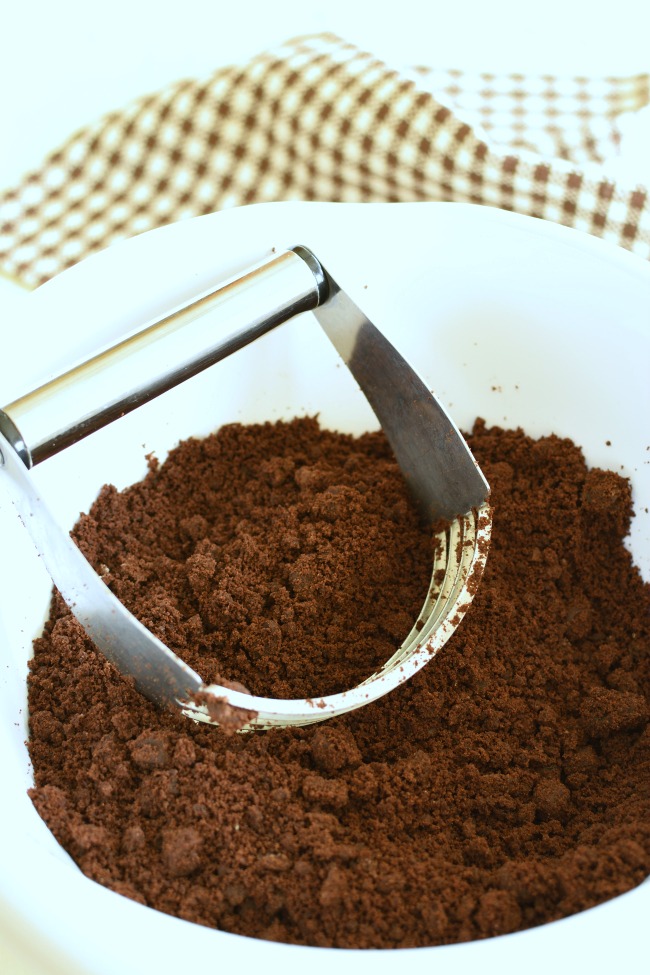 Blend the cake, or brownies into crumbs. I used a pastry blender and it worked great. I'm sure you could just stick them in the mixer too.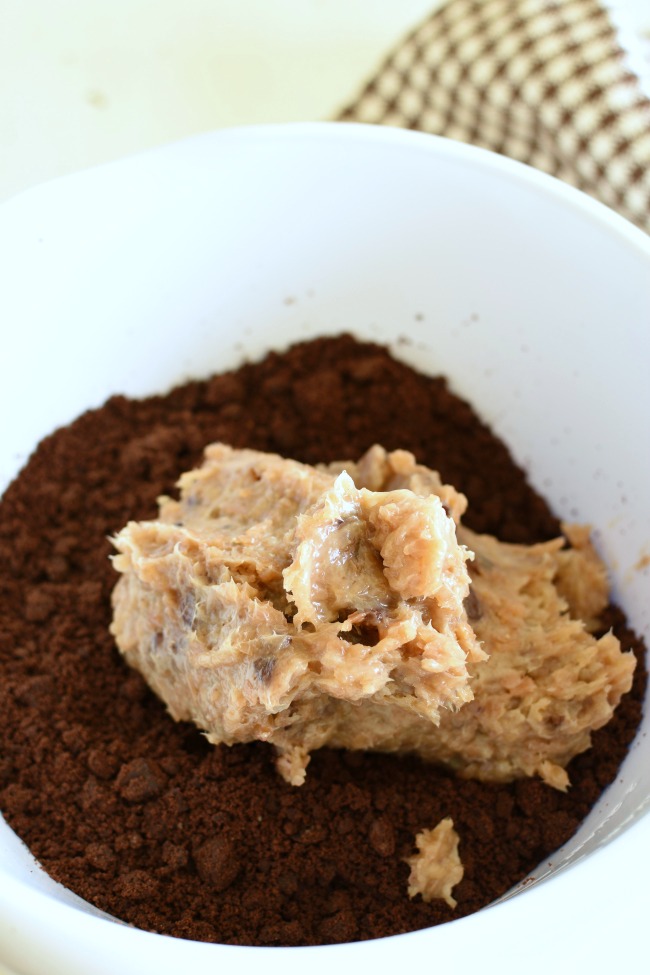 Add a tub of prepared German Chocolate frosting.
I've loved German Chocolate since my mom used to make my grandmas German Chocolate recipe when I waw a little girl! I still love that recipe but for these I just whipped open a can of frosting and it worked perfectly
Mix it together until it's all combined.
Next, shape mixture into balls. I used a cookie scoop to get them all the same size then froze them for a few minutes until they firmed up just a bit. After they are a little firmer it's easier to roll them into prettier balls.
Melt dipping chocolate.
Dip bites into dipping chocolate to coat.
Sprinkle with chopped coconut if you want. Let them sit in the fridge until they are set.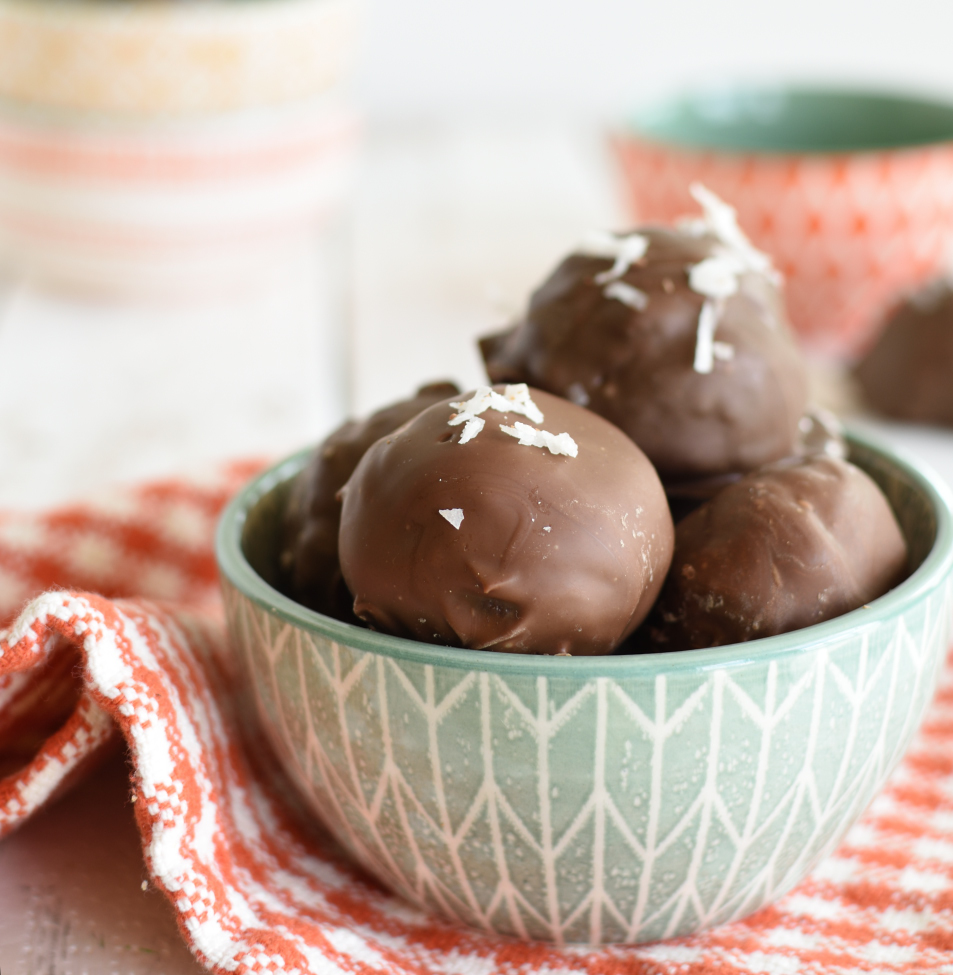 Not only are these easy, taste amazing, and look pretty…they are also perfect treats for packing to the fields!
German Chocolate Cake Bites are perfect for on the go treats!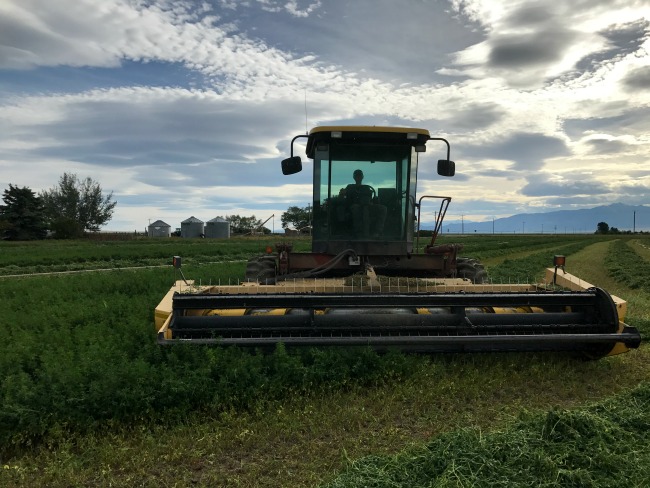 My kids have been helping harvest hay and there have been a few days that Justin won't let them take a long enough lunch break to come home. Those are the days I get to be summer meals on wheels!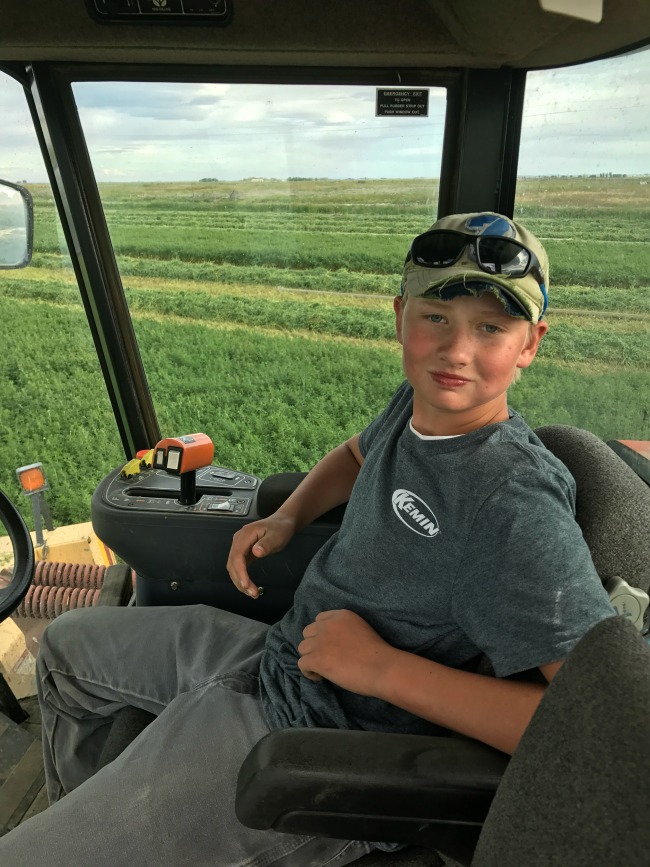 After driving this equipment for about 10 hours a day they enjoy a little snack to break up the day! German Chocolate Cake Bites were perfect!
Here's the German Chocolate Cake Bites printable recipe!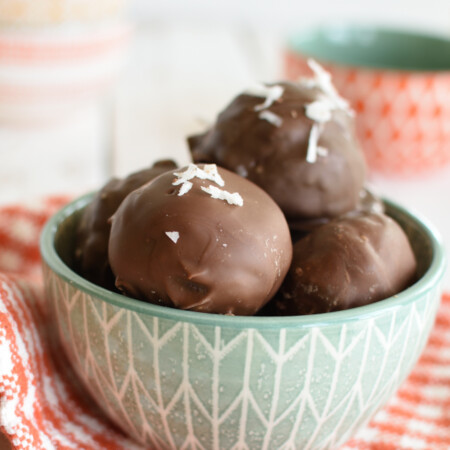 German Chocolate Cake Bites
German Chocolate Cake Bites are everything you love about German chocolate cake in a super easy (and no bake if you use my trick) little bite! They are so fun for parties or even adding to lunches!
Ingredients
1 9

x 13 pan of chocolate brownies or German Chocolate cake

1 16

oz

can coconut pecan frosting

or homemade if you are ambitious

dipping chocolate

shredded coconut for garnish

optional
Instructions
You can either bake a cake or a pan of brownies from scratch or out of a box then let them cool. Or you can buy a pan of brownies or cake already made.If you ask me this is a great time to take a shortcut and buy them already made. I would recommend using a more cake type brownie than a fudgy brownie.

Using a mixer beat cake until it is crumbly.

Add can of frosting and mix until combined. Mixture should be sticky.

Using a cookie scoop drop balls onto parchment lined baking sheet. Let balls set in the freezer for about 10 minutes so they firm up just a bit. Then roll balls shaping them into pretty little bites.

Melt dipping chocolate over a double broiler or in the microwave (I use the microwave and melt chocolate for 30 seconds then stir amd repeat until it's completely smooth).

Dip balls into chocolate and set back on baking sheet to completely set. If you want you can sprinkle a little extra coconut over the tops of the balls!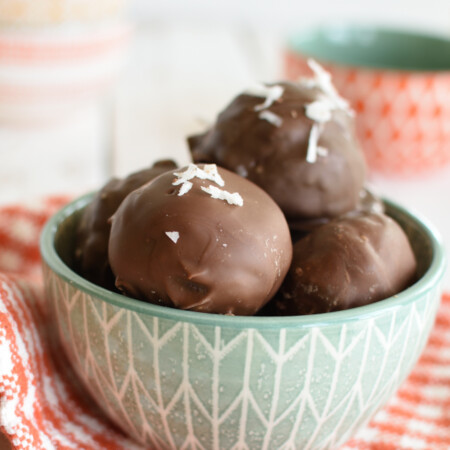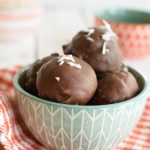 tried this recipe?
Make sure to share it with me! Leave a review or tag me on Instagram