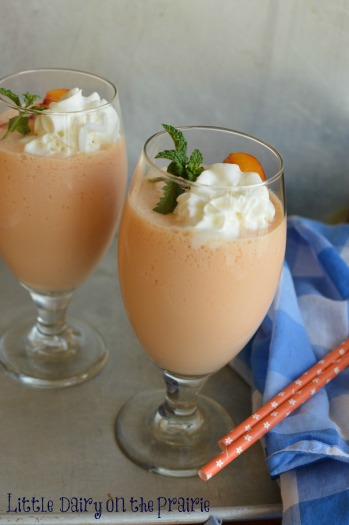 A short while after I got married I went to the grocery store with my newlywed husband. We were happy as could be, but still learning about each other. We were strolling through the refrigerator section at the grocery store. I was planning to make cookies soon, so I reached to grab a few boxes of margarine. Wrong move! My hubby is always kind to everyone. So, in a very kind way he explained to me that we do not, and will not eat anything besides butter in our house. It's not that I had anything against butter. Really, I even liked it better than margarine. I only reached for margarine because it was less expensive. I have learned since then that it's worth buying the real dairy products! I can't imagine owning a box of margarine!
My family loves smoothies. We love peaches and cream. And we love ice cream. I decided to put all of these yummy things together and create a yummy drink!
Start with 4 peeled and pitted peaches.
Add some milk. Or, if you want it to be really yummy add half and half. If you want it to be really, really, really yummy add cream!!
I love this little "Real Seal". All products with this seal have been produced in the United States. I love America! And I love knowing that the food I'm eating is real. No margarine and no imitation milk around here!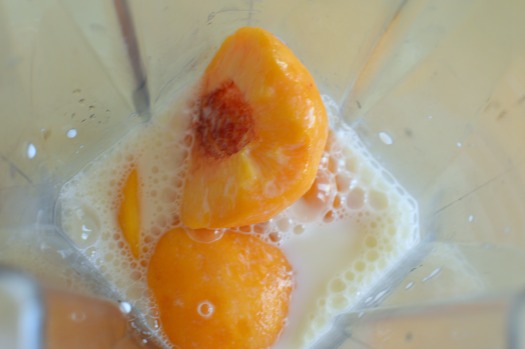 Today, I chose not to jog, and used 2% milk! If I would have jogged I would have used cream. If I would have walked I would have used half and half! Let the peaches and milk (or cream) blend until mixed together.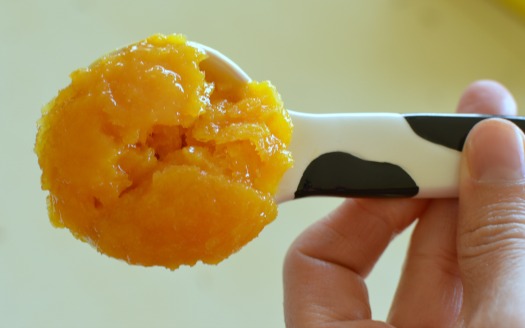 Add some orange juice concentrate.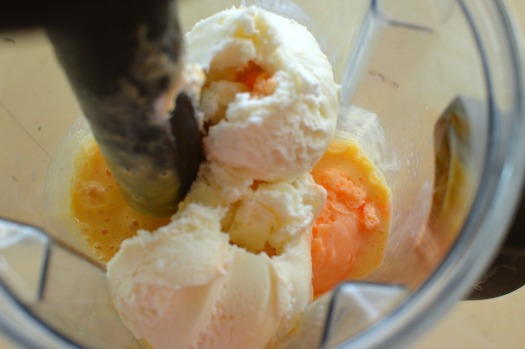 Add a few scoops or orange sherbet and a few scoops of vanilla ice cream.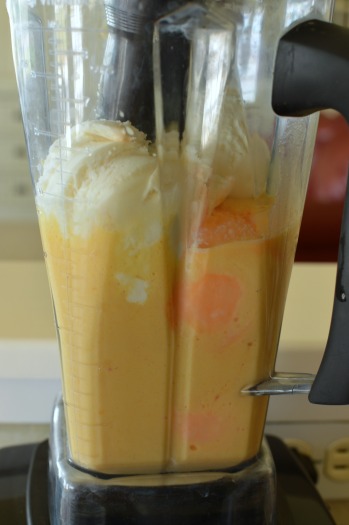 Look how pretty it is. Blend it up until it is smooth and combined. If it needs to be a little thicker, add ice cream. If it needs to be a little thinner, add a little milk.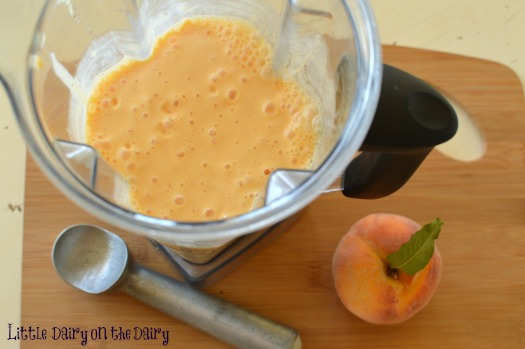 Mmm!! Looks just right!
Anyway, back to my recipe. I bought some whipping cream in the can so I could add it to my smoothies. I sprayed a little on top of the smoothies today. I turned around and my littlest boy was spraying it in his mouth. Of course, I told him eating the whipping cream from the can is not allowed. "Why not?", he asked. "Carson, eats whipping cream like this every time he babysits us".
This is a perfect snack for after school or after football practice. My boys love sitting on our front porch and drinking these to cool off!
Fresh Peaches and Cream Smoothies
My family loves peaches and cream! This is such a fun way to enjoy all the bright flavors of summer!
Ingredients
4

peeled and pitted peaches

1

cup

milk

1/2 and 1/2 or cream (you choose)

3

oz.

orange juice concentrate

1

cup

orange sherbet

1 1/2

cups

vanilla ice cream

whipped cream

optional
Instructions
Add peaches and milk to blender. Blend until smooth.

Add orange juice concentrate, sherbet and ice cream. Blend until smooth.

If it's too thick add more milk to thin. If it is too thin and more vanilla ice cream. It will depend on the size and how juicy your peaches are.

Pour into glasses and top with whipped cream.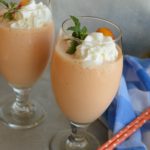 tried this recipe?
Make sure to share it with me! Leave a review or tag me on Instagram
This post was sponsored by the Real Seal. However, all thoughts and recipes are my own!!