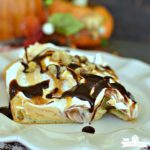 Print
Pumpkin Eclair Cake
If you are looking for an impressive, yet super simple fall dessert, Pumpkin Eclair Cake is for you! It begins with a puff pastry crust that is filled with pumpkin spice pudding, and topped of with whipping cream! You can garnish it however you like, but chocolate is always a good idea!
1/2

c.

butter

1

c.

water

dash salt

1

tsp.

vanilla

1

c.

flour

4

eggs

2

small boxes pumpkin spice pudding

3

c.

milk

1 12

oz.

container whipped topping

chocolate and caramel sauce for drizzling

walnuts

optional
Preheat oven to 400 degrees. Grease a 9 x 13 pan or a jelly roll pan.

Bring water and butter to a boil. Remove from heat. Add vanilla. Stir in flour and dash of salt. Mixture will be thick. Add eggs one at a time, stirring to completely incorporate after each egg. Mixture will be a little thinner, about the consistency of cake batter, maybe a little stickier though.

Spread puff pastry dough into which ever size pan you choose. Bake for 25-30 minutes. The jellyroll pan will take a little less time than the 9x13 pan because the dough is spread a little thinner. Watch it carefully so it doesn't get over baked. The cream puff crust will develop mountains, craters, and valleys and that's exactly what it's supposed to do! Cool crust completely.

Whisk pudding and milk together. Let sit for 5 minutes. Fold in about 4 ounces of the whipped topping. Spread on cooled crust.

Top pudding layer with remaining whipped topping. The two layers may get a little combined. If you want you can swirl them together a little bit.

Serve garnished with chocolate and caramel sauce. Some members of my family like sprinkling walnuts on top too!