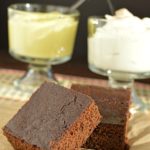 Print
Grandma's Gingerbread
Any recipe that includes "Grandma" in the title is sure to be a winner! This gingerbread is moist, is baked like a cake and full of warm spices. Grandma serves it topped with a lemon curd and freshly whipped cream. Lemon and gingerbread are a very refreshing combination!
Cream shortening and sugar till fluffy. Add egg and molasses and beat until smooth.

Add dry ingredients to a sifter.

Alternately add sifted dry ingredients and boiling water mixing after each addition.

Bake in greased 9" x 9" pan at 350 degrees for 35-40 minutes or until done.

Serve warm!

NOTE: I have never made this gingerbread without having it fall in the middle.I have thought of experimenting with this recipe to "fix" that. However, since it is so tasty I haven't worried about the fallen middle. If you figure it out...let me know!