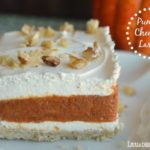 Print
Yummy Pumpkin Lasagna
Pumpkin Cheesecake Lasagna is basically a no bake dessert. Every bite is loaded with the warm, spicy taste of pumpkin pie and the decadent, creamy taste of cheesecake!
Preheat oven to 350 degrees.

Combine flour, butter and nuts in a food processor. Pulse until course crumbs are combined. Press in a greased 9" x 13" pan. Bake for 20 minutes. Cool.

In a mixing bowl mix cream cheese and powdered sugar. Fold in 8 oz. of Cool Whip. Spread on cooled crust.

Whisk pudding mix and milk together.

Add pumpkin puree and spices to pudding and mix together. Spread on cream cheese layer.

Spread remaining Cool Whip on top of the pumpkin layer.

Garnish with chopped nuts, a sprinkling of nutmeg or drizzled caramel.