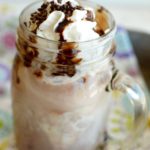 Print
Brown Cow Milkshake
If you haven't tried a Brown Cow Float you haven't lived! It begins with your favorite flavors of ice cream that end up floating in chocolate milk, then it's topped with as much chocolate than you can handle!
ice cream

any flavors, use as many scoops as you want. I usually use about 2-3 per serving

chocolate milk

enough to fill the float, about 8 oz per serving

whipped cream

as much as you want

chocolate syrup

enough for drizzling

chocolate sprinkles

use for a garnish
Add scoops of any flavors of ice cream to a mug, glass, of any other single serving container.

Pour chocolate milk over scoops of ice cream.

Garnish with whipped cream, chocolate syrup, and chocolate sprinkles.

Serve immediately!