I intended to post back to school pictures since school started. It has been so busy that I just haven't checked that off my to do list yet. You know, when school starts it requires so much work for the Mom. It's all the homework, reading, reading logs, piano practice, football practice, flashcards and the dreaded math! These little Banana Split Bites are so cute and make a perfect after school snack!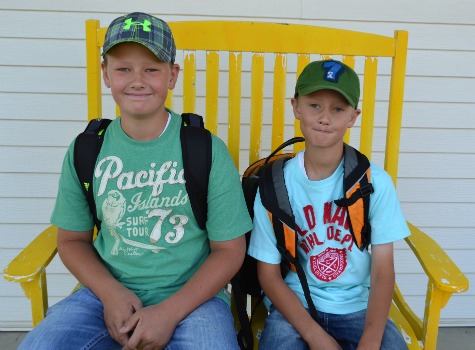 How cute are they? All ready for the big first day of school!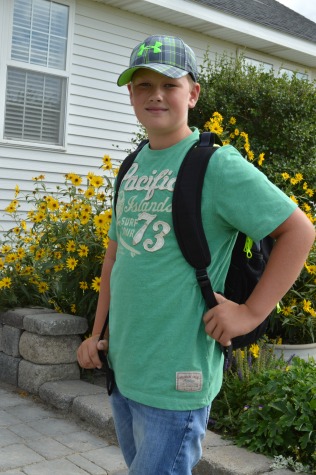 It's a big year for Carson! 7th grade means the beginning of Junior High! Yikes, those are the years we all try to block from our memory. It's interesting how when you have a Junior High aged child, all those memories come back!
I'm not exactly sure what happened in this picture. But I think somebody farted. And no, it wasn't me!
It's a really big year for my baby because he started Kindergarten. I made him "make" his hair. That's what he calls combing his hair. At that point he was not too sure about going to school. No little boy wants to make their hair!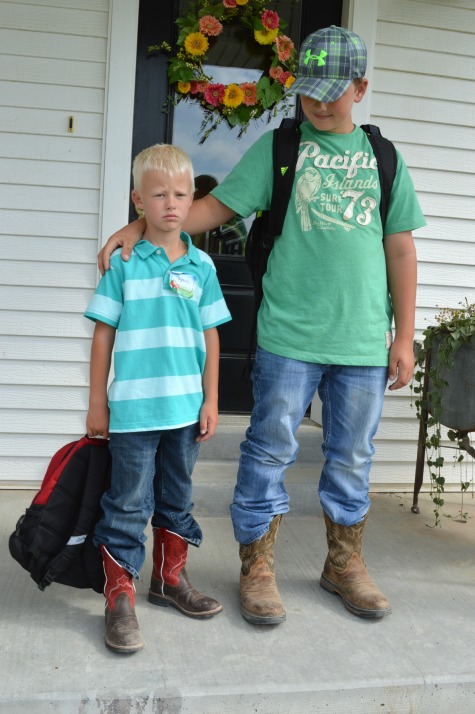 This is the "after" shot! The after school look on his face tells it all!
Here's a quick snack that you can make and have on hand for cheering up those after school blues!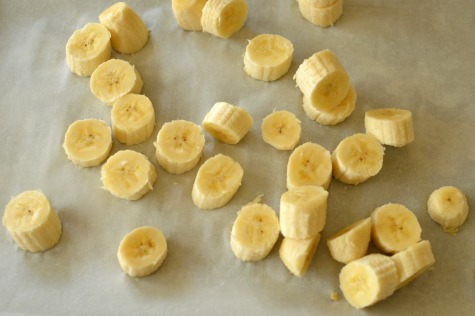 Slice some bananas. About 1/2 inch thick is perfect!
Set out whatever banana split topping that you love.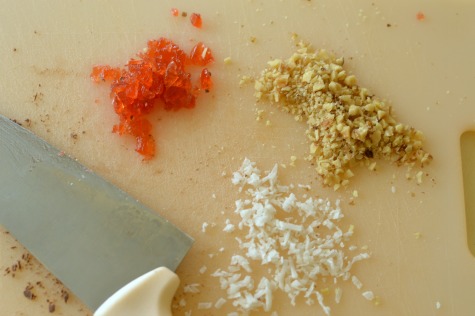 Chop the toppings into little pieces. Because these are little banana split bites!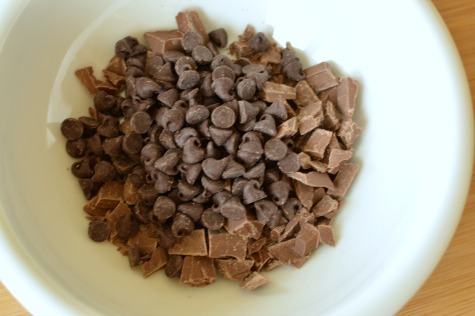 Melt some dipping chocolate and semi-sweet chocolate in the microwave. Be sure to melt it at about 1/2 power. Cook for short intervals at a time and stir between. Heat it until the chocolate is all melted and smooth.
Dip the banana bites in the chocolate. I used my hands. Hands are the best kitchen tool ever!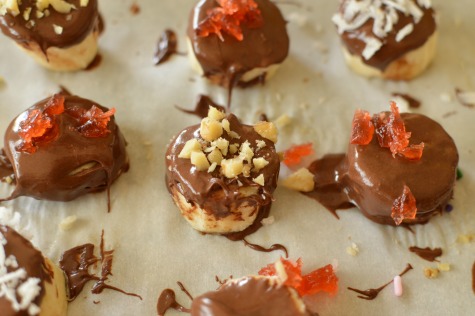 Sprinkle with whatever toppings you like!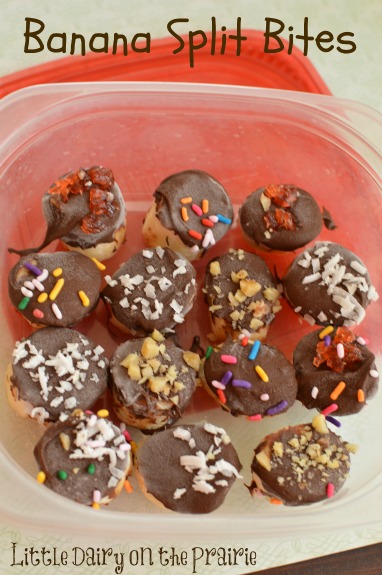 Stick these babies in the freezer for a few hours. There you have it! My kids were afraid that the bananas would be too hard and break their teeth. It's actually about the same as eating an ice cream bar! The kids had fun making them and loved eating them too! And I love that it's a snack that's all ready to go when the kids get off the bus!
Banana Split Bites
These cute little Banana Split Bites make a perfect after school snack!
Ingredients
Bananas

slices about 1/2 inch thick

Semi-sweet chocolate chips

Dipping chocolate

Walnuts

Coconut

Cherries

Caramel Ice Cream topping

Sprinkles
Instructions
Line a baking sheet with parchment paper.

Slice bananas and set on parchment paper.

Dice toppings such as nuts, coconut and cherries into small pieces.

Get the rest of the toppings ready. You will want them ready to go, because as soon as the bananas are dipped in chocolate they need to be topped. Before the chocolate dries.

Guess how much chocolate you will need according to how many bananas you used. Melt chocolates in the microwave at half power for about 30 seconds at a time. Stir after each 30 second interval. Microwave until chocolate is melted and smooth.

Dip the tops of the bananas in the chocolate.

Sprinkle toppings over the chocolate covered bananas.

Freeze until firm. Remove from baking sheet and store in an air tight container.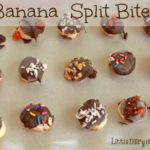 tried this recipe?
Make sure to share it with me! Leave a review or tag me on Instagram